The Seven Flags of the New Orleans Tri-Centennial
William Paca
Signer of the Declaration of Independence
Historic Annapolis Foundation - Visit Paca's Annapolis house
William Paca was born on 31 October 1740, at his family's home near Abingdon in Baltimore (now Harford) County. He was the second son of John and Elizabeth Smith Paca, and a member of the fourth generation of Paca men in Maryland, his great-grandfather Robert having emigrated in the 1640s. William was educated in Philadelphia, graduating from the College of Philadelphia in 1759 with a Bachelor of Arts degree, and then settled in Annapolis.
Paca spent several years reading law with the noted attorney Stephen Bordley, before gaining experience in London and then beginning his own practice in county and provincial courts. In 1763, Paca ensured his social and economic position by his marriage to Mary Chew, the daughter of a wealthy and prominent Maryland family. Four days after their wedding, Paca purchased two lots in Annapolis and soon began building the five-part mansion and extensive pleasure garden that survive today.
A distinguished figure in public life, William Paca served as an Annapolis councilman and mayor, vestryman of St. Anne's Church, delegate from Annapolis to the lower house of the General Assembly, and delegate to the Continental Congress. Paca was a leader of the patriot cause in Maryland from the initial opposition to the Stamp Act in 1764 through his service in the Congress. He voted for adoption of the Declaration of Independence in July 1776 and was one of Maryland's four signers on August 2nd. Paca resigned his position as delegate to become a judge of the Admiralty Court, which tried maritime cases, and resigned that position when elected governor of Maryland in November 1782. Paca was re-elected in 1783 and 1784.
At the end of his third term, Paca moved to his plantation on the Eastern Shore, where he eventually built an elegant mansion, although he continued to own property in and spend time in Annapolis. He later represented his Eastern Shore district (Queen Anne's County) in the House of Delegates, before George Washington appointed him a Federal district judge in December 1789, a position he held for the remainder of his life.
Death claimed Mary Chew Paca in 1774, and Paca's second wife, Ann Harrison Paca, in 1780. Altogether, Paca had six children (two illegitimate), two of whom — survived him. William Paca died at his home in Queen Anne's County on 13 October 1799, just days short of his 59th birthday. Text Courtesy of: Historic Annapolis Foundation
Bibliography
Gregory A. Stiverson and Phebe R. Jacobsen, William Paca: A Biography (Baltimore: Maryland Historical Society, 1796)
Jean B. Russo, William Paca's Education: The Making of an Eighteenth-Century Gentleman and American Patriot (Annapolis, MD: Historic Annapolis Foundation, 1999)
Jean B. Russo, A Question of Reputation: William Paca's Courtship of Polly Tilghman (Annapolis: MD: Historic Annapolis Foundation, 2000)
William Paca Time-line - Courtesy of: Historic Annapolis Foundation
1740, October 31 Birth of William Paca
1752, May 25 Entered as student at Philadelphia Academy & Charity School
1756 Enrolled as College of Philadelphia undergraduate
1759, June Graduated with Bachelor of Arts degree
1759, summer Arrival in Annapolis
1759, October 26 Founding member of Forensic Club
1761, October 27 Admitted to practice law in Annapolis Mayor's Court
1763, May 26 Married Mary Chew
1763 May 30 Purchased lots 93 and 104 in Annapolis
1763, June Qualified to practice law in Anne Arundel County court
1764, April 10 Qualified to practice law in Provincial Court
1764 Birth of daughter Henrietta Maria
1765, August 26 Leader, with Samuel Chase, of Stamp Act protest
1766, May 24 Elected to Annapolis Common Council
1767, November 26 Elected to represent Annapolis in House of Delegates
1770, June 12 Vestryman of St. Anne's Church
1771 Elected to membership in Homony Club
1771, March 17 Birth of John Philemon Paca
1772 Portrait painted by Charles Willson Peale
1773/1774 Birth of William Paca, Jr.
1774, January 15 Death of Mary Chew Paca
1775, August 26 Birth of daughter Hester in Philadelphia
1776, July 4 Voted to approve Declaration of Independence
1776, August 2 Signed Declaration of Independence
1776/1777 Birth of Henrietta Maria (Joice)
1777, February 28 Married Ann Harrison of Philadelphia
1778 Birth of Henry Paca (baptized 28 October 1778)
1779, May Death of William Paca, Jr. (buried 6 May)
1780, February 18 Death of Ann Harrison Paca
1780, July 25 Sold Annapolis town house
1781 Death of Henry Paca
1782, February Unsuccessful courtship of Mary Tilghman
1782, November 15 Elected governor of Maryland
1783, November 21 Re-elected as governor
1784, November 24 Re-elected as governor
1786 Elected to Senate and House of Delegates; held office as delegate
1787 Refused election to Constitutional Convention
1788, April Attended Ratification Convention in Baltimore as Anti-Federalist
1789, December 24 Appointed judge of Federal District Court for Maryland
1790 Began construction of Wye Hall on Wye Island
1799, October 13 Death of William Paca

Deed adding 35 acres of land in Maryland to Joseph White adjacent to 100 acres he already owns. Dated August 9, 1784. Signed "Wm. Paca" in left margin when he was governor of Maryland
Historic Annapolis Foundation
- Visit Paca's Annapolis house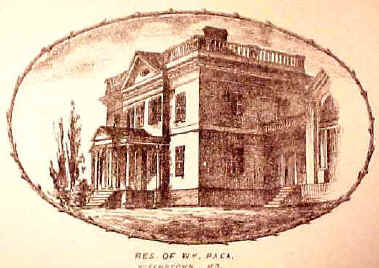 Source: Centennial Book of Signers


For a High-resolution version of the Stone Engraving


For a High-resolution version of the Original Declaration of Independence
We invite you to read a transcription of the complete text of the Declaration as presented by the National Archives.
&
The article "The Declaration of Independence: A History," which provides a detailed account of the Declaration, from its drafting through its preservation today at the National Archives.
Virtualology welcomes the addition of web pages with historical documents and/or scholarly papers on this subject. To submit a web link to this page CLICK HERE. Please be sure to include the above name, your name, address, and any information you deem appropriate with your submission.