The Seven Flags of the New Orleans Tri-Centennial
William Hooper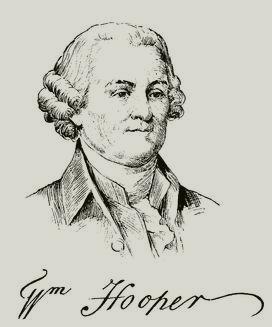 Signer of the Declaration of Independence
WILLIAM HOOPER was born on June 28, 1742 in Boston. His father, a Scotch Congregationalist minister, wanted him to be a man of the cloth. However, Hooper chose law. He graduated from Harvard College in 1760, then worked in the law offices of James Otis, an aggressive opponent of British rule and taxation.
Hooper moved to Wilmington, North Carolina after he passed his bar examination. He married Anne Clark, her family a member of the gentry of the Cape Fear district, and became a successful lawyer. They eventually had three children, two sons and a daughter. He was so popular that in 1770 he was appointed deputy attorney general for the Colony of North Carolina. In 1773 he was elected to the colonial legislature, followed in 1774 by his election to the Continental congress.
Hooper was of medium height, but his appearance was delicate and he was slender. He was intelligent, polite and engaging, although towards those that he didn't know well, he was somewhat reserved. He was distinguished for his powers of conversation and as a lawyer he was distinguished for his professional knowledge, and unflagging enthusiasm in respect to business. Towards his fellow lawyers he maintained a high and honorable course of conduct and particularly towards the younger members of the bar. As a politician, he was characterized for judgment, ardor, and constancy. In times of the greatest political difficulty and danger, he was calm, but resolute. He never desponded but trusted the justice of his country's cause, he had an unshaken confidence that heaven would protect and deliver her.

By the time he arrived at the Second Continental congress, Hooper was dead set against British rule. He continued to condemn Britain's hold over the colonies. Interestingly, his father supported the King and was unhappy with his son's political belief in total freedom for Americans. Hooper did not advocate violence, but he could see that compromise with Britain was not possible.
In January 1776, Hooper was appointed, with Franklin and Livingston, to a committee to develop a method of honoring the memory of General Montgomery, who had recently fallen at Quebec. This committee recommended the erection of a monument, which, while it expressed the respect and affection of the colonies, would record the patriotic zeal and fidelity, enterprise and perseverance of General Montgomery. In observance with the recommendation of the committee, a monument was erected by congress in the city of New York.
In the spring of 1776, Hooper's private business so greatly needed his attention in North Carolina, that he did not attend congress. He returned in time to cast his vote for and sign the Declaration of Independence. On December 20, 1776, he was elected a delegate to congress for the third time. However, the situation at home in North Carolina made it impossible for him to spend more time away in Philadelphia. Accordingly, in February 1777, he resigned his seat in congress.
Hooper continued his law practice and remained for a while on the North Carolina state legislature. During the Revolutionary War, the British tried, but were unable to capture Hooper or harm his family. They did in vindictiveness, however, torch his estate and leave his property completely devastated when they captured Wilmington. Hooper moved to Hillsboro where he remained to some extent in public life as a state legislator, but never regained his early prominence. Like many other patriots, he did not allow himself to wallow in his misery. While to others his prospects appeared doubtful, he would always point to some brighter spots on the canvass, and he focused on these.
In 1787 Hooper's health became considerably impaired. He gradually relaxed from public and professional efforts, and a short time later he retired, which was something he had always wanted to do. Hooper died in Hillsboro, North Carolina on October 14, 1790 at the age of forty-eight.

Source: Centennial Book of Signers
Declaration of Independence
A Brief History and early record of the printings

Click Here


William Stone Copper Plate and 1976 Printing Photo
Courtesy of the National Archives
Click to Enlarge
Authenticate your Declaration of Independence - Click Here
The 56 signatures on the Declaration appear in the positions indicated: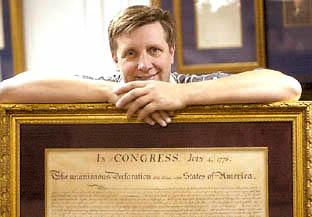 About Stanley L. Klos
Click Here to return to Rebels with of Vision

The Congressional Evolution of the United States Henry Middleton
Unauthorized Site: This site and its contents are not affiliated, connected, associated with or authorized by the individual, family, friends, or trademarked entities utilizing any part or the subject's entire name. Any official or affiliated sites that are related to this subject will be hyper linked below upon submission and Evisum, Inc. review.
Copyright© 2000 by Evisum Inc.TM. All rights reserved.
Evisum Inc.TM Privacy Policy