The Seven Flags of the New Orleans Tri-Centennial
Andrew Johnson
17th President of the United States
(1808 - 1875)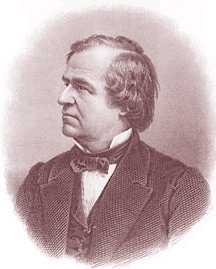 Andrew Johnson became the 17th President of the United States after the assassination of Abraham Lincoln on April 15, 1865. Johnson would not resign as a United States Senator when his home state of Tennessee seceded from the Union and he worked hard to preserve the Union. For his efforts he was chosen to run for and won the Vice Presidency under Abraham Lincoln. Although he was an honest and honorable man, Andrew Johnson was one of the most hapless of Presidents. Against him were the Radical Republicans in Congress, brilliantly led and ruthless in their tactics. Johnson was no match for them. His presidency made him the focal point in the struggle over how to restore the Union after the Civil War. This struggle became so embittered that the House of Representatives impeached him and he was tried before the United States Senate. He was ultimately found not guilty of the charges. The one great accomplishment of his administration was in foreign affairs, the purchase of Alaska from Russia.
Johnson was born on December 29, 1808, in Raleigh, North Carolina, the son of Jacob and Mary (Polly) McDonough Johnson. His father died three years after Andrew was born. The family was destitute and remained poor even after the remarriage of Andrew's mother. Apprenticed by his mother to a tailor at the age of 14, Johnson was unable to attend school and never was afforded a formal education. He learned the basic knowledge of reading and writing from a Raleigh gentleman who read to the employees and apprentices at the tailor shop where young Andrew worked. Unhappy at his job, Johnson refused to serve out his apprenticeship. His family moved to eastern Tennessee, settling in Greenville and there he opened his own tailor shop. On May 5, 1827, Andrew married Eliza McCardle, the daughter of a Scottish shoemaker. Eliza helped him further his education, teaching him arithmetic and improving his reading and writing skills. Andrew and Eliza had five children.
Resentful of those in upper society and determined to rise from humble origins, Johnson strove to become an important figure in Tennessee politics. He was popular with the craftsman of the town and was thus able to replace Greenville's traditional leaders with a political organization that he and his friends founded. Representing small farmers of eastern Tennessee hill country, he challenged the western cotton planters who usually controlled the party. In 1829 he was elected councilman and served three terms. Later, in 1834 he was elected mayor of Greenville and in 1835 he was elected to the state legislature. Defeated in 1837, he was re-elected in 1839. In 1843 Johnson was elected to the United States House of Representatives in which he served until 1853. As a Member of the House of Representatives he advocated a homestead bill to provide a free farm for the poor man. Twice he was elected Governor of Tennessee (1853 and 1855). In this position he secured the passage of the first tax in Tennessee to be levied in support of education. He also directed the creation of a state board of agriculture. Finally in 1857, he rose to the office of the United States Senate and once again took up the fight for a homestead bill. The bill finally passed in 1860 but was vetoed by President James Buchanan.
It was Johnson's belief that government should interfere as little as possible in people's lives. Moreover, he was convinced that the U.S. Constitution imposed such limitations on the national government. As a Southerner Johnson defended slavery in the conflicts of 1840-50's, taking the strong state rights position that Congress could not prevent its spread to territories of the United States. Accordingly, in 1860 he supported the pro-slavery Democratic presidential candidate, John C. Breckinridge. When the Southern states began to secede after the victory of the antislavery Republican candidate, Abraham Lincoln, however, Johnson denied that secession could be undertaken legally. He fought unsuccessfully to keep Tennessee in the Union and refused to resign his place in Congress, the only Southern senator to remain loyal to the United States. This made him a hero in the North and a traitor in the eyes of most Southerners. Barely escaping a lynch mob when returning to his home in 1861, he eventually had to flee, but he never abandoned the effort to liberate eastern Tennessee. In March 1862, when Union forces occupied part of Tennessee, Lincoln appointed Johnson military governor there. Johnson set out in 1863 to restore civil government and revive the Union cause in his home state after the defeat of the last remaining Confederate forces. In 1864, assured that Lincoln would be re-nominated, the Republicans looked for someone who would appeal to Democrats and Republicans alike. Johnson was chosen because of his work for the Union and his political label as a "war Democrat". Under the new Union Party, the ticket won easily. After his victory as Lincoln's running mate, he convened a convention that set up a new state government and abolished slavery in Tennessee.
Following the assassination of Lincoln on April 14, 1865, Johnson assumed the presidency and faced a series of difficult problems. The Civil War was over, damages were still to be repaired and the Union restored. Bitterness in the North had increased with the death of Lincoln. They held the South accountable for the tragedy. Congressional leaders liked Johnson as president. Johnson denounced Confederates as traitors. This goodwill, however, disappeared as he set out his Reconstruction plans. Like most white Southerners of his time, Johnson was a racist who believed whites should have firm control over society and government. He was opposed to Republican legislation protecting the rights of ex-slaves in the South and tried unsuccessfully to prevent Congress from replacing the Southern State governments he had authorized with new ones. Offended by the enactment of racially discriminatory regulations (The Black Codes) and the election of prominent ex-Confederates, the Republicans majority refused to seat any Senator or Representative from the old Confederacy when Congress met in December 1865. Johnson vetoed the Freedmen's Bureau and Civil Rights Bills, but Congress overrode both vetoes. It framed its own Reconstruction plan and proposed the 14th Amendment to the Constitution, establishing Negroes as American citizens and forbade discrimination against them. All former Confederates States except Tennessee refused to ratify the amendment.
Johnson was totally opposed to the congressional Reconstruction. Hampered by Secretary of War Edwin M. Stanton, Johnson tried to remove him. Stanton refused to resign, but in August 1867, the president removed him and appointed Ulysses S. Grant in his place. This action violated the Tenure of Office Act passed by Congress in 1867, limiting the powers of the presidency. Stanton refused to give up the office and the Senate supported him. Stanton was reinstated in January 1868. When Johnson again dismissed Stanton in February, Congress brought 11 charges of impeachment against him for "high crimes and misdemeanors". In the ensuing trial lasting from March until May 1868, the Senate found Johnson not guilty. Johnson was acquitted, the tally being one vote shy of the two-thirds needed for conviction. Seven Republicans voted with the Democrats for acquittal. The failure of impeachment was a severe blow to the radical Republicans. However, Johnson's power had been broken. The greatest achievement of the Johnson administration was in foreign affairs, the purchase of Alaska by Secretary of State William H. Seward in 1867. This, however, was overshadowed by his administration's domestic troubles.
The Republicans nominated Grant in 1868 and at the Democratic convention, Johnson was defeated by Horatio Seymour of New York. Johnson left office in 1869. He retired to his home in Tennessee. Following several failures to stage a political comeback, he campaigned for the Senate in 1874 and won. In 1875 he took his seat, becoming the only ex-president ever elected to the Senate. He suffered a paralytic attack and died at Carter Station, Tennessee on July 31, 1875.
Andrew Johnson signed Presidential Pardon dated July 8, 1867
Presidential Libraries
Rutherford B. Hayes Presidential Center

McKinley Memorial Library

Herbert Hoover Presidential Library and Museum - has research collections containing papers of Herbert Hoover and other 20th century leaders.

Franklin D. Roosevelt Library and Museum - Repository of the records of President Franklin Roosevelt and his wife Eleanor Roosevelt, managed by the National Archives and Records Administration.

Harry S. Truman Library & Museum

Dwight D. Eisenhower Presidential Library - preserves and makes available for research the papers, audiovisual materials, and memorabilia of Dwight and Mamie D. Eisenhower

John Fitzgerald Kennedy Library

Lyndon B. Johnson Library and Museum

Richard Nixon Library and Birthplace Foundation

Gerald R. Ford Library and Museum

Jimmy Carter Library

Ronald Reagan Presidential Library - 40th President: 1981-1989.

George Bush Presidential Library

The Congressional Evolution of the United States Henry Middleton
Unauthorized Site: This site and its contents are not affiliated, connected, associated with or authorized by the individual, family, friends, or trademarked entities utilizing any part or the subject's entire name. Any official or affiliated sites that are related to this subject will be hyper linked below upon submission and Evisum, Inc. review.
Copyright© 2000 by Evisum Inc.TM. All rights reserved.
Evisum Inc.TM Privacy Policy