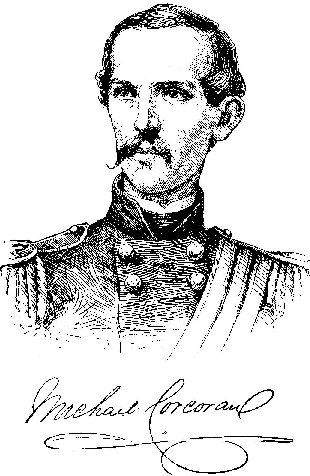 Edited Appleton's American Image Copyright© 2001 by VirtualologyTM
CORCORAN, Michael, soldier, born in Carrowkeel, county Sligo, Ireland, 21 September, 1827; died near Fairfax Court-House, Virginia, 22 December, 1863. He was the son of a captain in the British army, received a good education, and was appointed in the Irish constabulary at the early age of eighteen, but resigned his commission from patriotic tootives in 1849, emigrated to the United States, and settled in New York City, where he obtained a clerkship in the post-office, and afterward in the office of the city register.
He entered the 69th regiment of New York militia as a private, rose through the successive grades, and in August, 1859, was elected colonel. When the militia paraded in honor of the Prince of Wales in 1860, he refused to order out his regiment, for which he was subjected to a trial by court-martial that was still pending when the civil war began.
Upon the first call of the president for troops, Colonel Corcoran led the 69th regiment to the seat of war. It was ordered into Virginia, built Fort Corcoran on Arlington heights, and fought with impetuous valor at the battle of Bull Run, 21 July, 1861. The colonel was wounded and taken prisoner, and was first sent to Richmond, and afterward taken to Charleston, Columbia, Salisbury, back to Richmond, and to other places, being kept in close confinement for nearly a year. With some other national officers he was reserved for execution in case the U. S. government carried out its threat of punishing the crews of captured privateers.
He was offered his liberty on condition of not again taking up arms against the south, but refused to accept it on such terms. An exchange being finally effected, 15 August, 1862, he was released, and commissioned brigadier-general, dating from 21 July, 1861. He next organized the Corcoran legion, which took part in" the battles of the Nansemond river and Suffolk, during April, 1863, and held the advance of the enemy upon Norfolk in check. In August, 1863, the legion was attached to the Army of the Potomac. General Corcoran was killed by the falling of his horse upon him while he was riding in company with Gen. Thomas Francis Meagher. -- Edited Appleton's Cyclopedia American Biography Copyright© 2001 by VirtualologyTM
Research Links
Civil War Union General Michael Corcoran
Caldwell, George. Caldwell, John Curtis. Cameron,
Robert. Campbell, Charles. Campbell, William. ...
Michael Corcoran
... Michael Corcoran was embroiled in ... was subsequently countermanded, and Corcoran was
exchanged in August ... was promoted to brigadier general retroactive to the day ...
Salisbury Confederate Prison
... Months Imprisonment in Richmond, and Other Southern Cities by Brigadier General
Michael Corcoran, the Hero of Bull Run. Philadelphia: Barkley and Co., 1862 ...
CATHOLIC ENCYCLOPEDIA: Michael Corcoran
... Michael Corcoran. ... engagements, and while in camp at Fairfax Court House, Virginia,
General Corcoran was thrown from his horse and died the same day ...
Description: (Catholic Encyclopedia)
The Wild Geese Today -- The Irish Brigade Honored at ...
... Above left, Michael Corcoran left his imprint on ... the 155th NY joined Major General
Winfield Scott Hancock's II ... with the rest of the Corcoran Legion and the 8th ...
Penn Special Collections-Keffer-Civil War Figures
... Michael, General Corcoran's Release March / composed and dedicated to Brig. Gen.
Michael Corcoran and the gallant 69th NY Regiment by MB Clark, Philadelphia ...
Columbia Rifles Articles: "Playing Paddy Right: Part 2"
... of New York City and, as the Fenians' military commander, Brigadier General Michael
Corcoran (until his death in 1863). The Brotherhood was popular among Irish ...
11th PA Cav--Battle of Deserted House & Official Report
... approbation. I am, major, with high respect, your obedient servant, MICHAEL CORCORAN,
Brigadier-General, Comdg. at Battle of Deserted House, Va. Maj. BB FOSTER ...
This Week in the Civil War April 12,1863
... General Michael Corcoran has been chomping at the bit to see some action ever since
his brigade of New York Irishmen was shipped to Suffolk last December. ...
155th NYVI History
... Irish brigade known as Corcoran s Irish Legion commanded by Brigadier General Michael
Corcoran Other Irish regiments in the Corcoran Legion included the 164th ...