American's Four United Republics: Discovery-Based Curriculum
Ketones
In organic chemistry, a ketone (pronounced /ˈkiːtoʊn/) is a compound with the structure RC(=O)R', where R and R' can be a variety of atoms and groups of atoms. It features a carbonyl group (C=O) bonded to two other carbon atoms. Acetone is the simplest example of a ketone, and in fact the word ketone derives its name from Aketon, the German word for acetone.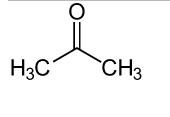 Ketones differ from aldehydes in that the carbonyl is placed between two carbons rather than at the end of a carbon skeleton. They are also distinct from other functional groups, such as carboxylic acids, esters and amides, which have a carbonyl group bonded to a hetero atom.

A ketone that has an α-hydrogen participates in a so-called keto-enol tautomerism. The reaction with a strong base gives the corresponding enolate, often by deprotonation of the enol.
Ketones engage in many organic reactions.
The most important reactions follow from the susceptibility of the carbonyl carbon toward nucleophilic addition and the tendency for the enolates to add to electrophiles. Nucleophilic additions include in approximate order of their generality:

With water (hydration) gives geminal diols, which are usually not formed in appreciable (or observable) amounts.
With an acetylide to give the α-hydroxyalkyne.
With ammonia or a primary amine gives an imine.
With secondary amine gives an enamine.
With Grignard and organolithium reagents to give, after aqueous workup, a tertiary alcohol.
With an alcohols or alkoxides to gives the hemiketal or its conjugate base. With a diol to th ketal. This reaction is employed to protect ketones.
With sodium amide resulting in C-C bond cleavage with formation of the amide RCONH2 and the alkane R'H, a reaction called the Haller-Bauer reaction.
Electrophilic addition, reaction with an electrophile gives a resonance stabilized cation.
With phosphonium ylides in the Wittig reaction to give the alkenes
With thiols to give the thioacetal
With hydrazine or 1-disubstituted derivatives of hydrazine to give hydrazones.
With a metal hydride gives a metal alkoxide salt, hydrolysis of which gives the alcohol, an example of ketone reduction
With halogens to form α-haloketone, a reaction that proceeds via an enol, see Haloform reaction.
With heavy water to give a α-deuterated ketone.
Fragmentation in photochemical Norrish reaction
Reaction of 1,4-aminodiketones to oxazoles by dehydration in the Robinson-Gabriel synthesis
In the case of aryl-alkyl ketones, with sulfur and an amine give amides in the Willgerodt reaction.
With hydroxylamine to produce oximes

Start your search on Ketones.
America's Four United Republics Exhibit - Click Here
Unauthorized Site: This site and its contents are not affiliated, connected, associated with or authorized by the individual, family, friends, or trademarked entities utilizing any part or the subject's entire name. Any official or affiliated sites that are related to this subject will be hyper linked below upon submission and Evisum, Inc. review.
Copyright© 2000 by Evisum Inc.TM. All rights reserved.
Evisum Inc.TM Privacy Policy