American's Four United Republics: Discovery-Based Curriculum
Amino Acids
An organic compound containing an amino group (NH2), a carboxylic acid group (COOH), and any of various side groups, especially any of the 20 compounds that have the basic formula NH2CHRCOOH, and that link together by peptide bonds to form proteins or that function as chemical messengers and as intermediates in metabolism.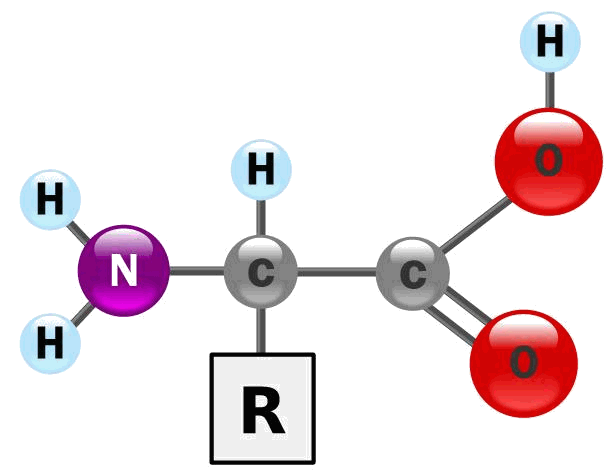 The general structure of an alpha amino acid.
Amino acids are molecules containing an amine group, a carboxylic acid group and a side chain that varies between different amino acids. These molecules contain the key elements of carbon, hydrogen, oxygen, and nitrogen. These molecules are particularly important in biochemistry, where this term usually refers to alpha-amino acids with the general formula H2NCHRCOOH, where R is an organic substituent. In an alpha amino acid, the amino group is attached to the carbon atom immediately adjacent to the carboxylate group (the α–carbon), but note that other types of amino acid exist when the amino group is attached to another carbon atom (for example, in gamma-amino acids such as gamma-amino-butyric acid the carbon atom to which the amino group attaches is separated from the carboxylate group by two other carbon atoms). The various alpha amino acids differ in which side chain (R group) is attached to their alpha carbon and these can vary in size from just one hydrogen atom in glycine or a methyl group in alanine, through to a large heterocyclic group in tryptophan.

Amino acids are critical to life, and have many functions in metabolism. One particularly important function is to serve as the building blocks of proteins, which are just linear chains of amino acids. Every protein is chemically defined by the order of amino acid residues, their primary structure and this, in turn, determines their secondary structure (for example well-described features such as alpha-helices or beta-pleated sheets), tertiary structure (the shape of the individual protein, for example globular as in most enzymes or linear as in collagen) or quaternary structure (the overall shape of the protein complex if several protein monomers are grouped together, as in the hemoglobin complex, which consists of four hemoglobin monomers held together by hydrogen bonds that are capable of reacting together allosterically when one or more of them binds another molecule for example oxygen). Just as the letters of the alphabet can be combined to form an almost endless variety of words, amino acids can be linked together in varying sequences to form a vast variety of proteins. Amino acids are also important in many other biological molecules, for example they play vital roles in coenzymes such as S-adenosylmethionine. Due to their central role in biochemistry, amino acids are very important in nutrition and are commonly used in food technology and industry. For example, monosodium glutamate is a common flavor enhancer that gives foods the taste called umami. They are also used in industry where applications include the production of biodegradable plastics, drugs and chiral catalysts. -- by Wikipedia

America's Four United Republics Exhibit - Click Here
Unauthorized Site: This site and its contents are not affiliated, connected, associated with or authorized by the individual, family, friends, or trademarked entities utilizing any part or the subject's entire name. Any official or affiliated sites that are related to this subject will be hyper linked below upon submission and Evisum, Inc. review.
Copyright© 2000 by Evisum Inc.TM. All rights reserved.
Evisum Inc.TM Privacy Policy