American's Four United Republics: Discovery-Based Curriculum
Galaxy
Galaxy is a gravitationally bound collection of stars, dust, and gas.
Text and Scans listed below courtesy of NASA
NASA Privacy Statement, Disclaimer, and Accessibility Certification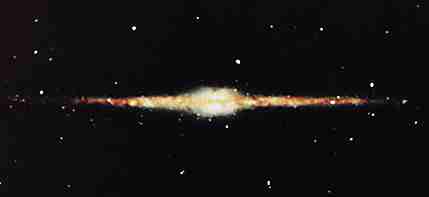 The image is a near-infrared image of the Milky Way. It shows the Milky Way from an edge-on perspective with the north pole of our Galaxy at the top and the south pole at the bottom. At near-infrared wavelengths, the dominant source of light is stars within our Galaxy. Even though our solar system is part of the Milky Way, the view looks distant because most of the light comes from the population of stars that are closer to the galactic center (the big bulge in the middle of the disk) rather than our own Sun.
| | | |
| --- | --- | --- |
| | | Stars sometimes form in colorful ways, such as these which are forming in a small region in the nearby Large Magellanic Cloud (LMC) galaxy. After a star is born, it may do several things to energize its immediate neighborhood. It may develop a strong wind which pushes away nearby gas; it may be so hot and intense that emitted light boils away nearby dust and gas; and it may be so massive that it soon goes supernova and catapults its elements back to the interstellar medium. Astronomers study regions like this one, named DEM192, to better understand how these and other processes proceed. This picture is a composite of three separate photographs, each sensitive to only one specific color of light, a color that distinguishes a specific chemical element. Image: NASA and C. Smith |
| | | The extraordinary polar ring galaxy NGC 4650A. Located about 130 million light-years away, NGC 4650A is one of only 100 known polar ring galaxies. Their unusual disk-ring structure is not yet fully understood. One possibility is that polar rings are the remnants of colossal collisions between two galaxies sometime in the distant past, probably at least 1 billion years ago. What is left of one galaxy has become the rotating inner disk of old red stars in the center. Meanwhile, another smaller galaxy which ventured too close was probably severely damaged or destroyed. During the collision the gas from the smaller galaxy would have been stripped off and captured by the larger galaxy, forming a new ring of dust, gas, and stars which orbit around the inner galaxy almost at right angles to the old disk. This is the polar ring which we see almost edge-on in Hubble's Wide Field and Planetary Camera 2 image of NGC 4650A, created using three different color filters (which transmit blue, green, and near-infrared light). Image: NASA |
| | | A NASA Hubble Space Telescope (HST) view of the magnificent spiral galaxy NGC 4603, the most distant galaxy in which a special class of pulsating stars called Cepheid variables have been found. It is associated with the Centaurus cluster, one of the most massive assemblages of galaxies in the nearby universe. The Local Group of galaxies, of which the Milky Way is a member, is moving in the direction of Centaurus at a speed of more than 1 million miles an hour under the influence of the gravitational pull of the matter in that direction. Image: NASA |
| | | In 1995, the majestic spiral galaxy NGC 4414 was imaged by the Hubble Space Telescope as part of the HST Key Project on the Extragalactic Distance Scale. An international team of astronomers, led by Dr. Wendy Freedman of the Observatories of the Carnegie Institution of Washington, observed this galaxy on 13 different occasions over the course of two months. Images were obtained with Hubble's Wide Field and Planetary Camera 2 (WFPC2) through three different color filters. Based on their discovery and careful brightness measurements of variable stars in NGC 4414, the Key Project astronomers were able to make an accurate determination of the distance to the galaxy. The resulting distance to NGC 4414 is 19.1 megaparsecs or about 60 million light-years. Image: NASA |
| | | The spiral galaxy M33 is a mid-sized member of our Local Group of galaxies. M33 is also called the Triangulum Galaxy for the constellation in which it resides. About four times smaller in radius than our Milky Way Galaxy and the Andromeda Galaxy (M31), M33 is much larger than the many of the local dwarf spheroidal galaxies. M33's proximity to M31 causes some to think that M33 is a satellite galaxy of M31, which is a more massive galaxy. M33's proximity to our Milky Way galaxy causes it to appear more than twice the angular size of the full moon, and, thus, it is visible with a good pair of binoculars. In this picture, visible light is shown in red and ultraviolet light is superposed in blue. Stars in M33 are the most distant ever to be studied spectroscopically. Image: NASA |
| | | M74 is about the same size as our own Milky Way Galaxy. Like our Milky Way, M74 is classified as a spiral galaxy. M74's sweeping lanes of stars and dust, combined with its small nucleus, make it a classic Grand Design Spiral. On the Hubble Sequence of Galaxies, M74 is listed as "Sc". In this picture, visible light is shown in red and ultraviolet light is superposed in blue. In general, older stars are redder and younger stars are blue. Studies with the Ultraviolet Imaging Telescope show that the disk of M74 has undergone significant star formation in just the past 500 million years. Image: NASA |

Start your search on Galaxy.
America's Four United Republics Exhibit - Click Here
Unauthorized Site: This site and its contents are not affiliated, connected, associated with or authorized by the individual, family, friends, or trademarked entities utilizing any part or the subject's entire name. Any official or affiliated sites that are related to this subject will be hyper linked below upon submission and Evisum, Inc. review.
Copyright© 2000 by Evisum Inc.TM. All rights reserved.
Evisum Inc.TM Privacy Policy