The Seven Flags of the New Orleans Tri-Centennial
Caesar Rodney
(1728 - 1784)
Stamp Act Congress of 1765
Signer of the Declaration of Independence
CAESAR RODNEY was born October 7, 1728 near Dover in Kent County Delaware. His father, Caesar, was a planter who died when the son was only seventeen, leaving him a large estate. Rodney appears to have gained most of his education at home as was often the case with planters' sons. He entered public life early filling posts that included high sheriff of Kent County, register of wills, recorder of deeds, clerk of the orphan's court and Justice of the peace. 

For more that a dozen years he was almost continuously a member of the House of Assembly, and at the age of thirty-three he attended the Stamp Act Congress in New York along with Thomas McKean. At the age of forty-one, Rodney was chosen speaker of the assembly and was appointed to the Supreme Court. He was also chosen to represent Delaware during both the first and second continental congress. He listened intently to the debates on independence without committing himself, but he was finally convinced that Britain "was making every kind of exertion in her favor to reduce us to unconditional submission…that no hope of reconciliation on constitutional principles could possibly remain". 

In May of 1775, he was appointed a colonel and in September he became brigadier general of the Delaware militia. In 1776, he was alternately in his seat in congress, and at work in Delaware, stimulating the patriots and repressing the royalists. When the question of independence was raised he was delayed in getting to congress owing to the fact that, after presiding in June over the session of the assembly that had authorized support of the inter-colonial movement for independence and which virtually declared Delaware independent of the Crown, he had gone to Sussex County to look into a threatened Loyalist uprising. He had just returned home when he learned from his colleague McKean that a vote was pending in Congress and he rushed northward to give his voice. McKean, knowing Rodney to be favorable to the declaration, urged him by special messenger to hasten his return. Rodney had ridden eighty miles through a rain swept night for his trip was urgent, his vote was needed desperately to break the deadlock in the Delaware delegation, as Thomas McKean and George Read were divided. His affirmative vote secured the consent of the Delaware delegation to the measure, and thus affected that unanimity among the colonies that was so essential to the cause of independence.
Caesar Rodney at age forty-eight was one of only three bachelors to sign the Declaration of Independence. Perhaps he chose not to marry because of a cancer that was already ravaging part of his eye and face. The cancerous growth on his face, from which he suffered for years and finally died, may have contributed to the oddity of his appearance, but his actions showed him to be a man of heroic proportions.
He had aroused conservative opposition in Kent County, which prevented his being elected to the state constitutional convention. In 1778, he became President of Delaware, as the chief executive of the state was then called. Serving until 1781, he was the war governor during a large part of the Revolution. His declining health interfered with later public service, but he was Speaker of the upper house of the legislature when he died on June 26,1784, in his fifty-sixth year.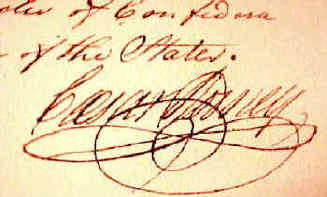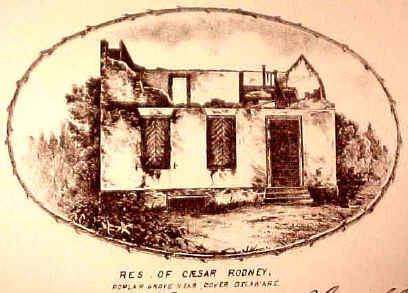 Source:
Centennial Book of Signers
 

For a High-resolution version of the Stone Engraving
 

For a High-resolution version of the Original Declaration of Independence
We invite you to read a transcription of the complete text of the Declaration as presented by the National Archives.
&
The article "The Declaration of Independence: A History," which provides a detailed account of the Declaration, from its drafting through its preservation today at the National Archives.
Virtualology  welcomes the addition of web pages with historical documents and/or scholarly papers on this subject.  To submit a web link to this page  CLICK HERE.  Please be sure to include the above name, your name, address, and any information you deem appropriate with your submission.
National Archives and Records Administration

The Congressional Evolution of the United States Henry Middleton
Unauthorized Site: This site and its contents are not affiliated, connected, associated with or authorized by the individual, family, friends, or trademarked entities utilizing any part or the subject's entire name. Any official or affiliated sites that are related to this subject will be hyper linked below upon submission and Evisum, Inc. review.
Research Links
Stamp Act Resolution - The University of Oklahoma Law Center
Copyright© 2000 by Evisum Inc.TM. All rights reserved.
Evisum Inc.TM Privacy Policy