Who was the First U.S. President?
There were actually four first Presidents
of the United Colonies and States of America
Click Here
Richard M. Nixon
47th President of the United States
37th under the US Constitution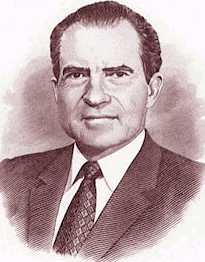 RICHARD MILHOUS NIXON was born January 9, 1913, in his father's house in Yorba Linda, California. He was the second of the five sons of Francis Anthony and Hanna Milhous Nixon. His parents were Quakers, the Nixons being of Scots-Irish descent and the Milhouses, Irish and English. They were hardworking and serious, running a small lemon farm. Their farm failed in 1922 and the family moved to Whittier, California, where young Nixon attended public schools, while his father operated a combination general store and gas station. They had little money, and the boys helped out tending the store, pumping gas and doing other odd jobs. Nixon was an excellent student, graduating second in his class at Whittier High School. He was invited by both Harvard and Yale to apply for scholarships, but the Depression and his older brother's illness made his presence close to home necessary.
Nixon attended local Whittier College, a small Quaker institution, majoring in history. He excelled in debating and won a public speaking contest and his first election, as president of the student body. He was a good student, graduating second in his class in 1934. He received a scholarship to Duke University Law School and received his law degree in 1937. He returned home and joined an established law firm in Whittier and at a local community theater tryout, he met Thelma Catherine Ryan. Known as Patricia or Pat, she taught shorthand and typing at a local high school, and they started dating when they were cast in the same play. They were married on June 21, 1940, and they had two daughters: Patricia, born in 1946 and Julie, born in 1948. Julie later married David Eisenhower, grandson of former president Dwight D. Eisenhower.
When the United States entered World War II in 1941, Nixon went to work for the Office of Price Administration in Washington, D.C. In 1942, he joined the U.S. Navy as a lieutenant (junior grade) and served mainly in naval air transport in the South Pacific. By the end of the War in 1945, he had achieved the rank of lieutenant commander, and he was discharged in early 1946.
After his discharge, Nixon was persuaded by some California Republicans to run for a seat in the U.S. House of Representatives against a popular Democratic incumbent, Jerry Voorhis. Nixon waged a hard aggressive campaign that would become characteristic of his political career. The two men confronted each other in a series of debates and Nixon won the election. After winning reelection in 1948, Nixon was appointed to the House Un-American Activities Committee as it began its investigation of Alger Hiss, a State Department official who was accused of passing secret documents to the Soviets. Nixon personally pressed the investigation, and Hiss was indicted for perjury and Nixon gained a national reputation as an enemy of Communism.
In 1950, Nixon was chosen as the Republican candidate for the U.S. Senate. His opponent was Helen Gahagan Douglas. Nixon defeated he by a wide margin in a campaign that was called one of the roughest, most bitter campaigns in political history.
In 1952, Nixon gained the attention of Dwight D. Eisenhower, who selected him to be his running mate. Nixon's candidacy received a setback when he was accused of having improperly accepted campaign contributions, but no evidence was produced to indicate he had misused the fund or given special favors. Nixon made a televised speech to the nation in response to the allegations, known as the "Checkers" speech because it contained a sentimental reference to his dog, Checkers. Nixon made full disclosure of his personal finances and the public received the speech favorably. The Eisenhower/Nixon ticket was swept into office in a Republican landslide. Nixon received the vice presidential nomination again in 1956, easily winning reelection with Eisenhower.
As Eisenhower neared the end of his second term, Nixon emerges as his logical successor, and the overwhelming choice of his party. His opponent was Senator John F. Kennedy, the Democratic Senator from Massachusetts. For the first time, the American public was able to see a series of four televised face-to-face debates between the two candidates for president. Kennedy's youth and good looks played well to the television audience and that partly attributed to helping him win the election, one of the closest is U.S. history. Both candidates received more than 34 million popular votes and Kennedy beat Nixon by only 112,803, about two-tenths of one percent.
Nixon returned to California and his law practice following his defeat. In 1962, he became the Republican candidate for governor and again lost after a bitterly fought campaign. Nixon moved to New York after his California defeat, where he became a partner in a prominent law firm, but always keeping a close eye on Republican politics. He campaigned for Republican candidates in the 1964 and 1966 elections and by early 1968 he had sufficiently recovered his political standing. He announced his candidacy for the 1968 presidential nomination on February 1. He won most of the state primary elections he entered and accumulated so much strength that by the Republican Convention in August, his nomination was an inevitable conclusion. His running mate was Governor Spiro T. Agnew of Maryland and their opponents were Hubert H. Humphrey of Minnesota and Senator Edmund S. Muskie of Maine. A third party ticket headed by George C. Wallace, the former governor of Alabama, complicated the election. Nixon won with 301 electoral votes to Humphrey's 191 and Wallace's 46.
Taking office in 1969, Nixon was faced with his most important issue, the Vietnam War. By the end of 1968, more than 500,000 U.S. troops were stationed there and antiwar sentiment developed at home. Nixon had campaigned against the war, saying that he would bring the troops back home. He announced a policy of gradual withdrawal of American troops along with "Vietnamiztion" of the conflict, which would make South Vietnam responsible for its own defense against the Communist North.
However, in April 1970, he authorized the invasion of Cambodia to pursue North Vietnamese troops stationed there, expanding the war. The invasion of Cambodia led to widespread American protests, mainly on university campuses. At Kent State University in Ohio, four students were killed and others wounded when national guardsman fired into a group of demonstrators.
Nixon made great strides in foreign affairs, visiting China and the Soviet Union and he initiated the Strategic Arms Limitation Talks (SALT) with the Soviets. In 1973, Nixon signed a peach accord with North Vietnam, finally extricating the country from a conflict that had cost 58,000 American lives. However, his achievements were overshadowed by a constitutional crisis at home. On June 17, 1972, a break-in was discovered at the Democrats National Committee headquarters in the Watergate building. Five men were arrested in an attempt to steal documents and place wiretaps on the telephones. Nixon denied any knowledge of the incident and went on to a landslide reelection victory in November. Slowly, however, evidence was amassed that implicated the White House. Senior Administration Officials were caught in a cover-up that unraveled under mounting investigation. Threatened with impeachment, Nixon resigned on August 8, 1974.
Courtesy of: National Archives and Records Administration
Richard M. Nixon Resignation Letter, August 9, 1974
Presidential Libraries
Rutherford B. Hayes Presidential Center

McKinley Memorial Library

Herbert Hoover Presidential Library and Museum - has research collections containing papers of Herbert Hoover and other 20th century leaders.

Franklin D. Roosevelt Library and Museum - Repository of the records of President Franklin Roosevelt and his wife Eleanor Roosevelt, managed by the National Archives and Records Administration.

Harry S. Truman Library & Museum

Dwight D. Eisenhower Presidential Library - preserves and makes available for research the papers, audiovisual materials, and memorabilia of Dwight and Mamie D. Eisenhower

John Fitzgerald Kennedy Library

Lyndon B. Johnson Library and Museum

Richard Nixon Library and Birthplace Foundation

Gerald R. Ford Library and Museum

Jimmy Carter Library

Ronald Reagan Presidential Library - 40th President: 1981-1989.

George Bush Presidential Library


The Congressional Evolution of the United States Henry Middleton
Unauthorized Site: This site and its contents are not affiliated, connected, associated with or authorized by the individual, family, friends, or trademarked entities utilizing any part or the subject's entire name. Any official or affiliated sites that are related to this subject will be hyper linked below upon submission and Evisum, Inc. review.
Copyright© 2000 by Evisum Inc.TM. All rights reserved.
Evisum Inc.TM Privacy Policy