Who was the First U.S. President?
There were actually four first Presidents
of the United Colonies and States of America
Click Here
George H.W. Bush

51st President of the United States
41st under the US Constitution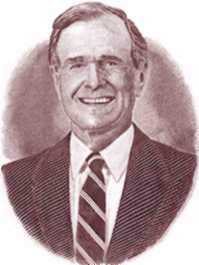 George Herbert Walker Bush was inaugurated the 41st president of the United States on January 20, 1989. Prior to becoming Vice President under Ronald Reagan, he had held an array of senior public positions. Bush was the first sitting vice-president of the United States to be elected since Martin Van Buren in 1836. Anti-incumbent sentiment among voters, the economy, and unemployment were issues that figured prominently in the defeat of Bush who garnered only 38 percent of the popular vote (less than any incumbent since William H. Taft lost in 1912) in his bid for re-election in 1992. The Bush administration was noted for the "wimp" image.
George Bush was born in Milton, Massachusetts on June 12, 1924 the second of five children of Prescott Sheldon Bush and Dorothy Walker Bush. Dorothy was the daughter of a wealthy investor, and his father Prescott was a partner in an international banking house who later became the Republican United States Senator from Connecticut. Growing up in Greenwich, Connecticut, George was educated in private schools, including the Greenwich Country Day School. He was a determined and popular student. He later attended the prestigious Phillips Academy in Andover, Massachusetts. He enlisted in the armed forces on his 18th birthday and was the youngest pilot in the Navy when he received his wings at the age of 20. A carrier pilot in the Pacific during World War II, he was shot down by Japanese antiaircraft fire over the Pacific and was awarded the Distinguished Flying Cross for bravery in action as well as three Air Medals. He was discharged in 1945. He married Barbara Pierce in 1945 with whom he had six children. Turning his energies to completing his education, he enrolled at Yale University and joined the exclusive Skull and Bones society. He majored in economics, completing college in three years and graduated with Phi Beta Kappa honors in 1948. After graduation, he moved the family to Texas embarking on a career in the oil industry, working in the west Texas oil fields for Dresser Industries. He and partner John Overby, established the Bush-Overby Development Company trading oil leases and royalties. In 1954, he became president of the Zapata Offshore Company.
George became interested in politics like his father and began dabbling in local Republican politics in Houston. Defeated when he first ran for the United States Senate in 1964, he went on to become the first Republican to represent Houston in the House of Representatives in 1966 and served two terms. As a freshman legislator, he was named to the Powerful House Ways and Means Committee. While in Congress Bush supported some liberal causes such as giving 18 year olds the right to vote and abolishing the military draft. Despite the unpopularity of the Civil Rights Act of 1968 with his constituents, he voted for the Civil Rights Act in 1968. Giving up his seat in the House in 1970, Bush ran once again for the United States Senate. His opponent, Lloyd Bentsen, won easily despite campaign help from President Richard M. Nixon. Nixon rewarded Bush for his Senate campaign efforts with an appointment as Ambassador to the United Nations. In 1973 Nixon named Bush Chairman of the Republican National Committee. A succession of other prestigious appointments followed including Chief of the United States Liaison Office in the People's Republic of China and Director of Central Intelligence Agency. In his position as Director of the CIA, Bush needed to appease angry legislators and restore employee morale. The Senate confirmed the appointment only on the condition that he not be chosen as a running mate for President Ford in the next presidential election.
Bush resigned from the CIA in 1977 after Jimmy Carter was elected president in 1976 to begin his quest for the 1980 Republican presidential nomination. Bush did well in many of the Republican primaries, but the popularity of Ronald Reagan grew. Attacks on Reagan's ultraconservatism failed to attract a majority of the Republican voters to the Bush campaign. After losing in the Texas primary, he withdrew from the race and threw his support to Reagan. At the Republican Convention, former President Gerald Ford was briefly considered as Reagan's running mate, but Bush received the nomination as Vice President. Party leaders admired his comparative youth, experience in foreign policy and popularity with moderates.
The Reagan-Bush team easily defeated incumbent President Jimmy Carter by a wide margin. Previous political rivalry and policy differences aside, the team of Reagan and Bush worked well together throughout their eight-year tenure in the White House. As Vice President, Bush chaired presidential task forces on deregulation, combating terrorism, and on coordinating government efforts to stop drug smuggling in southern Florida. He also visited numerous nations as a special emissary for the President and headed the National Security Council's "crisis management team". Bush, a moderate conservative, was criticized for changing his opinions on issues to match the ultraconservative views of the president. President Reagan valued this loyalty and again selected Bush to be his running mate in 1984. Garnering an unprecedented 525 electoral votes, they won re-election by a landslide. Their second term in the White House began on a wave of popularity. Bush became the first designated acting president of the United States when on July 13, 1985, Ronald Reagan underwent surgery and the power of his office was formally transferred to the Vice President.
Formally announcing his second attempt to gain the presidency on October 12, 1987, Bush had already collected major endorsements from the Republican Party. Due to the Iran-Contra arms scandal, the prestige of the Reagan/Bush administration suffered major damage. During the campaign charges were made that Bush was aware of the illegal arms deal. Also, a major problem during the campaign was the fact that critics considered Bush not tough enough to lead the country. Finishing third in the Iowa caucuses, the party was doubtful of his chances but his support grew among the voters who appreciated his loyalty to the popular president. Early Spring saw Bush ahead of the other Republican candidates. At the Republican Convention he overwhelmingly won the 1988 Republican nomination on the first ballot and chose the United States Senator from Indiana, Dan Quayle, as his running mate.
Prior to his nomination, Bush had consistently run behind Dukakis in the polls. Doubts had been raised about Quayle's qualifications. Late polls pointed to a landslide victory for the Democrat candidate Dukakis. The Bush-Quayle campaign focused on the supposed weakness of opponent, Massachusetts Governor Michael Dukakis. Bush denounced his opponent for "liberalism" and campaigned on the promise of no new taxes. Benefiting from the popularity and active participation in the campaign by President Reagan, Bush defeated Dukakis in the general election and became the first incumbent vice president to win election since Martin Van Buren won in 1836. The Bush inauguration was the most expensive in the nation's history. His inaugural address called for a "kinder, gentler nation" and invoked his campaign image of a "thousand points of light." For his cabinet, Bush's choices were mostly familiar insiders, despite his pledge to bring "fresh faces" into the government. Bush set a record for the number of women appointed to top federal posts. Most significant of these appointments was that of Elizabeth H. Dole as Secretary of Labor.
Bush faced a changing world during his first two years in office. Known to act decisively abroad, he was cautious in domestic affairs. Bush negotiated a treaty with Russia reducing nuclear arms and sent American troops into Panama to overthrow the corrupt regime of General Manuel Noriega. But, the greatest test of his presidency came with the invasion of Kuwait by Iraqi President Saddam Hussein on August 2, 1990. Stationing American troops in the Persian Gulf to defend Saudi Arabia, Bush won support throughout the world. He issued an economic embargo of Iraq. The American troops were joined by troops from the allied nations. On January 16, 1991, Bush ordered a massive bombing attack dubbed Dessert Storm on Iraq followed by a swift ground assault on February 24th. Iraq surrendered four days later. Bush's popularity soared after this attack.
Despite the popularity of this military triumph, Bush was not able to handle the discontent at home and, unfortunately, domestic problems began to arise. A major issue centered on his memorable campaign pledge, "Read my lips: no new taxes." In 1990 he engaged in a prolonged battle with Congress over his fiscal 1991 budget which cut back domestic programs and maintained military funding. The budget received much criticism from Congress and Bush finally had to concede that any agreement with Congress would require a tax revenue increase. He signed a deficit reduction bill that slowed the growth of spending but also increased taxes.
Adding to his problems, Bush vetoed a bill increasing the minimum wage to $4.55 an hour. However, a two-tiered wage increase, the first since 1981, went into effect on April 1, 1990. He vetoed the Civil Rights Act of 1990 claiming it would lead to hiring quotas. He made a sweeping reform of immigration laws and signed bills for clean air and the largest expansion ever of the Head Start pre-school program, bolstering campaign pledges to become the "environmental president" and the "education president". With the United States deficit increased, Bush proposed a cut in defense spending. He also announced that in order to revive the lagging economy he was lowering income tax withholding and reducing many popular social programs such as housing for the elderly and disabled and support for health services. The nation's output fell to recession levels in July 1990. All this fueled popular discontent. By January 1992, Bush's approval rating had dropped to half what it had been in early 1991. The remainder of his term was dogged by persistent economic stagnation.
Facing a strong challenge from conservative Patrick Buchanan in the Republican primaries of 1992, Bush, however, was able to beat off the challenge and received the Republican nomination. Slow in gearing up for the campaign in the fall, the Bush/Quayle ticket was attacked on the economy, health care and the environment by opponents Bill Clinton and Al Gore. After weeks of lackluster campaigning, Bush resorted to strident attacks in the end. The popularity of Bush and Quayle continued to decline and they were accused of being out of touch with reality for their positions on the riots in Los Angeles in late April and early May. Also, Quayle's accusation that the breakdown of family values lay with the inner cities did little to help their campaign. In the election of November 3, 1992, William Jefferson Clinton defeated George W. Bush by a plurality of 43% to 38%.
In his last weeks in office Bush continued to remain active in foreign policy and sent troops to feed the starving in Somalia and restore order. He ordered air strikes against Iraq and well as signing an arms reduction treaty with Boris Yeltsin of Russia.
George Bush brought to the White House a dedication to traditional American values and a determination to direct them toward making the United States "a kinder and gentler nation."

Presidents of the Continental Congress
United Colonies of The United States
Peyton Randolph
September 5, 1774 to October 22, 1774
and May 20 to May 24, 1775

Henry Middleton
October 22, 1774 to October 26, 1774
John Hancock
October 27, 1775 to July 1, 1776
Presidents of the Continental Congress
United States of America
John Hancock
July 2, 1776 to October 29, 1777
Henry Laurens
November 1, 1777 to December 9, 1778
John Jay
December 10, 1778 to September 28, 1779
Samuel Huntington
September 28, 1779 to February 28, 1781

Presidents of the United States
in Congress Assembled
Samuel Huntington
1st President of the United States
in Congress Assembled
March 1, 1781 to July 6, 1781
Thomas McKean
2nd President of the United States
in Congress Assembled
July 10, 1781 to November 5, 1781
John Hanson
3rd President of the United States
in Congress Assembled
November 5, 1781 to November 4, 1782
Elias Boudinot
4th President of the United States
in Congress Assembled
November 4, 1782 to November 3, 1783
Thomas Mifflin
5th President of the United States
in Congress Assembled
November 3, 1783 to June 3, 1784
Richard Henry Lee
6th President of the United States
in Congress Assembled
November 30, 1784 to November 23, 1785
John Hancock
7th President of the United States
in Congress Assembled
November 23, 1785 to June 6, 1786
Nathaniel Gorham
8th President of the United States
in Congress Assembled
June 1786 - November 13, 1786
Arthur St. Clair
9th President of the United States
in Congress Assembled
February 2, 1787 to October 29, 1787
Cyrus Griffin
10th President of the United States
in Congress Assembled
January 22, 1788 to March 4, 1789

Presidents of the United States
under the
United States Constitution
George Washington (F)

John Adams (F)

Thomas Jefferson (D-R)

James Madison (D-R)

James Monroe (D-R)

John Quincy Adams (D-R)
Andrew Jackson (D)

Martin Van Buren (D)

William H. Harrison (W)

John Tyler (W)

James K. Polk (D)

David Atchison (D)*

Zachary Taylor (W)
James Buchanan (D)

Abraham Lincoln (R)

Jefferson Davis (D)**

Andrew Johnson (R)

Ulysses S. Grant (R)
Rutherford B. Hayes (R)

James A. Garfield (R)

Chester Arthur (R)
Grover Cleveland (D)

Benjamin Harrison (R)

Grover Cleveland (D)

William McKinley (R)

Theodore Roosevelt (R)

William H. Taft (R)

Wilson Woodrow (D)
Warren G. Harding (R)

Calvin Coolidge (R)

Herbert C. Hoover (R)

Franklin D. Roosevelt (D)

Harry S. Truman (D)

Dwight D. Eisenhower (R)

John F. Kennedy (D)

Lyndon B. Johnson (D)

Richard M. Nixon (R)

Gerald R. Ford (R)

James Earl Carter, Jr. (D)

Ronald Wilson Reagan (R)

George H. W. Bush (R)

William Jefferson Clinton (D)

George W. Bush (R)



*President for One Day

**President Confederate States of America
Current Order of Presidential Succession

The Vice President
Speaker of the House
President pro tempore of the Senate
Secretary of State
Secretary of the Treasury
Secretary of Defense
Attorney General
Secretary of the Interior
Secretary of Agriculture
Secretary of Commerce
Secretary of Labor
Secretary of Health and Human Services
Secretary of Housing and Urban Development
Secretary of Transportation
Secretary of Energy
Secretary of Education
Secretary of Veterans Affairs
Research Links
Virtualology is not affiliated with the authors of these links nor responsible for its content.
Presidential Libraries
Rutherford B. Hayes Presidential Center

McKinley Memorial Library

Herbert Hoover Presidential Library and Museum - has research collections containing papers of Herbert Hoover and other 20th century leaders.

Franklin D. Roosevelt Library and Museum - Repository of the records of President Franklin Roosevelt and his wife Eleanor Roosevelt, managed by the National Archives and Records Administration.

Harry S. Truman Library & Museum

Dwight D. Eisenhower Presidential Library - preserves and makes available for research the papers, audiovisual materials, and memorabilia of Dwight and Mamie D. Eisenhower

John Fitzgerald Kennedy Library

Lyndon B. Johnson Library and Museum

Richard Nixon Library and Birthplace Foundation

Gerald R. Ford Library and Museum

Jimmy Carter Library

Ronald Reagan Presidential Library - 40th President: 1981-1989.

George Bush Presidential Library


The Congressional Evolution of the United States Henry Middleton
Unauthorized Site: This site and its contents are not affiliated, connected, associated with or authorized by the individual, family, friends, or trademarked entities utilizing any part or the subject's entire name. Any official or affiliated sites that are related to this subject will be hyper linked below upon submission and Evisum, Inc. review.
Copyright© 2000 by Evisum Inc.TM. All rights reserved.
Evisum Inc.TM Privacy Policy