Who was the First U.S. President?
There were actually four first Presidents
of the United Colonies and States of America
Click Here
John C. Coolidge
40th President of the United States
30th under the US Constitution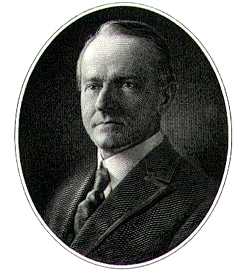 Citation awarding the Medal of Honor to Commander Richard E. Byrd for his participation in first flight over the North Pole -- Courtesy of: National Archives and Records Administration
JOHN CALVIN COOLIDGE was born July 4, 1872 in Plymouth Notch, Vermont. He was the only son of John Calvin Coolidge, a jack-of-all-trades, teacher, storekeeper, farmer, politician, and even mechanic when necessary and Victoria Josephine Moor, a handsome woman who loved poetry and natural beauty, who died when Calvin was 12. The Coolidges lived in the rear of the combined general store and post office, and young Coolidge attended the local school. He was later enrolled in the Black River Academy in Ludlow, Vermont and in 1891, attended Amherst College in Amherst, Massachusetts, being the first of the Vermont Coolidges to attend college.
Following his graduation cum laude from Amherst in 1895, Coolidge read law in the offices of John Hammond and Henry Field in Northampton, Mass. Two years later he was admitted to the bar. He decided to practice law in Northampton, and although he never prospered as an attorney, he was able to earn enough to become financially independent in a short time.
On October 4, 1905 Coolidge married Grace Anna Goodhue from Vermont, who taught at the Clarke Institute for the Deaf in Northampton. Vivacious, witty, and friendly, with a pleasant smile, she was the opposite of her quiet husband. They had two sons, John Coolidge (1906 - ) and Calvin Coolidge, Jr. (1908 – 1924).
His relationship with Hammond and Field led him into politics, which came easily to him because his father was a frequent officeholder in Vermont. In Northampton, Hammond and Field were political leaders and found Coolidge a willing political apprentice. In 1898 he was elected as a city councilman. From that day until his retirement from the presidency he was seldom out of public office. In 1905 he suffered his only election defeat, in a contest for school committeeman. In 1906 he was elected to the Massachusetts House of Representatives. During his two one-year terms in the state house, Coolidge made little impression. Coolidge was elected mayor of Northampton in 1909 and reelected in 1910. In 1911 he was sent to the state Senate, where he became a Republican leader. After his election to a third Senate term in 1913, Coolidge was elected to the powerful position as president of the state Senate. In 1915 he ran successfully for lieutenant governor. Coolidge used his three years as lieutenant governor to acquire more knowledge of government, and in 1918 he was elected governor of Massachusetts.
As governor, Coolidge became nationally known in 1919, when the Boston policemen went on strike. Coolidge, who had earlier refused to take action, brought in troops and asked for federal soldiers in case a general strike should occur. The policemen returned to work and when Coolidge was asked to let suspended policemen return to their jobs, Coolidge refused, saying, "There is no right to strike against the public safety by anybody, anywhere, anytime." His statement was applauded throughout the nation. At the Republican National Convention in 1920, he won the nomination for vice president, joining Warren G. Harding on the ticket. Harding and Coolidge received an overwhelming victory of 7 million votes. The vote in the Electoral College was 404 to James M. Cox's 127.
Little was expected of the vice president, and Coolidge was not very active. He presided over the Senate, attended Cabinet meetings, and ranked next to the president in ceremonial affairs. "Silent Cal," as he was called, started to convey himself more in longer speeches and in newspaper articles, but he had little enthusiasm for his job and had developed no power as a national political figure. When Harding died suddenly in San Francisco, California, on August 2, 1923, Coolidge was visiting his father in Vermont. He received the news of the president's death in the early hours of August 3 and took the presidential oath in the farmhouse parlor by the light of kerosene lamps. Coolidge's father, who was a justice of the peace, administered the oath of office. However, because his father could only swear in people for Vermont offices, Coolidge had to repeat the oath in Washington, D.C., 18 days later.
Coolidge's reputation for honesty served him well when the Harding scandals came to light. He moved swiftly to restore confidence in the White House, and otherwise followed his conviction that "the business of America is business." The country was enjoying high productivity and low unemployment and he was the apostle of prosperity, economy, and respectability during the 1924 presidential campaign. His opponents exhausted themselves with charges about the government's deficiencies, while he received credit for his equanimity and the economic upturn. With his slogan, "Keep cool with Coolidge", he won easily, but 1924 was a sad year for Coolidge, for in July his younger son, Calvin, Jr., died of blood poisoning.
Coolidge, the dour and frugal teetotaler from Vermont was utterly out of step with the Jazz Age of his second term. As bootlegging, corruption and stock market speculating became rampant, Coolidge, who preferred to lead by example, tended to administrative affairs and quietly trimmed $2 billion from the national debt. He did not seek reelection in 1928. He retired in 1929 to Northampton, where he busied himself writing newspaper and magazine articles. He seldom took an active role in politics. His health declined rapidly, and on January 5, 1933, he died of coronary thrombosis.
Presidents of the Continental Congress
United Colonies of The United States
Peyton Randolph
September 5, 1774 to October 22, 1774
and May 20 to May 24, 1775

Henry Middleton
October 22, 1774 to October 26, 1774
John Hancock
October 27, 1775 to July 1, 1776
Presidents of the Continental Congress
United States of America
John Hancock
July 2, 1776 to October 29, 1777
Henry Laurens
November 1, 1777 to December 9, 1778
John Jay
December 10, 1778 to September 28, 1779
Samuel Huntington
September 28, 1779 to February 28, 1781

Presidents of the United States
in Congress Assembled
Samuel Huntington
1st President of the United States
in Congress Assembled
March 1, 1781 to July 6, 1781
Thomas McKean
2nd President of the United States
in Congress Assembled
July 10, 1781 to November 5, 1781
John Hanson
3rd President of the United States
in Congress Assembled
November 5, 1781 to November 4, 1782
Elias Boudinot
4th President of the United States
in Congress Assembled
November 4, 1782 to November 3, 1783
Thomas Mifflin
5th President of the United States
in Congress Assembled
November 3, 1783 to June 3, 1784
Richard Henry Lee
6th President of the United States
in Congress Assembled
November 30, 1784 to November 23, 1785
John Hancock
7th President of the United States
in Congress Assembled
November 23, 1785 to June 6, 1786
Nathaniel Gorham
8th President of the United States
in Congress Assembled
June 1786 - November 13, 1786
Arthur St. Clair
9th President of the United States
in Congress Assembled
February 2, 1787 to October 29, 1787
Cyrus Griffin
10th President of the United States
in Congress Assembled
January 22, 1788 to March 4, 1789

Presidents of the United States
under the
United States Constitution
George Washington (F)

John Adams (F)

Thomas Jefferson (D-R)

James Madison (D-R)

James Monroe (D-R)

John Quincy Adams (D-R)
Andrew Jackson (D)

Martin Van Buren (D)

William H. Harrison (W)

John Tyler (W)

James K. Polk (D)

David Atchison (D)*

Zachary Taylor (W)
James Buchanan (D)

Abraham Lincoln (R)

Jefferson Davis (D)**

Andrew Johnson (R)

Ulysses S. Grant (R)
Rutherford B. Hayes (R)

James A. Garfield (R)

Chester Arthur (R)
Grover Cleveland (D)

Benjamin Harrison (R)

Grover Cleveland (D)

William McKinley (R)

Theodore Roosevelt (R)

William H. Taft (R)

Wilson Woodrow (D)
Warren G. Harding (R)

Calvin Coolidge (R)

Herbert C. Hoover (R)

Franklin D. Roosevelt (D)

Harry S. Truman (D)

Dwight D. Eisenhower (R)

John F. Kennedy (D)

Lyndon B. Johnson (D)

Richard M. Nixon (R)

Gerald R. Ford (R)

James Earl Carter, Jr. (D)

Ronald Wilson Reagan (R)

George H. W. Bush (R)

William Jefferson Clinton (D)

George W. Bush (R)



*President for One Day

**President Confederate States of America
Current Order of Presidential Succession



The Vice President
Speaker of the House
President pro tempore of the Senate
Secretary of State
Secretary of the Treasury
Secretary of Defense
Attorney General
Secretary of the Interior
Secretary of Agriculture
Secretary of Commerce
Secretary of Labor
Secretary of Health and Human Services
Secretary of Housing and Urban Development
Secretary of Transportation
Secretary of Energy
Secretary of Education
Secretary of Veterans Affairs
Research Links
Virtualology is not affiliated with the authors of these links nor responsible for its content.
Presidential Libraries
Rutherford B. Hayes Presidential Center

McKinley Memorial Library

Herbert Hoover Presidential Library and Museum - has research collections containing papers of Herbert Hoover and other 20th century leaders.

Franklin D. Roosevelt Library and Museum - Repository of the records of President Franklin Roosevelt and his wife Eleanor Roosevelt, managed by the National Archives and Records Administration.

Harry S. Truman Library & Museum

Dwight D. Eisenhower Presidential Library - preserves and makes available for research the papers, audiovisual materials, and memorabilia of Dwight and Mamie D. Eisenhower

John Fitzgerald Kennedy Library

Lyndon B. Johnson Library and Museum

Richard Nixon Library and Birthplace Foundation

Gerald R. Ford Library and Museum

Jimmy Carter Library

Ronald Reagan Presidential Library - 40th President: 1981-1989.

George Bush Presidential Library


The Congressional Evolution of the United States Henry Middleton
Unauthorized Site: This site and its contents are not affiliated, connected, associated with or authorized by the individual, family, friends, or trademarked entities utilizing any part or the subject's entire name. Any official or affiliated sites that are related to this subject will be hyper linked below upon submission and Evisum, Inc. review.
Copyright© 2000 by Evisum Inc.TM. All rights reserved.
Evisum Inc.TM Privacy Policy