Who was the First U.S. President?
There were actually four first Presidents
of the United Colonies and States of America
Click Here
Gerald R. Ford

49th President of the United States
39th under the US Constitution
GERALD RUDOLPH. FORD was born as Leslie Lynch King, Jr. in Omaha, Nebraska on July 14, 1913. He was the only child of Leslie Lynch King and Dorothy Gardner King. Two weeks after his birth, his mother left her husband and took her son to live with her parents in Grand Rapids, Michigan. His parents were divorced in 1914 and his mother met Gerald R. Ford at a church function. They were married on February 1, 1916 and although Ford never formally adopted her son, he gave the child his name, Gerald Rudolph Ford, Jr. Young Ford did not know until 1930 that he was not the biological son of his father, but he took the name legally on December 3, 1935. In later years, Ford saw his natural father only a few times and learned that he had remarried and fathered another boy and two girls.
Growing up in Grand Rapids, Ford attended the local grade schools and worked in his stepfather's paint and varnish store. The Fords were a close-knit family, which included three younger half-brothers. He achieved the rank of Eagle Scout and was the star center for the South High School football team. He won a football scholarship to the University of Michigan in Ann Arbor in 1931 and played center on their undefeated national football championship teams of 1932 and 1933. After his graduation in 1935, Ford received offers to play professional football with both the Detroit Lions and the Green Bay Packers but instead he entered Yale University to study law. He accepted a job as assistant football coach and freshman boxing coach to finance his studies. He graduated from Yale in 1941 and returned to Grand Rapids to open a law firm with Philip R. Buchen, a friend from the University of Michigan.
In April 1942, Ford enlisted in the Navy and was commissioned an ensign. After orientation, he became a physical fitness instructor at the pre-flight training school in Chapel Hill, North Carolina. In the spring of 1943, he was assigned to duty aboard the USS Monterey, which took part in most of the major operations in the South Pacific. He earned ten battle stars and was discharged as a lieutenant commander in February 1946.
Ford returned to Grand Rapids and became a partner in the firm of Butterfield, Keeney and Amberg and became active in local Republican politics. With the encouragement of his stepfather, who was the county Republican chairman, Ford decided to run for Congress. He won the election to the House of Representatives from Michigan's 5th Congressional District in 1948, receiving 61 percent of the vote in the general election. During the height of the campaign on October 15, 1948, Ford secretly married Elizabeth (Betty) Bloomer Warren. She was a fashion consultant for a leading Grand Rapids department store. She had previously been married to William C. Warren, having been divorced in 1947. Betty was born in Chicago and had studied dance with Martha Graham and had been a model in New York. The couple would have four children: Michael Gerald, born March 14, 1950; John Gardner, born March 16, 1952; Steven Meigs, born May 19, 1956; and Susan Elizabeth, born July 6, 1957.
Ford was reelected twelve times, serving from January 3, 1949 to December 6, 1973. He served on the House Appropriations Committee and rose to prominence on the Defense Appropriation Subcommittee, becoming its ranking minority member in 1961. His reputation as a legislator grew and he became House Minority Leader in 1965. In both the 1968 and 1972 elections Ford was a loyal supporter of Richard Nixon who had been a friend for many years. In 1973, when Nixon's Vice President, Spiro T. Agnew, was forced to resign over a income tax scandal, Nixon picked Ford as the new Vice President. Following the most thorough background investigation in the history of the FBI, Ford was confirmed and sworn in on December 6, 1973. The following year, Nixon resigned over Watergate and Ford became President. He became the first person to become President of the United States without having been elected president or vice president. Ford took the oath of office on August 9, 1974 and within a month he nominated Nelson Rockefeller for vice president. On September 9, 1974, Ford granted Nixon a "full, free and absolute pardon", believing that protracted impeachment proceedings would keep the country from focusing on its other problems. Public reaction was most negative and the decision may have cost him the election in 1976.
Ford presided over a period of steadily improving relations with the Soviet Union, reaching an agreement on limiting nuclear arms. He had the misfortune to inherit the weakest American economy of the post-World War II period. He faced rising inflation, rising unemployment and rising energy use. In the spring of 1975 the North Vietnamese began their last offensive of the war. Only a small contingent of American personnel remained in Saigon and as the North Vietnamese advanced toward the capital, they were forced into a desperate and chaotic evacuation. On April 30, 1975, the war was officially ended.
On two separate trips to California in September 1975, Ford was the target of assassination attempts. Both of the assailants were women – Lynette "Squeaky" Fromme, a follower of convicted murderer Charles Manson, and by Sara Jane Moore.
Ford fought a strong challenge by Ronald Reagan to gain the Republican nomination during the 1976 campaign. He chose Senator Robert Dole of Kansas as his running mate but lost to Democrat Jimmy Carter in one of the closest elections in history.
Ford returned to private life in California where he built a new house in Rancho Mirage. He continues to actively participate in politics and campaigns extensively for Republican candidates. In August 1999, Ford received the Medal of Freedom presented by President Bill Clinton. This honor, the nation's highest civilian award, was in recognition of Ford's role in guiding he nation through the turbulent times of Watergate, the Nixon resignation and the end of the Vietnam War.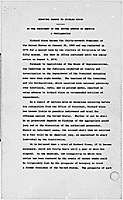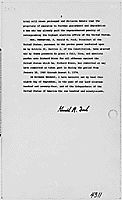 Click on Image 1 or Image 2 to Enlarge
Ford Pardon of Richard M. Nixon
Courtesy of the National Archives
Presidents of the Continental Congress
United Colonies of The United States
Peyton Randolph
September 5, 1774 to October 22, 1774
and May 20 to May 24, 1775

Henry Middleton
October 22, 1774 to October 26, 1774
John Hancock
October 27, 1775 to July 1, 1776
Presidents of the Continental Congress
United States of America
John Hancock
July 2, 1776 to October 29, 1777
Henry Laurens
November 1, 1777 to December 9, 1778
John Jay
December 10, 1778 to September 28, 1779
Samuel Huntington
September 28, 1779 to February 28, 1781

Presidents of the United States
in Congress Assembled
Samuel Huntington
1st President of the United States
in Congress Assembled
March 1, 1781 to July 6, 1781
Thomas McKean
2nd President of the United States
in Congress Assembled
July 10, 1781 to November 5, 1781
John Hanson
3rd President of the United States
in Congress Assembled
November 5, 1781 to November 4, 1782
Elias Boudinot
4th President of the United States
in Congress Assembled
November 4, 1782 to November 3, 1783
Thomas Mifflin
5th President of the United States
in Congress Assembled
November 3, 1783 to June 3, 1784
Richard Henry Lee
6th President of the United States
in Congress Assembled
November 30, 1784 to November 23, 1785
John Hancock
7th President of the United States
in Congress Assembled
November 23, 1785 to June 6, 1786
Nathaniel Gorham
8th President of the United States
in Congress Assembled
June 1786 - November 13, 1786
Arthur St. Clair
9th President of the United States
in Congress Assembled
February 2, 1787 to October 29, 1787
Cyrus Griffin
10th President of the United States
in Congress Assembled
January 22, 1788 to March 4, 1789

Presidents of the United States
under the
United States Constitution
George Washington (F)

John Adams (F)

Thomas Jefferson (D-R)

James Madison (D-R)

James Monroe (D-R)

John Quincy Adams (D-R)
Andrew Jackson (D)

Martin Van Buren (D)

William H. Harrison (W)

John Tyler (W)

James K. Polk (D)

David Atchison (D)*

Zachary Taylor (W)
James Buchanan (D)

Abraham Lincoln (R)

Jefferson Davis (D)**

Andrew Johnson (R)

Ulysses S. Grant (R)
Rutherford B. Hayes (R)

James A. Garfield (R)

Chester Arthur (R)
Grover Cleveland (D)

Benjamin Harrison (R)

Grover Cleveland (D)

William McKinley (R)

Theodore Roosevelt (R)

William H. Taft (R)

Wilson Woodrow (D)
Warren G. Harding (R)

Calvin Coolidge (R)

Herbert C. Hoover (R)

Franklin D. Roosevelt (D)

Harry S. Truman (D)

Dwight D. Eisenhower (R)

John F. Kennedy (D)

Lyndon B. Johnson (D)

Richard M. Nixon (R)

Gerald R. Ford (R)

James Earl Carter, Jr. (D)

Ronald Wilson Reagan (R)

George H. W. Bush (R)

William Jefferson Clinton (D)

George W. Bush (R)



*President for One Day

**President Confederate States of America
Current Order of Presidential Succession

The Vice President
Speaker of the House
President pro tempore of the Senate
Secretary of State
Secretary of the Treasury
Secretary of Defense
Attorney General
Secretary of the Interior
Secretary of Agriculture
Secretary of Commerce
Secretary of Labor
Secretary of Health and Human Services
Secretary of Housing and Urban Development
Secretary of Transportation
Secretary of Energy
Secretary of Education
Secretary of Veterans Affairs
Research Links
Virtualology is not affiliated with the authors of these links nor responsible for its content.
Presidential Libraries
Rutherford B. Hayes Presidential Center

McKinley Memorial Library

Herbert Hoover Presidential Library and Museum - has research collections containing papers of Herbert Hoover and other 20th century leaders.

Franklin D. Roosevelt Library and Museum - Repository of the records of President Franklin Roosevelt and his wife Eleanor Roosevelt, managed by the National Archives and Records Administration.

Harry S. Truman Library & Museum

Dwight D. Eisenhower Presidential Library - preserves and makes available for research the papers, audiovisual materials, and memorabilia of Dwight and Mamie D. Eisenhower

John Fitzgerald Kennedy Library

Lyndon B. Johnson Library and Museum

Richard Nixon Library and Birthplace Foundation

Gerald R. Ford Library and Museum

Jimmy Carter Library

Ronald Reagan Presidential Library - 40th President: 1981-1989.

George Bush Presidential Library


The Congressional Evolution of the United States Henry Middleton
Unauthorized Site: This site and its contents are not affiliated, connected, associated with or authorized by the individual, family, friends, or trademarked entities utilizing any part or the subject's entire name. Any official or affiliated sites that are related to this subject will be hyper linked below upon submission and Evisum, Inc. review.
Copyright© 2000 by Evisum Inc.TM. All rights reserved.
Evisum Inc.TM Privacy Policy