Appleton's Cyclopedia of American Biography, edited by James Grant Wilson, John Fiske and Stanley L. Klos. Six volumes, New York: D. Appleton and Company, 1887-1889 and 1999. Virtualology.com warns that these 19th Century biographies contain errors and bias. We rely on volunteers to edit the historic biographies on a continual basis. If you would like to edit this biography please submit a rewritten biography in text form . If acceptable, the new biography will be published above the 19th Century Appleton's Cyclopedia Biography citing the volunteer editor
Virtual American Biographies
Over 30,000 personalities with thousands of 19th Century illustrations, signatures, and exceptional life stories. Virtualology.com welcomes editing and additions to the biographies. To become this site's editor or a contributor Click Here or e-mail Virtualology here.
A
B
C
D
E
F
G
H
I
J
K
L
M
N
O
P
Q
R
S
T
U
V
W
X
Y
Z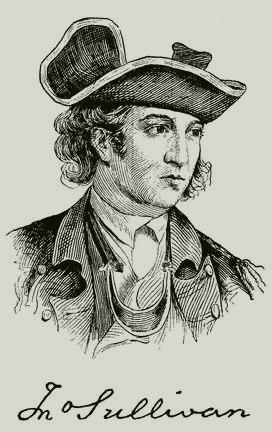 Click on an image to view full-sized
John Sullivan
SULLIVAN, John, soldier, born in Berwick, Maine, 17 February, 1740; died in Durham, New Hampshire, 23 January, 1795. Dermod, chief of Beare and Bantry, Ireland, who was killed in his castle of Dunboy in 1549, was his well-known lineal ancestor. His father, Owen, who died in 1796 at the age of 105, was born in Limerick during the siege in 1691, and came to this country in 1723. The son studied law, practised with success in Durham, New Hampshire, and from 1772 held the commission of major in the militia. He was sent from New Hampshire in May, 1774, to the Continental congress at Philadelphia at the age of thirty-three, and was appointed in June, 1775, one of the eight brigadier-generals of the Continental army, then engaged in the siege of Boston, General Nathanael Greene and himself being placed in command of the left wing under General Charles Lee. Before this, in December, 1774, he had led, with John Langdon, a successful expedition against Fort William and Mary, near Portsmouth. He took a principal part in the siege of Boston, but for a brief period was detached for the defence of Portsmouth. By his influence, when the time was up for the stipulated service of the troops from Connecticut, the army was re-enforced by 2,000 men from his own state of New Hampshire. After the evacuation of the city, Sullivan took command, on 2 June, 1776, of the northern army on the borders of Canada. He made an unsuccessful attack on the British at Three Rivers, but his troops were prostrated by smallpox and menaced by greatly superior numbers, and he led them in a skilful retreat to join Washington at New York. After holding for a brief period the chief command on Long Island, and being appointed major-general, he yielded command on the island to General Benjamin Lincoln, his senior in years and date of commission. With Lord Stirling and about 8,000 men on Long Island they held at bay for a time 23,000 British troops, better equipped and disciplined. Sullivan and Stifling were captured, but soon exchanged. The former did good service in the operations of Westchester, receiving the thanks of Washington in general orders at the close of the campaign. When General Charles Lee, lodging apart from his troops, was taken prisoner, Sullivan led the right wing to join Washington on the Delaware, and commanded the right wing in the passage of the river on Christmas night, and the capture of the Hessians at Trenton. He also took part in the battle of Princeton. While waiting for the British to attack Philadelphia, Sullivan made a night descent on Staten island to capture several regiments that were posted there, and took 100 prisoners. He received the approbation of congress. He then marched rapidly to join Washington, and, in command of the right wing, fought at the Brandywine and at Germantown, where he defeated the British left. When, early in 1778, the alliance was made with France, Sullivan was sent by Washington to take command in Rhode Island, and when D'Estaing arrived with his fleet he did his part to raise 10,000 men in a few weeks to co-operate with it against Newport, which was then garrisoned by 7,000 British and Hessians. The volunteers were disconcerted by the withdrawal of the French fleet, which sailed away to fight the English, and being instructed by Washington that 5,000 more troops were on their way to re-enforce the garrison, Sullivan marched the army, now reduced to 6,000 men, to Butt's hill, and from 7 A. M. to 7 P.M. on 29 August fought what Lafayette pronounced the best-contested battle of the war, 6,000 on each side, virtually ending about 4 P.M. in driving the enemy from the battle-field at the point of the bayonet. While waiting in the summer of 1779 for the promised return of D'Estaing from the West Indies to co-operate against Canada, Sullivan, in command of 4,000 men, to prepare the way, entered the Iroquois' country in the state of New York to punish and prevent the devastations of the Indian tribes and their English allies, and defeating all that ventured to oppose him, including a force under Joseph Brant and Sir John Johnson at New-town on 29 August, 1779, drove out of the country thousands of Indian warriors and destroyed their villages and crops. After moving several hundred miles through the wilderness, he returned to Pennsylvania to learn that D'Estaing had fruitlessly spent his strength in the siege of Savannah and sailed for France. His health being shattered by five years' active and continuous service in the field, he resigned, and was again sent in 1780 to the Continental congress, where he helped to reorganize the army and to establish the finances and public credit. He was chairman of the committee that aided in suppressing the mutiny of Pennsylvania troops in 1781. Resuming his practice in New Hampshire, he was president of the state in 1786-'9, a member of the State constitutional convention of 1784, councillor in 1781, and a commissioner to settle the "New Hampshire grant" troubles with Vermont. In 1786, by intrepidity and good management, he saved his state from anarchy, and in 1788 he was active in securing the adoption of the constitution of the United States. From 1789 till his death he was United States judge for his state. Harvard gave him the degree of LB. D. in 1780. See his life by Oliver W. B. Peabody, in Sparks's "American Biography" ; his "Military Services and Public Life," by Thomas C. Amory (Boston, 1868); and "Journals of the Military Expedition of Major-General John Sullivan against the Six Nations of Indians in 1779, with Records of Centennial Celebrations," prepared by order of the state government (Auburn, New York, 1887).--His son, George, statesman, born in Durham, New Hampshire, 29 August, 1771 ; died in Exeter, New Hampshire, 14 June, 1838, was graduated at Harvard in 1790, studied law, was admitted to the bar, and began to practise at Exeter in 1793. He was a member of the state house of representatives in 1805, attorney-general of New Hampshire in 1805-'6, a member of congress in 1811-'13, and of the state senate in 1814-'15, and was again attorney-general in 1816-'35. He published orations and pamphlets.--General John's brother, James, statesman, born in Berwick, Maine, 22 April, 1744; died in Boston, Massachusetts, 10 December, 1808, was intended for a military life, which he was prevented from following by the fracture of a limb. He studied law under his brother, was admitted to the bar, began practice at Biddeford, and in 1770 received the appointment of king's attorney for York county. He early took an active part in the Revolution, was a member of the Provincial conchusetts in 1775, and with two others ably executed a difficult mission to Ticonderoga. In the early part of 1776 he was appointed a judge of the superior court, which post he resigned in February, 1782. In 1779-'80 he was a member of the State constitutional convention, and in 1784-'5 he was a delegate from Massachusetts to the Continental congress. He repeatedly represented Boston in the state assembly, and in 1784 was a commissioner to settle the controversy between New York and Massachusetts regarding their claims to western lands. In 1787 he was of the executive council and judge of probate of Suffolk county, and he served as attorney-general from 1790 till 1807, when he was elected governor of Massachusetts by the Republican party, and re-elected in 1808. He was one of the commissioners appointed by Washington to settle the boundary-line between this country and the British North American provinces, and the projector of the Middlesex canal, which was constructed under the superintendence of his son, John Langdon. He was a member of the American academy of arts and sciences from its institution, and one of the principal founders of the Massachusetts historical society, and for many years its president. Harvard gave him the degree of LL.D. in 1780. He published "Observations on the Government of the United States" (Boston, 1791); "The Path to Riches, or Dissertation on Banks " (1792) ; "History of the District of Maine " (1795); "The Altar of Baal thrown Down, or the French Nation Defended" (1795) ; "Impartial Review of the Causes of the French Revolution" (1798) ; "History of Land-Titles in Massachusetts" (1801) ; "Dissertation on the Constitutional Liberty of the Press" (1801) ; "Correspondence with Colonel Pickering" (1808); and a "History of the Penobscot Indians," in "Massachusetts Historical Collections." His life, with selections from his writings, was published by his grandson, Thomas C. Amory (2 vols., Boston, 1859).--James's son, William, author, born in Saeo, Maine, 30 November, 1774" died in Boston, Massachusetts, 3 September, 1839, was graduated at Harvard in 1792, admitted to the bar in 1795, and practised successfully for many years in Boston, where he was long president of the Suffolk bar association. He was frequently a member of the state legislature and council of Massachusetts between 1804 and 1830, and was a delegate to the State constitutional convention in 1830. He was a brigadier-general of militia, and a member of the Academy of arts and sciences, the Massachusetts historical society, and the American philosophical society. Mr. Sullivan was a fine belles-lettres scholar, and a persuasive orator. Harvard gave him the degree of LL.D. in 1826. He published "Political Class-Book" (Boston, 1831); "Moral Class-Book" (1833), "Historical Class-Book" (1833); "Familiar Letters on the Public Men of the Revolution, including Events, 1783-1815" (1834; new ed., with a biographical sketch of the author, by his son, John T. S. Sullivan, Philadelphia, 1847); "Sea Life" (Boston, 1837) ; "Historical Causes and Effects, A. D. 476-1517" (1838) ; and many addresses.--William's son, John Turner Sargent, lawyer, born in Boston, in 1813; died there, 30 December, 1838, was educated in Germany, studied law, was admitted to the bar, and practised in Philadelphia, Pennsylvania, and St. Louis, Missouri His social and convivial qualities made him very popular. He wrote several well-known songs, and, besides the memoir of his father, published translations of stories from the German.--Another son of Governor James, John Langdon, engineer, born in Saco, Maine, 9 April, 1777; died in Boston, Massachusetts, 9 February, 1865, after engaging in mercantile business travelled in Europe, studied the construction of canals in France and England, and in 1804 was appointed agent and engineer of the Middlesex canal, between Boston and Concord, New Hampshire He invented a steam tow-boat, for which he received a patent in 1814, in preference to Robert Fulton, who applied for it at the same time, Sullivan's priority of invention being fully shown. In 1824 he was appointed by President Monroe associate civil engineer of the board of internal improvements, which post he resigned in 1825, after reporting the practicability of a canal across the Alleghanies. He then studied medicine, received his degree at Yale in 1837, and engaged in practice at New Haven, adopting the views of the homceopathists. In 1847 he removed to New York. Dr. Sullivan made some important inventions and discoveries in medicine and surgery, and published pamphlets on steamboat navigation.--John Lang-don's son, Thomas Russell, clergyman, born in Brookline, Massachusetts, in 1799; died in Somerville, Massachusetts, 23 December, 1862, was graduated at Harvard in 1817, was settled as a Unitarian minister at Keene, New Hampshire, in 1825-'35, and taught in Boston from 1835 till his death. He published "Remarks on Robinson's Sermon on the Divinity of Christ" (Keene, New Hampshire, 1826); " Letters against the Immediate Abolition of Slavery" (Boston, 1835); "Limits of Responsibility in Reforms" (1861) ; and other controversial writings. He edited sermons on "Christian Communion."
Edited Appletons Encyclopedia, Copyright © 2001 VirtualologyTM

Unauthorized Site: This site and its contents are not affiliated, connected, associated with or authorized by the individual, family, friends, or trademarked entities utilizing any part or the subject's entire name. Any official or affiliated sites that are related to this subject will be hyper linked below upon submission and Evisum, Inc. review.
Copyright© 2000 by Evisum Inc.TM. All rights reserved.
Evisum Inc.TM Privacy Policy