The Seven Flags of the New Orleans Tri-Centennial
Dwight D. Eisenhower
1890-1969
Supreme Commander of the Allied Forces he was later elected as the Thirty-Fourth President of the United States.
DAVID DWIGHT EISENHOWER was born on October 14, 1890 in Denison, Texas. He was the third of the seven sons of David Jacob and Ida Elizabeth Stover Eisenhower. Eisenhower's parents met in a United Brethren school, Lane University, in Lecompton, Kansas. Neither of his parents was from Kansas, his mother's family had moved there from Virginia and his father's family had come to Kansas from Pennsylvania. His parents were married in 1885 and within three years, the young family moved to Denison, Texas, where Dwight was born. When Dwight was less than a year old, the family moved back to Abilene, Kansas, where his father had taken a job as a mechanic at the Belle Springs Creamery. The Eisenhowers raised all six of their sons in Abilene, a seventh son died in infancy.
Both Eisenhower's parents were deeply religious, his father stern and his mother warm and loving. They raised much of their own food in a large garden, selling the surplus for cash. The boys worked to earn spending money and had regular chores to do around the house. The Eisenhowers encouraged their children to be self reliant and independent.
Young Eisenhower attended the local schools, where he was an average student, with the exception of history, his favorite subject. However, he did excel in sports, as an outfielder in baseball and as a tackle in football. Sports were his obsession. After graduating from Abilene High School in 1909, he went to work with his father in the creamery. Both Dwight and his older brother, Edgar, wanted to attend college, but the family could not afford the tuition. They agreed to work alternate years, with the brother who was working paying the fees of the one attending school. In 1909, Dwight was able to send Edgar more than $200. In 1910, Dwight sat for the examination for the U. S. Naval Academy in order to receive a free education and for the opportunity to continue playing sports. He studied hard for the entrance examination and passed, but found that he was too old for the Naval Academy. He did however accept an appointment to the Military Academy at West Point, even though he had no particular interest in being a soldier. He was an average student at West Point and caught the eye of sportswriters playing halfback on the Army team. A twisted knee during the season ruined his football career. He almost resigned, as the injury to his emotions was worse, but he finished his education, graduating in 1915, 61st in a class of 164.
In September 1915, Eisenhower was commissioned a Second Lieutenant of Infantry and reported to Fort Sam Houston in San Antonio, Texas. Within two weeks, he had met Mamie Geneva Dowd and embarked on a courtship. Miss Dowd came from a wealthy Denver family and tried to discourage young Eisenhower, but he persisted and the couple was married on July 1, 1916. They had two sons; Dowd Dwight (1917 – 1921) and John Sheldon Dowd (1922 – ).
Eisenhower served with the Infantry until February 1918. He then served with the Tank Corps until January 1922. He was promoted to First Lieutenant on July 1, 1916, Captain on May 15, 1917, Major (temporary) on June 17, 1918 and to Lieutenant Colonel (temporary) on October 14, 1918. On June 30, 1920, he was reverted to permanent rank of Captain and on July 2, 1920 was promoted to Major.
In January 1922, Eisenhower was assigned as executive officer to Brigadier General Fox Conner in the Panama Canal Zone. Conner was an expert on military history and they spent hours talking about military and international problems. Eisenhower said, "Fox Conner was the ablest man I ever knew." Connor arranged for Eisenhower to attend the Command and General Staff School at Fort Leavenworth, Kansas. He graduated in 1926 as the top student in a class of almost 250. After a brief appointment under General John J. Pershing, Eisenhower attended the Army War College, where he once again graduated first in his class in 1928. Eisenhower continued to excel in staff assignments and served under Generals Douglas MacArthur and Walter Krueger. After Pearl Harbor was attacked by Japan on December 7, 1941, General George C. Marshall called him to Washington for an assignment as head of the War Plans Division. Eisenhower commanded the Allied Forces landing in North Africa in November 1941 and on D-Day, 1944 he was Supreme Commander of the troops invading France. From 1945 to 1948, he served as chief of staff of the army. In 1948, he retired as a five star general and wrote his memoirs, Crusade in Europe.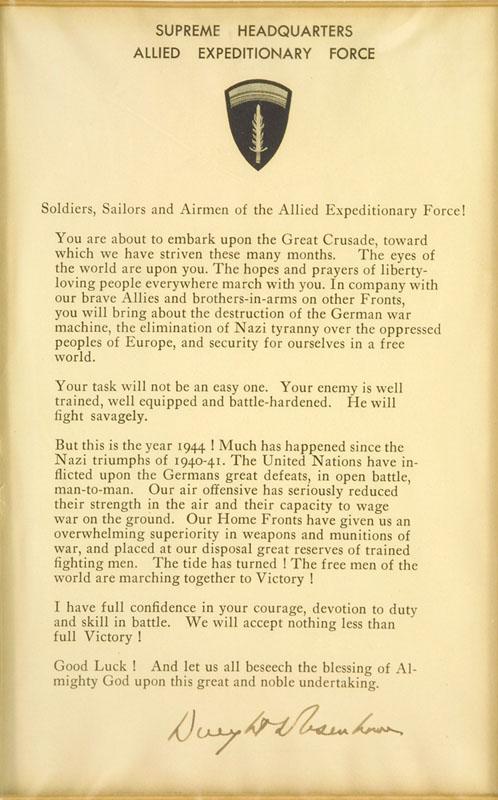 Signed Document compliments of the Stanley L. Klos
We Buy
(Click Here)
HISTORIC LETTERS, MANUSCRIPTS, & DOCUMENTS
and other AUTOGRAPHED ARTIFACTS.
On June 7, 1948, Eisenhower was inaugurated President of Columbia University. He was very popular, both for his war record and for his personality, which was open and friendly, and both parties wanted to nominate him for the presidency in 1948. He turned them down and served his post at Columbia until 1950, when he took leave to assume supreme command over the new NATO forces being assembled.
In April 1952, Eisenhower announced that he would seek the Republican nomination for President. He was nominated by a narrow margin on the first ballot and the Dwight D. Eisenhower/Richard M. Nixon ticket won a sweeping victory in a battle of personalities on November 4, 1952. The Republicans won 442 Electoral College votes to the Adlai E. Stevenson/Democratic 89 votes.
Eisenhower's military background was both an asset and limitation to his presidency. He had a talent for administrative efficiency but was deficient in handling national problems. He was able to delegate a broad range of responsibility and freed himself to tackle the larger issues. He believed that many problems were better solved at the local level than through bold, controversial programs from Washington.
Eisenhower served two terms as President, from January 20, 1953 until January 20, 1961. He saw an end of the Korean War, and dealt with crises in Lebanon, Suez, Berlin and Hungary. He promoted Atoms for Peace, saw Alaska and Hawaii become states and was concerned with civil rights issues. Long before the Republican convention, Eisenhower groomed Nixon as his successor, but although he could win elections, Eisenhower could not convert personal loyalty into support for his parties' candidate.
Eisenhower retired to his small farm outside Gettysburg, Pennsylvania. He raised cattle and spent the winters in Palm Springs, California, where he played golf. He was healthy, active and the recipient of many honors. Both Presidents Kennedy and later Johnson treated him as an elder statesman, soliciting his advice on international problems. In August 1965, Eisenhower suffered a serious heart attack that ended his participation in public affairs. He was hospitalized frequently over the next three years. He endorsed his former Vice President, Richard M. Nixon in his 1968 bid for the Presidency and in that same year his grandson, David Eisenhower married Nixon's daughter Julie. He suffered another heart attack in the summer of 1968 and he spent his last few months in Walter Reed Army Hospital, where he died on March 28, 1969.
Presidential Libraries
Rutherford B. Hayes Presidential Center

McKinley Memorial Library

Herbert Hoover Presidential Library and Museum - has research collections containing papers of Herbert Hoover and other 20th century leaders.

Franklin D. Roosevelt Library and Museum - Repository of the records of President Franklin Roosevelt and his wife Eleanor Roosevelt, managed by the National Archives and Records Administration.

Harry S. Truman Library & Museum

Dwight D. Eisenhower Presidential Library - preserves and makes available for research the papers, audiovisual materials, and memorabilia of Dwight and Mamie D. Eisenhower

John Fitzgerald Kennedy Library

Lyndon B. Johnson Library and Museum

Richard Nixon Library and Birthplace Foundation

Gerald R. Ford Library and Museum

Jimmy Carter Library

Ronald Reagan Presidential Library - 40th President: 1981-1989.

George Bush Presidential Library
Courtesy of: National Archives and Records Administration
D-Day statement to soldiers, sailors, and airmen of the Allied Expeditionary Force

The Congressional Evolution of the United States Henry Middleton
Unauthorized Site: This site and its contents are not affiliated, connected, associated with or authorized by the individual, family, friends, or trademarked entities utilizing any part or the subject's entire name. Any official or affiliated sites that are related to this subject will be hyper linked below upon submission and Evisum, Inc. review.
Research Links
HyperWar Project
Copyright© 2000 by Evisum Inc.TM. All rights reserved.
Evisum Inc.TM Privacy Policy