The Seven Flags of the New Orleans Tri-Centennial
Charles De Gaulle
1890-1970
French General and First President of the Fifth Republic
Message de Noël aux enfants de France
Londres, le 24 Décembre 1941
Christmas speech for the French children - London, 24 December 1941
Quel bonheur, mes enfants, de vous parler ce soir de Noël. Oh! je sais
que tout n'est pas gai aujourd'hui pour les enfants de France. Mais je veux
cependant vous dire des choses de fierté, de gloire, d'espérance.

II y avait une fois la France. Les nations, vous savez, sont comme des
dames plus ou moins belles, bonnes et braves. Eh bien! parmi mesdames les
nations, aucune n'a jamais été plus belle, meilleure ni plus brave que
notre dame la France. Mais la France a une voisine brutale, rusée, jalouse:
l'Allemagne. L'Allemagne enivrée d'orgueil et de méchanceté, a voulu un
beau jour réduire en servitude les nations qui l'entouraient. Au mois
d'août 1914, elle s'est donc lancée à l'attaque. Mais la France a réussi à
l'arrêter sur la Marne, puis a Verdun. D'autres grandes nations,
l'Angleterre, l'Amérique ont eu ainsi le temps d'arriver à la rescousse.
Alors, l'Allemagne, dont le territoire n'était nullement envahi, s'est
écroulée tout a coup. Elle s'est rendue au Maréchal Foch. Elle a demandé
pardon. Elle a promis en pleurant qu'elle ne le ferait plus jamais. II lui
restait d'immenses armées intactes, mais il ne s'est pas trouvé un seul
Allemand, pas un seul, pour tirer même un coup de fusil après la capitulation.
Là-dessus, les nations victorieuses se sont séparées pour aller chacune à
ses affaires. C'est ce qu'attendait l'Allemagne. Profitant de cette
naïveté, elle s'est organisée pour de nouvelles invasions.
Bientôt, elle s'est ruée de nouveau sur la France. Et, cette fois. Elle a
gagné la bataille.

L'ennemi et ses amis prétendent que c'est bien fait pour notre nation
d'avoir été battue. Mais la nation française, ce sont vos Papas, vos
Mamans, vos frères, vos soeurs. Vous savez bien, vous, mes enfants, qu'ils
ne sont pas coupables. Si notre armée fut battue, ce n'est pas du tout
parce qu'elle manquait de courage, ni de discipline. C'est parce qu'elle
manquait d'avions et de chars. Or, à notre époque, tout se fait avec des
machines et les victoires ne peuvent se faire qu'avec les avions, les
chars, les navires qui sont les machines de la guerre. Seulement, malgré
cette défaite. il y a toujours des troupes françaises, des navires de
guerre et des navires marchands Français, des escadrilles françaises, qui
continuent le combat. Je puis même vous dire qu'il y en a de plus en plus
et qu'on parle partout dans le monde de ce qu'ils font pour la gloire de la
France.

Pensez à eux. priez pour eux car il y a là, je vous assure, de très bons
et braves soldats, marins et aviateurs, qui auront à vous raconter des
histoires peu ordinaires quand ils seront rentrés chez eux. Or, ils sont
sûrs de rentrer en vainqueurs car nos alliés, les Anglais et les Russes,
ont maintenant des forces très puissantes, sans compter celles que
préparent nos alliés, les Américains. Toutes ces forces, les Allemands
n'ont plus le temps de les détruire parce que maintenant, en Angleterre, en
Russie, en Amérique, on fabrique d'immenses quantités d'avions, de chars,
de navires. Vous verrez un jour toute cette mécanique écraser les Allemands
découragés et, à mesure qu'ils reculeront sur notre territoire, vous verrez
se lever de nouveau une grande armée française.

Mes chers enfants de France, vous avez faim parce que l'ennemi mange
notre pain et notre viande. Vous avez froid, parce que l'ennemi vole notre
bois et notre charbon, vous souffrez parce que l'ennemi vous dit et vous
rait dire que vous êtes des fils et des filles de vaincus. Eh bien! moi, je
vais vous faire une promesse de Noël. Chers enfants de France, vous
recevrez bientôt une visite, la visite de la victoire. Ah! comme elle sera
belle, vous verrez!...
Charles de Gaulle
La 13ème Demi-Brigade de Legion Etrangère
Translation
Message of Christmas to the children of London France, December 24, 1941 Christmas speech for the French children - London, 24 December 1941
Which happiness, my children, do I speak this evening to you about Christmas. Oh! I know that all is not merry today for the children of France.
But I want to tell you things of pride, glory, and hope, I had once there France. The nations, you know, are like more or less beautiful, good ladies and brave men. Well! Among Ladies nations, nobody was ever more beautiful, better or braver than our lady France. But France has a rough, cunning, jealous neighbour: Germany. Germany made drunk with pride and with wickedness, wanted a beautiful day to reduce to servitude the nations which surrounded it.
In August 1914, it thus launched out to the attack. But France succeeded in stopping it on the Marne, then has Verdun. Other great nations, England, America had time to arrive at the rescue. Then, Germany, whose territory was by no means invaded, collapsed suddenly. She surrendered to the Marshal Foch. It was sorry. It promised while crying that it would do it never again. She stayed the immense intact armies, and there was not a single German, no one, to fire, even a single gunshot after the surrender. Above, the victorious nations separated to go each to the business. It is what Germany waited for. Taking advantage of this naivety, it got organized for new invasions. Soon, it hurled itself again on France. And, this time. it gained won the battle.
The enemy and its friends claim that it is well done for our nation to be beaten. But the French nation, they are your Dads, your Moms, your brothers, your sisters. You know well, you, my children, that they are not guilty. If our army was beaten, it is in no way because it missed courage, nor discipline. It is because it missed planes and tanks. However, at our time, all is done with machines and the victories can be done only with the planes, the tanks, the ships which are the machines of the war. Only, in spite of this defeat. there are always French troops, warships and trading vessels French, French escadrilles, which continue the combat. I then to even to say you that there is more and more and that one speaks everywhere in the world about what they do for the glory of France.
Think of them request for them because there is, I ensure you, of very good and brave men soldiers, sailors and aviators, who will have to tell you not very ordinary stories when they re-enter on their premises. However, they are sure to re-enter as winners bus our allies, the English and the Russians, now have very powerful forces, without counting those which prepare our allies, Americans. All these forces, the Germans do not have any more time to destroy them because now, in England, in Russia, in America, one manufactures immense quantities of planes, tanks, ships. You will see one day all this mechanics crushing the discouraged Germans and, as they move back on our territory, you will see rising a large French Army again.
My dear children of France, you are hungry because the enemy eats our bread and our meat. You are cold, because the enemy steals our wood and our coal, you suffer because the enemy tells you that you are sons and girls of losers. Well! I am going to make for you a promise for Christmas. Dear children of France, you will soon receive a visit, a visit of the victory. Ah! As her will be beautiful, you will see!...
Charles of Gaulle
The 13th Half-Brigade of The Foreign Legion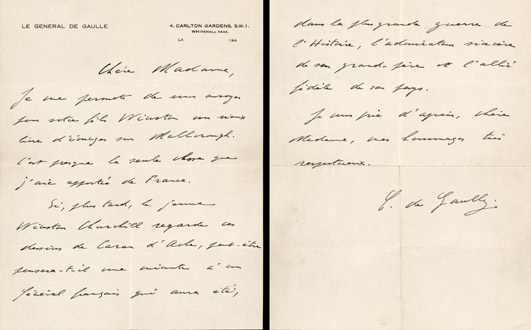 Signed Document compliments of the Stanley L. Klos
We Buy
(Click Here)
HISTORIC LETTERS, MANUSCRIPTS, & DOCUMENTS
and other AUTOGRAPHED ARTIFACTS.

The Congressional Evolution of the United States Henry Middleton
Unauthorized Site: This site and its contents are not affiliated, connected, associated with or authorized by the individual, family, friends, or trademarked entities utilizing any part or the subject's entire name. Any official or affiliated sites that are related to this subject will be hyper linked below upon submission and Evisum, Inc. review.
Research Links
HyperWar Project
Copyright© 2000 by Evisum Inc.TM. All rights reserved.
Evisum Inc.TM Privacy Policy