The Seven Flags of the New Orleans Tri-Centennial
Bernard Law Montgomery
1887-1976
British Field Marshal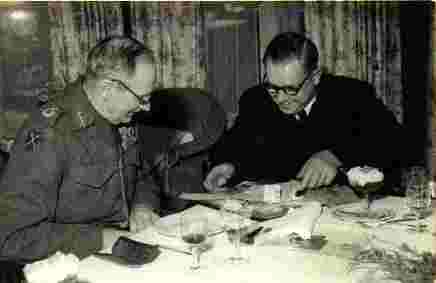 Early 1930's ski boot tag reading "Colonel Montgomery" written in his own hand. This tag came from the collection of Montgomery letters penned to M. E. Burkhalter, proprietor of the Wildstrubel Hotel in Lenk, Switzerland, which is still in business. Included with this boot tag is a copy of the black and white photo of Montgomery's boots and several copies of Montgomery's letters. A rare and early example of the Field Marshall's autograph.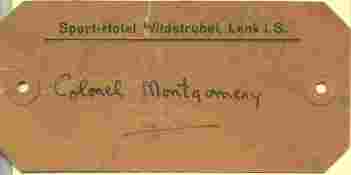 This is a collection of handwritten letters and related items concerning Bernard L. Montgomery, British Field Marshall who became famous at the battle of El Alamein by handing German GFM Erwin Rommel his first major defeat. Also noted for his many battles with Eisenhower, Patton & others over conduct of the Allied military effort against the Nazis.

This lot includes an outstanding collection of signed autograph letters written between 1926 & 1947. All are in very good condition. Some have binder holes and the normal folds. They were a penned to M. E. Burkhalter, proprietor of the Wildstrubel Hotel in Lenk, Switzerland, which is still in business. Most are signed B. L. Montgomery with his rank. The last letters are signed "Montgomery of Alamein-Field Marshal" Several have great personal content.

The first dated Aug. 17, 1926 advises that he has "married Mrs. Carver" and since she has two sons by a previous marriage an "adjustment in rooms" will be necessary. Sept. 21, 1927 he announces the birth of his son & informs the innkeeper he will not be able to make it to Lenk that year. Other prewar letters written in England & India advise Burkhalter of his holiday plans, preferred room with view & asks for the cheapest rate.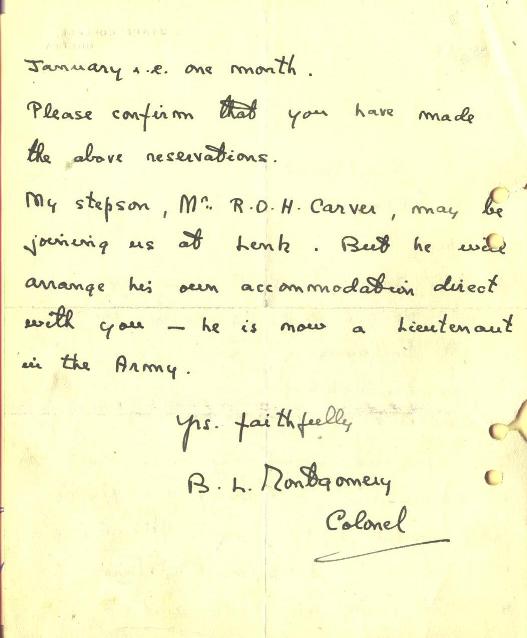 ALS letter dated Nov 17, 1945 signed as Field Marshal says he is sending a staff officer to collect skis, boots and other possessions in storage at the Wildstrubel. Last letter dated Feb 18, 1947 says he will not be able to make it to Lenk & wants to concentrate on getting a good rest. Obvious from the content of the letters two men were fond of each other.
This collection also includes four ski boot tags reading "Colonel Montgomery" written in his own hand. There are three black & white photos showing the tags affixed to his boots. There is also an ALS to Burkhalter from Montgomery's stepson. Couple of war date letters from friends including one that states "General Montgomery is now one of our most brilliant generals."
Included with the collection is a nice ANS on a Royal Air Force Club Christmas card from Air Marshal J. J. Breen mentioning that "skis are quite unobtainable here" and that "he is glad the war is over." Also includes some photos of Montgomery's visits to Lenk & a newspaper photo which purports to be the "only known photo of Mrs. Montgomery." This is a rare opportunity to own a marvelous assortment of material from one of the most recognizable personalities of World War Two.
Bernard Law Montgomery, 1887-1976, British field marshal. Educated at Sandhurst, he entered the army in 1908 and served in World War I. In World War II he commanded (1939-40) the 3d Division in France until the evacuation of Dunkirk. In 1942 he was sent to Egypt to command the British 8th Army in Africa under the Middle Eastern Command headed by Gen. Sir Harold Alexander. Winning the battle of Alamein and driving the Germans 2,000 miles across Africa into Tunisia made Montgomery an idol of the British public.
He led the 8th Army in Sicily and Italy until Dec., 1943. He helped formulate the invasion plan for France, and in the Normandy campaign he was field commander of all ground forces until Aug., 1944, then led the 21st Army Group. When the Germans advanced in the Battle of the Bulge, he was given temporary command of two American armies. Afterward his troops thrust across N Germany to the Baltic, and he headed (1945-46) the British occupation forces in Germany.
He was made field marshal in 1944 and viscount in 1946. He was chief of the imperial general staff from 1946 to 1948, when he became chairman of the commanders in chief in committee under the permanent defense organization of Britain, France, Belgium, the Netherlands, and Luxembourg. From 1951 to 1958 he was deputy supreme commander of the Allied forces in Europe.
His writings include Forward to Victory (1946), Normandy to the Baltic (1947), Forward from Victory (1948), El Alamein to the River Sangro (1948), An Approach to Sanity (1959), The Path to Leadership (1961), and A History of Warfare (1968).