Who was the First U.S. President?
There were actually four first Presidents
of the United Colonies and States of America
Click Here
Theodore Roosevelt
36th President of the United States
26th under the US Constitution



For Information on the Ten Presidents before Washington -- Click Here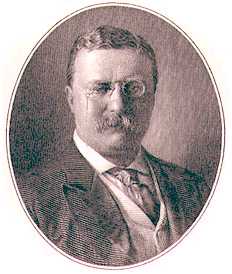 Library Of Congress TR Movies and Sound Click here to see and hear Theodore Roosevelt -- Theodore Roosevelt, Sr. to Theodore Roosevelt, Jr. Autograph letter, July 11, 1890 -- Courtesy of: Library of Congress
THEODORE ROOSEVELT was born in New York City on October 27, 1858. He was the second of the four children of wealthy banker, Theodore Roosevelt, Sr. and his wife, Martha Bullock Roosevelt, a southern belle from a prominent Atlanta family. During the Civil War, Mrs. Roosevelt's brothers fought for the South and for this reason, the elder Roosevelt did not enlist in the Union Army, which he strongly supported. Young Theodore was a nearsighted, asthmatic, frail child who was tutored at home. He loved to read and read everything and he read quickly despite his eyesight. Because of his frequent asthma attacks, he also loved the outdoors and fresh air. He had a strong interest in natural history that fascinated him all his life and he always took numerous hunting and camping trips. When Roosevelt was twelve, his father challenged him to develop his physical stature and a gym was built at their home where the young man spent hours developing his arms and chest. In 1875, the family purchased a summer home at Oyster Bay on Long Island that became a treasured retreat for the entire family.
Roosevelt entered Harvard College at eighteen, originally majoring in science, but during his last two years there he turned to history and literature. He engaged in club and literary pursuits, but he also was very athletic, rowing, boxing, horseback riding and camping. In 1878, he met Alice Hathaway Lee, the daughter of a prominent Boston family and they fell in love. He started his first book, The Naval War of 1812, while he was a senior and he graduated Phi Beta Kappa in 1880. After graduation, Roosevelt started Columbia Law School, but found he did not enjoy it, deciding in the summer of 1881 to take his new bride on a tour of Europe and while there, he climbed the Matterhorn.
Upon returning home from Europe in the fall, Roosevelt found himself thrust into politics, becoming the nominee of his local Republican club for the state legislature. He had joined the club the previous year and they were a disruptive group that met over a saloon. He easily won his first election at the age of twenty-three and taking his seat in Albany, he soon made his mark. Despite his youth, his Harvard accent and his high squeaky voice, he won the respect of his fellow legislators by calling exposing a corrupt Supreme Court justice that involved railroad magnate Jay Gould. Roosevelt was reelected in 1882, but rejected reelection in 1884.
On February 14, 1884, Roosevelt's world fell apart when both his wife and his mother died. His mother died of typhoid fever and his wife died of Bright's disease following the birth of their only child, Alice. Roosevelt plunged deeper into politics, leaving his daughter in the care of his older sister, Anna. He attended the Republican National Convention in Chicago as chairman of the New York delegation and although opposed to the nomination of James Blaine to oppose Grover Cleveland for President, he campaigned heartily for him.
In 1883, while visiting the West, Roosevelt had purchased a ranch in the Dakota Territory that became the Elkhorn Ranch on the Little Missouri River. After the Convention, still suffering from his grief, he moved to the ranch to try the life of a cowboy. For the next several years, he became a sheriff, took part in the capture of three thieves and spent time writing books and magazine articles. In 1885, he once again fell in love and was secretly engaged to Edith Kermit Carow, a life-long friend. In October 1886, he agreed to run as the Republican candidate for mayor of New York City. He lost, coming in third out of three candidates. After losing most of his cattle in the blizzards over the winter of 1886-1887, Roosevelt abandoned his cowboy experiment and returned to New York.
One month after the mayoral election, Roosevelt went abroad. On December 2, 1886, he married Edith in London and remained with her in Europe until spring of 1887. The couple returned to a new home he had built on Sagamore Hill, in Oyster Bay, Long Island. They eventually had five children: Theodore Roosevelt (1887 – 1944); Kermit Roosevelt (1889 – 1943); Ethel Carow Roosevelt (1891 – 1977); Archibald Bulloch Roosevelt (1894 – 1979) and Quentin Roosevelt (1897 – 1918). They also raised Roosevelt's daughter, Alice.
Discouraged over his loss in the mayoral election, Roosevelt turned to literary and family pursuits. He wrote Essays on Practical Politics, a biography on Gouvernor Morris, and The Winning of the West, which was published in four volumes and became his most famous book.
Roosevelt once again became active in politics during the presidential campaign of 1888. He campaigned for Benjamin Harrison, speaking actively for the Republican candidate. When Harrison was elected, Roosevelt was rewarded with an appointment to the U. S. Civil Service Commission, an office in which he served for six years. He resigned his civil service post to accept the invitation of Mayor William Strong to become commissioner of the New York City police force. His vigorous reforms of the corrupt police force and his tendency to get himself into the headlines gained him a national reputation, which led to his being appointed Assistant Secretary of the Navy by President William McKinley in 1897.
In April 1898, two weeks after Congress declared war against Spain, Roosevelt resigned from his Navy post to lead the "Rough Riders" a volunteer cavalry unit composed of cowboys, Indians and football players. On July 1, 1898, the unit charged up Kettle Hill in the face of severe enemy fire, losing one forth of its men. The newspapers reported stories of many American heroes of the Spanish-American War, but Roosevelt became the best known, and they began to call him "Teddy" in cartoons and articles.
Roosevelt returned to New York City on August 15 and soon accepted an invitation to run for Governor of New York. He won by a small majority by overcoming great political odds and tireless campaigning. However, he quickly alienated his party and by the time of the Republican National Convention of 1900, his nomination as McKinley's running mate put him in a position that would no longer trouble his Republican state machine. He campaigned vigorously and a huge majority elected the McKinley-Roosevelt ticket.
On September 13, 1901, while on a mountain-climbing expedition in the Adirondacks, Roosevelt learned that McKinley had been shot and was dying. He hurried on to Buffalo, New York and in the house where McKinley's body lay, the forth-three year old was sworn in as President. He proved to be a powerful and effective leader in a time of national expansion and easily gained reelection in 1904, declaring that he would not run again. He had become know as "Teddy" a name he hated, but which he endured for public purposes. His family ran the White House as a home in which their children played and friends were warmly received. Always the naturalist, he publicized the conservation of natural resources and set aside 125 million acres of western land as national forests. He pioneered government regulation of big business and oversaw passage of the Pure Food and Drug Act.
In 1908 Roosevelt reluctantly promoted William Howard Taft in a successful presidential campaign. When he left the White House in 1909, he was only fifty years old. He sailed to Africa with his twenty-year-old son Kermit to hunt big game. After this yearlong adventure, he embarked on a tour of Europe with his family, being wined and dined by kings and queens and cheered by crowds wherever they went.
He returned to the United States in June 1910 and he became clearly unsatisfied with the conservative direction of the Taft government. He made an unsuccessful bid for the presidency in 1912 with his Progressive "Bull Moose" party and on October 14, 1912; a deranged assailant fired a bullet at him in Milwaukee, Wisconsin. The bullet entered his chest, just missing his right lung. Roosevelt delivered his scheduled speech before entering the hospital, and within two weeks he was back on the campaign trail.
During the winter of 1913-14, Roosevelt received a proposal to explore the River of Doubt in Brazil. Although an even more strenuous expedition than his earlier African safari, he and his son Kermit explored the river that was later renamed the Roosevelt. He came down with a tropical fever and seriously injured his leg on this trip, pulling through, but the ordeal contributed to his premature death.
When war was declared against Germany, Roosevelt made a strenuous effort to get involved, offering to raise two divisions. His offer was turned down but he proudly announced to the country that all his sons and his son-in-law were on their way to the front. Both Kermit and Archibald were wounded and his son-in-law was gassed. However, the most severe blow was when his youngest son Quentin was shot down and killed while flying over Cambrai.
Roosevelt complained of being old, had been sick and hospitalized late in 1918 and had lost the hearing in one ear. Early on the morning of January 6, 1919, he died of an arterial blood clot at his home Sagamore Hill, in Oyster Bay.
Presidents of the Continental Congress
United Colonies of The United States
Peyton Randolph
September 5, 1774 to October 22, 1774
and May 20 to May 24, 1775

Henry Middleton
October 22, 1774 to October 26, 1774
John Hancock
October 27, 1775 to July 1, 1776
Presidents of the Continental Congress
United States of America
John Hancock
July 2, 1776 to October 29, 1777
Henry Laurens
November 1, 1777 to December 9, 1778
John Jay
December 10, 1778 to September 28, 1779
Samuel Huntington
September 28, 1779 to February 28, 1781

Presidents of the United States
in Congress Assembled
Samuel Huntington
1st President of the United States
in Congress Assembled
March 1, 1781 to July 6, 1781
Thomas McKean
2nd President of the United States
in Congress Assembled
July 10, 1781 to November 5, 1781
John Hanson
3rd President of the United States
in Congress Assembled
November 5, 1781 to November 4, 1782
Elias Boudinot
4th President of the United States
in Congress Assembled
November 4, 1782 to November 3, 1783
Thomas Mifflin
5th President of the United States
in Congress Assembled
November 3, 1783 to June 3, 1784
Richard Henry Lee
6th President of the United States
in Congress Assembled
November 30, 1784 to November 23, 1785
John Hancock
7th President of the United States
in Congress Assembled
November 23, 1785 to June 6, 1786
Nathaniel Gorham
8th President of the United States
in Congress Assembled
June 1786 - November 13, 1786
Arthur St. Clair
9th President of the United States
in Congress Assembled
February 2, 1787 to October 29, 1787
Cyrus Griffin
10th President of the United States
in Congress Assembled
January 22, 1788 to March 4, 1789

Presidents of the United States
under the
United States Constitution
George Washington (F)

John Adams (F)

Thomas Jefferson (D-R)

James Madison (D-R)

James Monroe (D-R)

John Quincy Adams (D-R)
Andrew Jackson (D)

Martin Van Buren (D)

William H. Harrison (W)

John Tyler (W)

James K. Polk (D)

David Atchison (D)*

Zachary Taylor (W)
James Buchanan (D)

Abraham Lincoln (R)

Jefferson Davis (D)**

Andrew Johnson (R)

Ulysses S. Grant (R)
Rutherford B. Hayes (R)

James A. Garfield (R)

Chester Arthur (R)
Grover Cleveland (D)

Benjamin Harrison (R)

Grover Cleveland (D)

William McKinley (R)

Theodore Roosevelt (R)

William H. Taft (R)

Wilson Woodrow (D)
Warren G. Harding (R)

Calvin Coolidge (R)

Herbert C. Hoover (R)

Franklin D. Roosevelt (D)

Harry S. Truman (D)

Dwight D. Eisenhower (R)

John F. Kennedy (D)

Lyndon B. Johnson (D)

Richard M. Nixon (R)

Gerald R. Ford (R)

James Earl Carter, Jr. (D)

Ronald Wilson Reagan (R)

George H. W. Bush (R)

William Jefferson Clinton (D)

George W. Bush (R)



*President for One Day

**President Confederate States of America
Current Order of Presidential Succession


The Vice President
Speaker of the House
President pro tempore of the Senate
Secretary of State
Secretary of the Treasury
Secretary of Defense
Attorney General
Secretary of the Interior
Secretary of Agriculture
Secretary of Commerce
Secretary of Labor
Secretary of Health and Human Services
Secretary of Housing and Urban Development
Secretary of Transportation
Secretary of Energy
Secretary of Education
Secretary of Veterans Affairs
Research Links
Virtualology is not affiliated with the authors of these links nor responsible for its content.
Presidential Libraries
GEORGE BUSH LIBRARY
http://bushlibrary.tamu.edu
1000 George Bush Drive West
College Station, TX 77845
PHONE: 979-260-9554
FAX: 979-260-9557
EMAIL: bush.library@nara.gov

Museum Hours:
9:30 am - 5 pm, Monday - Saturday
12 pm - 5 pm, Sunday
Museum Admission: $5.00
(students 17+ $4, sr. citizens 62+ $3.50, children under 16 free)

JIMMY CARTER LIBRARY
http://www.jimmycarterlibrary.org/
441 Freedom Parkway
Atlanta, GA 30307-1498
PHONE: 404-331-3942
FAX: 404-730-2215
EMAIL: carter.library@nara.gov

Museum Hours:
9 am - 4:45 pm, Monday - Saturday
12pm - 4:45 pm, Sunday
Museum Admission: $5.00
(sr. citizens 55+ $4.00, children under 16 free)
WILLIAM J. CLINTON PRESIDENTIAL MATERIALS PROJECT
http://www.clinton.nara.gov
1000 LaHarpe Boulevard
Little Rock, AR 72201
PHONE: 501-244-9756
FAX: 501-244-9764
EMAIL: clinton.library@nara.gov
While the future Clinton Library will be open for public programs, the Clinton Project does not provide public tours or exhibits. Research sessions are available by appointment only.
Notice:Memorandum of Understanding on the Clinton-Gore Email Records available.

DWIGHT D. EISENHOWER LIBRARY
http://www.eisenhower.utexas.edu
200 SE 4th Street
Abilene, KS 67410-2900
PHONE: 785-263-4751
FAX: 785-263-4218
EMAIL: eisenhower.library@nara.gov
Museum Hours: 9 am - 5 pm, every day
(8 am - 6 pm, Memorial Day - mid August)
Museum Admission: $3.50
(sr. citizens 62+ $3.00, children under 16 free)
GERALD R. FORD LIBRARY
http://www.ford.utexas.edu
1000 Beal Avenue
Ann Arbor, MI 48109-2114
PHONE: 734-741-2218
FAX: 734-741-2341
EMAIL: ford.library@nara.gov
GERALD R. FORD MUSEUM
http://www.ford.utexas.edu
303 Pearl Street, NW
Grand Rapids, MI 49504-5353
PHONE: 616-451-9263
FAX: 616-451-9570
EMAIL: ford.museum@nara.gov
Museum Hours: 9 am - 5 pm, every day
Museum Admission: $4.00
(sr. citizens 62+ $3.00, children under 16 free)


Rutherford B. Hayes LIBRARY
http://www.rbhayes.org/
The Rutherford B. Hayes Presidential Center
Spiegel Grove
Fremont, OH 43420
1-800-998-7737
Affiliated with the Ohio Historical Society
Direct general library requests to: hayeslib@rbhayes.org
Direct manuscript research requests to: ncard@rbhayes.org
Direct non-research questions to admin@rbhayes.org
Send comments to: ggonzalez@rbhayes.org
HERBERT HOOVER LIBRARY
http://hoover.nara.gov
210 Parkside Drive
P.O. Box 488
West Branch, IA 52358-0488
PHONE: 319-643-5301
FAX: 319-643-5825
EMAIL: hoover.library@nara.gov
Museum Hours: 9 am - 5 pm, every day
(open until 8 pm, Wednesdays in July and August)
Museum Admission: $2.00
(sr. citizens 62+ $1.00, children under 16 free)


LYNDON B. JOHNSON LIBRARY
http://www.lbjlib.utexas.edu/
2313 Red River Street
Austin, TX 78705-5702
PHONE: 512-916-5137
FAX: 512-916-5171
EMAIL: johnson.library@nara.gov
Museum Hours: 9 am - 5 pm, every day
Museum Admission: Free

JOHN F. KENNEDY LIBRARY
http://www.jfklibrary.org
Columbia Point
Boston, MA 02125-3398
PHONE: 617-929-4500
FAX: 617-929-4538
EMAIL: kennedy.library@nara.gov
Museum Hours: 9 am - 5 pm, every day
Museum Admission: $8.00
(students/sr. citizens 62+ $6.00, youth 13-17 $4.00, children under 12 free)

MCKINLEY MEMORIAL LIBRARY
http://www.mckinley.lib.oh.us/
46 N. Main St.
Niles, Ohio 44446
Phone: 330-652-1704
Fax: 330-652-5788
e-mail: mckinley@oplin.lib.oh.us
Library Hours: Mon-Thurs 9 a.m. to 8 p.m.
Fri & Sat 9 a.m. to 5:30 p.m.
Sun (Sept-May) 1 p.m. to 5 p.m.
NIXON PRESIDENTIAL MATERIALS STAFF
http://www.nara.gov/nixon/
National Archives at College Park
8601 Adelphi Road
College Park, MD 20740-6001
PHONE: 301-713-6950
FAX: 301-713-6916
EMAIL: nixon@nara.gov
Notice:Copies of Watergate Trial Tapes to go on sale
RONALD REAGAN LIBRARY
http://www.reagan.utexas.edu
40 Presidential Drive
Simi Valley, CA 93065-0600
PHONE: 800-410-8354
FAX: 805-522-9621
EMAIL: reagan.library@nara.gov
Museum Hours: 10 am - 5 pm, every day
Museum Admission: $5.00
(sr. citizens 62+ $3.00, children under 15 free)

Access to Presidential Records
FRANKLIN D. ROOSEVELT LIBRARY
http://www.fdrlibrary.marist.edu
4079 Albany Post Road
Hyde Park, NY 12538-1999
PHONE: 845-229-8114
FAX: 845-229-0872
EMAIL: roosevelt.library@nara.gov
Museum Hours: 9 am - 5 pm, every day
(open until 6 pm, April - October)
Museum Admission: $10.00
(includes admission to Roosevelt Home, children under 16 free)
HARRY S. TRUMAN LIBRARY
http://www.trumanlibrary.org
500 West U.S. Highway 24
Independence, MO 64050-1798
PHONE: 816-833-1400
FAX: 816-833-4368
EMAIL: truman.library@nara.gov

The Congressional Evolution of the United States Henry Middleton
Unauthorized Site: This site and its contents are not affiliated, connected, associated with or authorized by the individual, family, friends, or trademarked entities utilizing any part or the subject's entire name. Any official or affiliated sites that are related to this subject will be hyper linked below upon submission and Evisum, Inc. review.
Research Links
Teddy Roosevelt
Copyright© 2000 by Evisum Inc.TM. All rights reserved.
Evisum Inc.TM Privacy Policy