Who was the First U.S. President?
There were actually four first Presidents
of the United Colonies and States of America
Click Here
Woodrow Wilson


38th President of the United States
28th under the US Constitution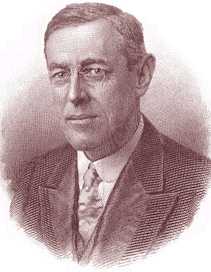 Presidential Proclamation 1364 of April 6, 1917, by President Woodrow Wilson declaring war against Germany. - Courtesy of: National Archives and Records Administration

Be Sure to Visit The Woodrow Wilson House - Click Here
THOMAS WOODROW WILSON was born in Staunton, Virginia on December 28, 1856. He was the first son and third child of Joseph Ruggles Wilson, a Presbyterian minister, and Jessie Janet Woodrow. In 1859 the family moved when the elder Wilson was named pastor of a church in Augusta, Georgia. The Civil War was difficult as Dr. Wilson was an ardent Confederate sympathizer, and young Wilson witnessed the ruthless behavior of General William T. Sherman's federal troops who invaded Georgia and South Carolina, and he remained an ardent Southerner throughout his lifetime.
Young Wilson was educated at home and at private schools in Augusta and Columbia, South Carolina, where the Wilsons moved when Dr. Wilson accepted a position as a professor. In 1873 they moved again, to Wilmington, North Carolina where Wilson attended Davidson College, a small Presbyterian school where his father was a trustee. The following year he enrolled at the College of New Jersey (now Princeton University), where he pursued his interest in English literature and politics. He studied the classic orators and the techniques of public speech and was a leader among the school debaters. His vision of entering national politics was revealed in his visiting cards, which was written "Thomas Woodrow Wilson, senator from Virginia." During his senior year at college he dropped the 'Thomas' from his name and he published an essay, "Cabinet Government in the United States," in the International Review (August 1879). The essay revealed his gift for embellishing ideas and giving them simple and urgent form. He envisioned a government of strong and competent legislators rather than a strong president, and he was encouraged by the excellent reception his essay received He decided to become a lawyer and enter politics and he enrolled in the University of Virginia law school. However, he became inpatient with the fine points of law as he found public speaking and political history more satisfying. He received his law degree and in 1882 settled in Atlanta, Georgia, where he opened a law office with Edward I. Renick, another idealistic young Southerner. However, neither Renick nor Wilson were skilled at the business side of their venture, and in 1883 Wilson relinquished his law career and entered the graduate school of The Johns Hopkins University to study history.

At John Hopkins, Wilson's mentor, Professor Herbert Baxter Adams permitted him to continue to analyze politics. The result was a book-length expansion of his earlier essay which was accepted and published early in 1885. Congressional Government earned Wilson his Ph.D. degree and enabled him to pursue a literary and academic career.
Wilson had been engaged for several years to Ellen Louise Axson, daughter of a Georgia clergyman, and they were married on June 24, 1885. She was cultured and vivacious and was the perfect mate for him. The couple had three daughters, Margaret Woodrow Wilson (1886 – 1944), Jessie Woodrow Wilson (1887 – 1933) and Eleanor Randolph Wilson (1889 – 1967).
At that time, he also accepted a position with the newly opened Bryn Mawr College, a school for women near Philadelphia, where he taught and pursued his writing for the next three years. In 1888 he accepted a professorship in history and political economy at Wesleyan University in Connecticut. There, in 1889, he published a lengthy textbook analyzing the political nature of society, The State. In 1890 he was offered and accepted a professorship at his alma mater, the College of New Jersey. He began a program of publishing and public appearances and became one of the leading academic personalities of the era. His essays appeared in many magazines and he brought an excitement to his subjects that stirred his students, his colleagues, and the outside reader. He seemed to have abandoned any hope for a political career, but he continued to follow political affairs. Responding to the strong demand for his work, he wrote A History of the American People, published in five volumes in 1902 and his name became familiar and respected
Wilson was unanimously elected to the presidency of the college in 1902, which had now become Princeton University. During his tenure as president, his innovation and reforms brought wide impact on national university education.
In 1909 Wilson's progressive approach to education attracted the attention of the Democratic political machine. They helped elect him Governor of New Jersey, but learned to regret it when he ended up cleaning house and riding the state house of corruption. Success in New Jersey made him a contender for the Democratic presidential nomination. Although he entered the 1912 Democratic National Convention a poor second to Speaker of the House Champ Clark, he won the nomination after 46 ballots. Offering a program of reform he called the New Freedom, Wilson ran against a divided Republican party. In November, Wilson won only 41.85 percent of the popular vote but polled 435 electoral votes, compared with Roosevelt's 88 and President Taft's 8.
With a Democratic majority in Congress, Wilson pushed through many reforms, including the graduated income tax, a lower tariff, laws restricting child labor and the Federal Reserve Act. However, he proved to be less decisive on other reform issues. He had little confidence in the ability of women to vote and participate in politics, but for political reasons he was slow to oppose the determined suffragettes. Similarly, he fought for the child labor law with obvious reluctance and supported the Adamson Act only to head off a threatened strike by railroad workers. Wilson's most obvious failure at reform was his policy toward blacks. Segregation had never been the custom in federal government offices in Washington, D.C. However, faced with strong pressure from his fellow Southerners, Wilson allowed segregation in the capital. Challenged with his vague promises before election that he would treat blacks with fairness, he could only say that the new policy of segregation was in the best interests of blacks and he would angrily end the interview when he was disputed.
Wilson suffered a severe personal loss on August 6, 1914, with the death of his wife. Combined with the sickness and tension that had plagued him for most of his life, her death was almost more than he could bear. He sought solace in more intensive work and leaned heavily on his few friends. The following year he met Edith Bolling Galt, a southerner and the widow of a Washington jeweler. She and Wilson were married on December 18, 1915.
In 1916, the war in Europe was the major issue of the day. Wilson opposed intervention and narrowly won re-election. Soon after, Germany's mounting aggression against the United States forced Wilson to declare war, to "make the world safe for democracy."
After the Allied victory, Wilson's "Fourteen Points" peace plan paved the way for the creation of the League of Nations. Against the advisement of his doctor, Wilson set out on a national tour to generate public demand for ratification of the League. The physical strain was too great for his frail body. He nearly collapsed following a speech at Pueblo, Colo., on September 25, 1919. He returned to Washington, and suffered a severe stroke and paralysis of the left side on October 2. He never fully recovered. On November 19 the Republican controlled Senate rejected the League's Treaty of Versailles. Wilson's stroke left him physically incapacitated but his condition was not made public. Mrs. Wilson jealously guarded her husband, and most likely feared that his resignation would sap his will to live. To her he was "first my beloved husband whose life I was trying to save ... after that he was the president of the United States." As a result, his Cabinet members were denied access to him. His wife decided what printed materials he could see, and his state papers became few and unsatisfactory.
The Democratic Party, at its 1920 convention, bestowed lavish praise on Wilson, who was awarded the Nobel Peace Prize for 1919, but decided to nominate James M. Cox for president.
After leaving office Wilson retired to a house on S Street in Washington, D.C., where he lived in virtual seclusion. He died on February 3, 1924 and was buried in the National Cathedral in Washington, D.C.
Presidents of the Continental Congress
United Colonies of The United States
Peyton Randolph
September 5, 1774 to October 22, 1774
and May 20 to May 24, 1775

Henry Middleton
October 22, 1774 to October 26, 1774
John Hancock
October 27, 1775 to July 1, 1776
Presidents of the Continental Congress
United States of America
John Hancock
July 2, 1776 to October 29, 1777
Henry Laurens
November 1, 1777 to December 9, 1778
John Jay
December 10, 1778 to September 28, 1779
Samuel Huntington
September 28, 1779 to February 28, 1781

Presidents of the United States
in Congress Assembled
Samuel Huntington
1st President of the United States
in Congress Assembled
March 1, 1781 to July 6, 1781
Thomas McKean
2nd President of the United States
in Congress Assembled
July 10, 1781 to November 5, 1781
John Hanson
3rd President of the United States
in Congress Assembled
November 5, 1781 to November 4, 1782
Elias Boudinot
4th President of the United States
in Congress Assembled
November 4, 1782 to November 3, 1783
Thomas Mifflin
5th President of the United States
in Congress Assembled
November 3, 1783 to June 3, 1784
Richard Henry Lee
6th President of the United States
in Congress Assembled
November 30, 1784 to November 23, 1785
John Hancock
7th President of the United States
in Congress Assembled
November 23, 1785 to June 6, 1786
Nathaniel Gorham
8th President of the United States
in Congress Assembled
June 1786 - November 13, 1786
Arthur St. Clair
9th President of the United States
in Congress Assembled
February 2, 1787 to October 29, 1787
Cyrus Griffin
10th President of the United States
in Congress Assembled
January 22, 1788 to March 4, 1789

Presidents of the United States
under the
United States Constitution
George Washington (F)

John Adams (F)

Thomas Jefferson (D-R)

James Madison (D-R)

James Monroe (D-R)

John Quincy Adams (D-R)
Andrew Jackson (D)

Martin Van Buren (D)

William H. Harrison (W)

John Tyler (W)

James K. Polk (D)

David Atchison (D)*

Zachary Taylor (W)
James Buchanan (D)

Abraham Lincoln (R)

Jefferson Davis (D)**

Andrew Johnson (R)

Ulysses S. Grant (R)
Rutherford B. Hayes (R)

James A. Garfield (R)

Chester Arthur (R)
Grover Cleveland (D)

Benjamin Harrison (R)

Grover Cleveland (D)

William McKinley (R)

Theodore Roosevelt (R)

William H. Taft (R)

Wilson Woodrow (D)
Warren G. Harding (R)

Calvin Coolidge (R)

Herbert C. Hoover (R)

Franklin D. Roosevelt (D)

Harry S. Truman (D)

Dwight D. Eisenhower (R)

John F. Kennedy (D)

Lyndon B. Johnson (D)

Richard M. Nixon (R)

Gerald R. Ford (R)

James Earl Carter, Jr. (D)

Ronald Wilson Reagan (R)

George H. W. Bush (R)

William Jefferson Clinton (D)

George W. Bush (R)



*President for One Day

**President Confederate States of America
Current Order of Presidential Succession


The Vice President
Speaker of the House
President pro tempore of the Senate
Secretary of State
Secretary of the Treasury
Secretary of Defense
Attorney General
Secretary of the Interior
Secretary of Agriculture
Secretary of Commerce
Secretary of Labor
Secretary of Health and Human Services
Secretary of Housing and Urban Development
Secretary of Transportation
Secretary of Energy
Secretary of Education
Secretary of Veterans Affairs
Research Links
Virtualology is not affiliated with the authors of these links nor responsible for its content.
Presidential Libraries
Rutherford B. Hayes Presidential Center

McKinley Memorial Library

Herbert Hoover Presidential Library and Museum - has research collections containing papers of Herbert Hoover and other 20th century leaders.

Franklin D. Roosevelt Library and Museum - Repository of the records of President Franklin Roosevelt and his wife Eleanor Roosevelt, managed by the National Archives and Records Administration.

Harry S. Truman Library & Museum

Dwight D. Eisenhower Presidential Library - preserves and makes available for research the papers, audiovisual materials, and memorabilia of Dwight and Mamie D. Eisenhower

John Fitzgerald Kennedy Library

Lyndon B. Johnson Library and Museum

Richard Nixon Library and Birthplace Foundation

Gerald R. Ford Library and Museum

Jimmy Carter Library

Ronald Reagan Presidential Library - 40th President: 1981-1989.

George Bush Presidential Library


The Congressional Evolution of the United States Henry Middleton
Unauthorized Site: This site and its contents are not affiliated, connected, associated with or authorized by the individual, family, friends, or trademarked entities utilizing any part or the subject's entire name. Any official or affiliated sites that are related to this subject will be hyper linked below upon submission and Evisum, Inc. review.
Copyright© 2000 by Evisum Inc.TM. All rights reserved.
Evisum Inc.TM Privacy Policy