Nathaniel Gorham
8th President of the United States
in Congress Assembled
June 1786 - November 13, 1786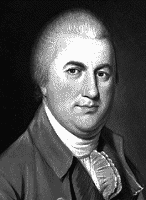 GORHAM, Nathaniel, statesman, born in Charlestown, Massachusetts, 27 May, 1738; died there, 11 June, 1796. He was the son of a small boat operator from a family of modest means. After receiving a common-school education, he engaged in mercantile pursuits in his native town. He was apprenticed in 1754 to Nathaniel Coffin, a merchant in New London, Connecticut. He left Coffin's employ in 1759 and returned to his hometown. There Gorham established a small business which quickly succeeded. In 1763 he wed Rebecca Call, who was to bear nine children. In 1770, he launched his public career as a notary, soon winning election to the colonial legislature in 1771. He took an active part in public affairs at the beginning of the Revolution where he supported the Whigs. He was elected delegate to the Provincial congress in 1774 and served throughout 1775. He was a member of the board of war from 1778 until its dissolution in 1781 which oversaw Massachusetts' military strategy, logistics and recruitment. He paid the price for the effective service in that office as British troops ravaged much of his property.
In 1779 he served as a delegate in the Massachusetts' Constitutional Convention. He was elected to the new Massachusetts' upper House in 1780. In 1781 he was elected to lower house and served there until 1787. In 1782, Gorham was also elected delegate to the United States in Congress Assembled serving through 1783. He was re-elected in 1785 serving until 1787.
On May 15, 1786 he assumed the Chair of Congress in the absence of President John Hancock. On June 5th he was elected President of the United States in Congress Assembled. He presided over the United States at a most perilous time in US History as the Articles of Confederation had failed to provide the Federal Government with the necessary authority to govern. The Chronology of his presidency is as follows:
May 15, 1786 Elects Nathaniel Gorham chairman of Congress to succeed David Ransay. May 17 Ratifies Prussian-American treaty of commerce. May 18 Postpones to September meeting of agents for Georgia-South Carolina boundary dispute. May 22-25 Debates Connecticut cession. May 26 Declares conditional acceptance of Connecticut cession. May 29 Fails to achieve quorum. May 31 Amends rules to war; receives John Jay request for a committee to confer with him on negotiations with Diego de Gardoqui.

June 5 Receives resignation of President John Hancock; receives report on military establishment. June 6 Elects Chairman Nathaniel Gorham president of the United States in Congress Assembled. June 13-14 Fails to achieve quorum. June 15 Receives reports on prospects for Indian hostilities and on Continental arsenals and magazines. June 16 Orders Indian commissioners to report on prospects for hostilities June 19-20 Fails to achieve quorum. June 21 Bans acceptance of paper money by post offices. June 22 Orders troop reinforcements "to the rapids of the Ohio." June 27 Directs court of appeals judges to reconvene November 6 and reinstates salaries on per diem basis. June 28 Receives draft ordinance for the Indian department. June 30 Responds to Virginia appeal for protection against western Indians.

July 4 Celebrates anniversary of independence. July 7 Requests revision of Virginia cession to permit creation of "not more than five nor less than three" states from the northwest territory. July 12 Revokes commissions of those appointed to negotiate treaties with the Indians. July 13 Recommits draft territorial plan of government. July 21 Debates Indian affairs ordinance. July 24 Orders second reading of Indian affairs ordinance July 27 Seeks revision of New York act authorizing Continental impost.

August 1 Receives report on arsenals and ordnance. August 2 Adopts 1786 requisition. August 3 Authorizes purchase of West Point; confers with secretary for foreign affairs on negotiation of treaty with Spain. August 7 Adopts Indian affairs ordinance. August 8 Adopts coinage standards; orders board of treasury to report an ordinance for establishment of a mint. August 9 Appeals to North Carolina, South Carolina, and Georgia for land cessions. August 10 Debates John Jay's instructions for negotiating Spanish treaty. August 14 Appoints committee to meet with Pennsylvania Assembly on revising act authorizing Continental impost. August 16-23 Debates John Jay's instructions for negotiating Spanish treaty. August 24 Orders relief for displaced Moravian Indians. August 28 Debates John Jay's negotiating instructions. August 29 Repeals John Jay's negotiating instructions by seven-to-five vote (which was contested on the ground that nine votes were constitutionally required). August 30-31 Debates repeal of John Jay's instructions.

September 1-2 Debates repeal of John Jay's instructions. September 4 Convenes agents for appointing a court to hear South Carolina-Georgia boundary dispute. September 5 Authorizes settlement of Pennsylvania fiscal claim. September 11 Receives South Carolina appeal for congressional intervention in hearing boundary dispute with Georgia. September 12 Receives John Jay report on consular convention with France. September 13 Selects judges for hearing South Carolina, Georgia boundary dispute. September 14 Accepts Connecticut land cession. September 18 Bars payment of Continental requisitions in paper money. September 20 Receives report on Annapolis Convention; orders postmasters "to receive no other money in payment for postage than specie." September 25 Receives report on conference of congressional committee with Pennsylvania Assembly. September 28 Debates repeal of John Jay's negotiating instructions. September 29 Debates ordinance for territorial government.

October 3 Instructs Thomas Jefferson on renegotiation of consular convention with France. October 4 Debates Northwest ordinance. October 6 Elects James White southern Indian superintendent. October 10 Directs Indian superintendent to confer with southern states. October 13 Adopts ordinance for settlement of the states' Continental accounts; receives report on British response to request for evacuation of frontier posts. October 16 Adopts ordinance for establishment of a mint. October 18 Receives secretary at war's report on Shays' rebellion. October 21 Increases military establishment - ostensibly for Indian defense but with an eye to the "disorders" in Massachusetts. October 23 Appeals to states for authority to regulate trade; authorizes secretary for foreign affairs to inspect the mails for reasons of national security (excepting the mail of members of Congress). October 26 Orders inquiry into postal service. October 30 Authorizes suspension of interest credits on Rhode Island-held debt in retaliation for state paper money policy.

November 1-2 Debates postal reform. November 3 Adjourns - referring "the several matters now before Congress" to the new Congress scheduled to meet "on Monday next" November 6 Convenes - five states represented November 7-24 Fails to achieve a quorum. November 13 - Nathaniel Gorham's term as President ends.
For several years after his presidency Gorham was judge of Middlesex County's court of common pleas. Most importantly he was elected to represent Massachusetts in the convention that framed the National constitution. When the convention was sitting as committee of the whole, he was called by George Washington to preside, and filled the chair for three of the four months. As chairman he spoke often, wielded much influence and served on the Committee of Detail. In the final hours of the Constitution's preparation for vote, Nathaniel Gorham suggested the ratio of representation in the lower house of Congress could amend from one for every forty-thousand inhabitants to one for every thirty-thousand. Gorham's proposal was unanimously passed.
He afterward exerted a powerful influence in securing the ratification of the constitution in the Massachusetts State convention. Unfortunately, Gorham did not serve in the new government he had helped to create.
In connection with Oliver Phelps he purchased from the state of Massachusetts, in 1786, an immense tract of land on Genesee River, for the sum of $1,000,000. This had been previously ceded to Massachusetts from the state of New York. They soon extinguished the Indian title to a part of this territory, surveyed it into tracts, laid out townships, and sold large parts to speculators and settlers. In 1788-89 Massachusetts scrip rose dramatically in value, enormously swelling the purchase price of the vast tract. In 1790, being unable to fulfill their contract in full to Massachusetts, Phelps and Gorham compromised and surrendered that portion of the land which remained under the Indian title. Gorham never recovered from the insolvency and like Robert Morris in Philadelphia he fell from pinnacle of society and lost his political esteem. At the age of 58 on the 11th of June, 1796 he died a financially broken man and is buried at the Phipps Street Cemetery in Charlestown, MA.
His eldest son, Nathaniel Gorham, died in Canandaigua, New York, 22 October, 1826, was a pioneer settler of this tract, having been placed there in charge of his father's interests.
Another son, Benjamin Gorham, lawyer, born in Charles-town, Massachusetts, 13 February, 1775 ; died in Boston, Massachusetts, 27 September, 1855, was graduated at Harvard in 1795. He studied law under Theophilus Parsons, and rose to eminence at the Boston bar. He was elected a representative to congress as a Federalist to fill the vacancy caused by the resignation of Jonathan Mason, and served" from 1820 till 1821. He was again in congress from 1827 till 1831, and from 1833 till 1835. He was also a member of the state House of Representatives. He gave his professional services without compensation to defend the newspaper press in libel suits.