The Seven Flags of the New Orleans Tri-Centennial
Apatosaurus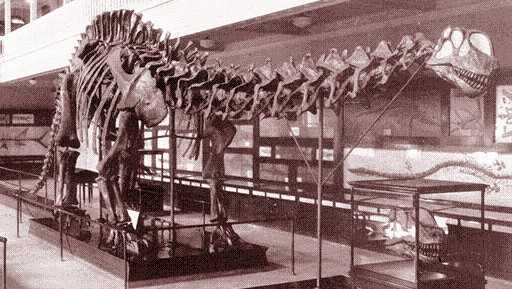 Apatosaurus - this dinosaur was misidentified for quite a number of years. Arthur Lakes, working for paleontologist Othniel Charles Marsh, excavated the first Apatosaurus skeleton in 1879 near Morrison, Colorado. A large portion of the skeleton was discovered, but the skull was missing. Needing a skull to complete the skeleton, Marsh used what he thought was the correct skull, which has since turned out to be that of a Camarasaurus, a smaller Jurassic sauropod. Thus, formerly identified as Brontosaurus, Apatosaurus was renamed when another skeleton with skull was found, confirming the correct skeletal assemblage. Apatosaurus belongs to a group of saurischian (lizard-hipped) dinosaurs, suborder Sauropoda. Included in this suborder are Diplodocus, Brachiosaurus and Camarasaurus. All of these giant plant-eating dinosaurs lived during the late Jurassic Period during a time of semi-humid to semi-arid conditions. They roamed the plains, probably in herds, continually searching for food and also on the lookout for their primary predator, Allosaurus.
Apatosaurus is a Sauropod dinosaur, one of the long-necked, long-tailed animals that were the longest land creatures ever to roam the earth. Apatosaurus were approximately 70 feet in length and weighed over 24 tons. They were not the largest sauropods, the Diplodocus and Brachiosaurus being much larger relatives. Apatosaurus had a small head, long neck, long tail and a huge barrel-shaped body supported by four massive legs. Apatosaurus was a plant-eating machine. It's small head contained small, peg-shaped designed for ripping foliage off plants and sending this food, unchewed down to its large stomach. This dinosaur also swallowed stones (gastroliths or gizzard stones) which remained in the stomach. The grinding action of the stomach stones combined with the stomach acids served to grind up the plant material so this Jurassic giant could digest it. One interesting aspect of Apatosaurus was its long tail. It contained over 82 vertebrae and tapered into a slender whip. Scientists now believe that Apatosaurus used its whiplash tail for defense either by making loud noises by cracking its tail-whip, or by actually using it as a whip against its predators.
Apatosaurus bone remains are found quite commonly in the Morrison Formation in the western states of Wyoming, Colorado and Utah. Often, bones from multiple individuals are found together either signifying a living 'family' group or more probably, a mass death and burial due to severe climatic events such as large floods. Charles Whitney Gilmore described an almost complete skeleton of Apatosaurus in 1936. The finding of this skeleton played a key role in the establishment of Dinosaur National Monument, Vernal, Utah.

The Congressional Evolution of the United States Henry Middleton
Unauthorized Site: This site and its contents are not affiliated, connected, associated with or authorized by the individual, family, friends, or trademarked entities utilizing any part or the subject's entire name. Any official or affiliated sites that are related to this subject will be hyper linked below upon submission and Evisum, Inc. review.
Research Links