The Seven Flags of the New Orleans Tri-Centennial
Dinosaur Claws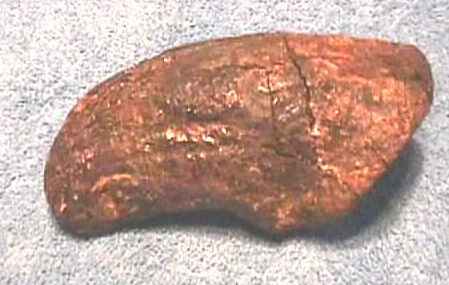 The plant-eating dinosaurs had claws also at the ends of their forelimbs and hind limbs. Unlike the predatory dinosaurs, that had sharp, grasping and killing claws, the plant-eater (herbivore) claws were relatively blunt and harmless. They were probably used for pawing at the ground or fronds of ferns, stability and as a last resort, as a defense mechanism. This claw is probably from the large Sauropod, Apatosaurus. It is 11 inches in length and was found associated with the entire hind limb. This is the largest claw of this dinosaur. Sauropods had 5 toes but only 3 claws. The claws varied in size. This specimen was excavated from the Jurassic Morrison Formation at the Dinosaur Safaris Inc. dig site in Wyoming.
-- Text and Photo by: Bob Simon
The name "dinosauria" was choosen by Dr. Richard Owen, an English doctor. Owen first used the word in his "Report on British Fossil Reptiles" presented to the British Association for the Advancement of Science in 1841. "Dinosaurs" is a combination of two Greek words"deinos (fearfully great)" and "sauros (a lizard)." Thus the name literally means "fearfully great lizard." not terrible lizard.
Research Links
Virtualology is not affiliated with the authors of these links nor responsible for each Link's content
Dinosaur Safaris, Inc.
[ Enter ]. Dinosaur Safaris Inc (DSI) is a private corporation whose mission is to Sponsored Link
discover, excavate, study, and preserve dinosaur bones and related artifacts.
Journal of Dinosaur Paleontology
... the dromaeosaurid sickle-claw. Sinosauropteryx prima: ... debating aspects of dinosaur/bird
fossils, fossilization ... of several conifers, the type of trees dominant ...
Links to Earthwatch Dinosaur Tracking Projects from ...
... left by the hind foot of a sauropod dinosaur. The print shows the curved claw marks
typical of this type of dinosaur. The print which is on a fallen block is ...
Overview of Dinosaur Tracking
... preferably of a contrasting type (which would allow the ... Another is that the claw was
tucked within ... Naming and Classifying Dinosaur Tracks. Although determining ...
Paleontology and Geology Glossary
... TON-iks) Aetonyx (meaning "eagle claw") is an invalid name for Massospondylus. The
type species is A. palustris ... bakensis was a dinosaur about 27 feet (8 m ..
dinobite
... Baryonix, A dinosaur with a claw on it's hand. Diet:
meat Type: herbivore Habitat: damp plains. ...
New Page 1
... larger image). Acrocanthosaurus Foot Claw. Description: Acrocanthosaurus Foot Claw
Resin casting. This type of dinosaur was believed to be responsible for the ...
Out of Africa, A New Dinosaur Species @ nationalgeographic. ...
... most complete long-necked dinosaur ever discovered from the ... probably used its forelimb
claw to fight and was ... herded or had some type of social grouping that ...
Digimon_Bios
... Metal Greymon- Giga Blaster Mega- War Greymon- Terra Form and Terra Claw Animal
Type: Dinosaur Technical Type: Vaccine Personal: Agumon is a very strong and ...
GEOL 104 Lecture 2: The History of Prehistory: Dinosaur ...
... dinosaur; Rest of skeleton was found the next summer, proved to be a new type of
dinosaur: Claw did not come from hand, but from foot: Could only use claw while ...
Dinosaur Book Titles; The Complete Dinosaur, Encyclopedia of ...
... authoritative treatment of every type of dinosaur, all of ... pink, tooth-and-claw dinosaurs
leaping at each ... dramatic paintings of dinosaur days. Minute details ...
Dromaeosaurid Hand Claw Core
... Dromaeosaurids were a raptor type dinosaur with a large cycle-shaped claw on each
hind foot which it used to slash its prey. They may have hunted together in ...
Two Guys Fossils-Dinosaur Bones
... to find another specimen of the same type. Quality Dinosaur Fossils can be ... Note: This
is the first claw of this species of dinosaur that I have had to ...
FAQ - PalaeoLab
... up with is that this claw was used in attacking its ... When we find dinosaur bones,
we compare them to ... most probably from the same type of dinosaur. If they are ...
IL Geo Survey Past Dinosaur Questions
... Type species: ostrommaysi Classification: Order ... may be the deadliest dinosaur yet
known. It ... Deinonychus (literally, "killer claw) Utahraptor was equipped with a ...
Dinosaur
... hands and a large sickle-claw on their hind feet. Deinonychus ... common, but still unknown,
dinosaur ancestor. This primitive body type did not last long ...
Dinosaur claws for sale, Raptor type
... Dinosaur Claws - Raptor Type. Click images to zoom Please ... Extremely rare Raptor like
Dinosaur. [SOLD]. Late Jurassic, Morrison ... nearly perfect foot claw.2.5 inches. ...
DINOSAUR-1997Dec by author
... Dinogeorge@aol.com: Re: Type material: does it have to ... Agermose): "Forensic" Evidence
Of Dinosaur Killer Thursday, December 11 ... Swift Claw <missraptor@mindless.com ...
Discovery Suitcase - Dinosaur Valley - Drumheller, Alberta, ...
... icks) This newcomer to the dinosaur hall of fame lived 120 ... remains include a huge
claw. Baryonyx Click to Enlarge. ... russ) A "carnosaur", a type of two-legged meat ...
madeupdigimon
... form of Clawmon. Name : Clawmon Type : Data Stage : Champion Attack : Scratch Attack
Group : Dinosaur Digimon Name Meaning : Claw Monster Description : He is ...
Dinosaur World - Ask Dinoman
... on the Yangchuanosaurus? 1.What type of climate did it live ... of its killing claw. That
claw is over 6 inches long and could have cut a dinosaur in two. That is ...