The Seven Flags of the New Orleans Tri-Centennial
Hans Christian Anderson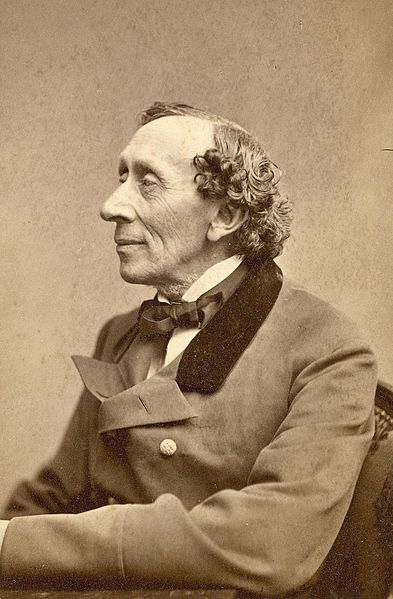 April 2, 1805 - August 4, 1875
Hans Christian Andersen (Danish pronunciation: [ˈhanˀs ˈkʰʁæʂd̥jan ˈɑnɐsn̩], in Denmark he is referred to using the initials: H. C. Andersen) (April 2, 1805 – August 4, 1875) was a Danish author and poet noted for his children's stories. These include "The Steadfast Tin Soldier", "The Snow Queen", "The Little Mermaid", "Thumbelina", "The Little Match Girl", and the "The Ugly Duckling". During his lifetime he was acclaimed for having delighted children worldwide, and was feted by royalty. His poetry and stories have been translated into more than 150 languages. They have inspired motion pictures, plays, ballets, and animated films
Hans Christian Andersen (Odense , Denmark , on April 2 of 1805 - Copenhagen , Denmark, August 4 of 1875 ) was a writer and poet Dane, famous for his tales for children , including The Ugly Duckling and The Little Mermaid .

He was born on April 2, 1805 in Odense , Denmark . His family was so poor that he sometimes had to sleep under bridges and begging . The son of a shoemaker aged 22, educated but sickly, and a confession laundress Protestant . Andersen gave his mother the story The Little Match Girl , by extreme poverty, and not good for anything , because of his alcoholism .

From an early age showed great Hans Christian imagination was encouraged by the indulgence of both parents and the mother's superstition. In 1816 his father died and Andersen stopped attending the school , was dedicated to the works read all I could get, including those of Ludwig Holberg and William Shakespeare .

Andersen decided to become a singer of opera and moved to Copenhagen in September 1819 . Once there was taken by lunatic , rejected and practically ran out of nothing, but made ​​friendships with musicians Christoph Weyse , Siboni and later with the poet Frederik Hoegh Guldberg .

His voice failed him, but was admitted as student of dance in the Royal Theatre in Copenhagen . Lazy as it was, lost the support of Guldberg, but this time he became friends with Jonas Collin , the director of the Teatro Real, which would be his friend for life .

King Frederick VI became interested in the strange boy and sent him for a few years at school Slagelse . Despite his aversion studies, Andersen remained in Slagelse and school of Elsinore (Danish Helsingør) until 1827 , and later acknowledged that these years were the darkest and bitterest of his life. Collin finally saw Andersen finished his studies and returned to Copenhagen.

The same year, 1827 Hans Christian managed the publication of his poem "The dying child" in the literary magazine Kjøbenhavns flyvende Post , the most prestigious of the moment appeared in the Danish and German journal.

Andersen was an avid traveler - "travel is to live," he said. After his travels he wrote his impressions in the newspapers . From his comings and goings also brought items for their writings .

Success was also his first play, "Love in the tower of St. Nicholas", published the year of 1839 .

For 1831 had published a book of poems and sketches Fantasies and made ​​a trip to Berlin , which appeared under the title Chronic silhouettes . In 1833 , he received the king a small scholarship books and made ​​the first of his extensive travels through Europe .

In 1834 came to Rome . It was Italy that inspired his first novel , The Improviser published in 1835 , with considerable success. The same year also appeared the first two editions of children's adventure stories , followed by several short stories novels. He had previously posted a script for opera , The Bride of Lammermoor , and a book of poems entitled The twelve months of the year .

The value of these works in principle was not appreciated, and consequently had little success in sales. However, in 1838 Hans Christian Andersen was already an established writer. The fame of his fairy tales grew. He began writing a second series in 1838 and third in 1843 , which was published under the title Tales new . Among his most famous stories are "The Ugly Duckling," "The Emperor's New Clothes ," "The Snow Queen," "The Red Shoes," "The Steadfast Tin Soldier," " Nightingale," "The Little Mermaid," "The phoenix", "The Shadow," "The Princess and the Pea "among others. They have been translated into more than 80 languages ​​and adapted plays , ballets , films , cartoons , games on CD and works of sculpture and painting .

The longest trips Andersen, between 1840 and 1841 , went through Germany (where he made ​​his first trip in train ), Italy , Malta and Greece to Constantinople . The return trip took him to the Black Sea and the Danube . The book 's Bazaar poet (1842) where he narrated his experience. It is considered by many the best travel book.

Andersen became a familiar figure in much of Europe, although in Denmark was not recognized at all as a writer. His works, for that time, had already been translated into French, English and German. In June 1847 he visited England for the first time, that trip was a success. Charles Dickens accompanied him on his departure.

After that Andersen continued his publications, aspiring to become a novelist and playwright , which failed. In fact, Andersen did not have much interest in fairy tales , although they will be just for them, which is valued today. Still, in 1847 and continued typing and 1848 there were two new volumes. After a long silence, Andersen published in 1857 another novel: "To be or not to be". In 1863 , after another trip, published a new book of travel in Spain , a country where he impressed especially the cities of Malaga (where he has erected a statue in his honor), Granada , Alicante and Toledo .

A custom Andersen maintained for many years, from 1858 , was his own voice narrating tales that became famous .

Andersen often fell in love with unattainable women for him and many of his stories are interpreted as references to his failures sentimental. 1 The most famous of these was the soprano Jenny Lind . His passion inspired the story " The Nightingale "and helped the apodaran the" Swedish Nightingale ". Andersen used to show shy around women and had serious difficulties to declare Lind. He did it by letter when Lind took a train for a concert. His feelings were not reciprocated, as she saw him as a brother, as expressed in a letter of 1844 "farewell ... God protect my brother is the sincere wish of his affectionate sister, Jenny." 2 Another unrequited love Andersen's youth was a girl named Riborg Voigt. We found a bag containing a long letter next to the chest Riborg Andersen when he died. In his diary he wrote this prayer: "Almighty God, you are all I have, you who govern my fate, I surrender to you! Give me a way of life! Give me a bride! My blood wants love, as my heart wants! Other heartbreak were Sophie Ørsted, the daughter of the doctor Hans Christian Ørsted , and Louise Collin, the youngest daughter of his benefactor Jonas Collin.

Just as he had little success with women, Andersen was also attracted unrequited by several men. For example, he wrote to Edvard Collin : "I languish for you as a young Calabrian ... my feelings for you are as a woman. The femininity of my nature and our friendship must remain secret. " Collin, meanwhile wrote in his memoirs: "I found myself not able to respond to his love, and that caused the author much suffering." Neither went on to become lasting relationships Andersen's passions by Carlos Alejandro , the young heir to the duchy of Saxe-Weimar-Eisenach , 5 and dancer Harald Scharff . Modern Literary Studies suggest that in some works of Andersen is a disguised homoeroticism, fruit of his homosexuality repressed. This repression is already in the youth daily Andersen that registers its intention not to have sex.

Andersen met Harald Scharff, a handsome young dancer Danish theater company Royal Copenhagen in 1857 in Paris . Andersen made ​​a stopover in Paris on the way to Denmark from England , a visit to Charles Dickens , and Scharff was on vacation with his roommate, actor Lauritz Eckardt . Then Andersen and Scharff together visited Notre Dame . Oct. 11 would be three years until Andersen returned to meet again by chance the couple in Bavaria in July 1860. The three men enjoyed a week together in Munich and its surroundings. Probably in that period fell for Scharff Andersen. According to his diary Andersen "did not feel quite right" when the two young men left Munich on July 9, 1860 to go to Salzburg .

After the departure of Scharff and Eckardt to Salzburg, Andersen traveled to Switzerland but there feels dejected and depressed. Returns to Copenhagen in November and will spend Christmas at Basnæs , the estate of an aristocratic friend of his on the coast of Zealand . The Christmas holidays mood lifted him and wrote The snowman on New Year's Eve 1860. 14 other stories were published with new Andersen two months later, on March 2, 1861 in the volume New fairy tales and stories. Second series. First collection. 1861. Editor Copenhagen CA Reitzel.


The Andersen and Scharff friendship continued and in early 1862 began a relationship that Andersen gave her "joy, some sexual fulfillment and eventual end led to loneliness." Andersen refers to this period of his life as the 'period erotic ", in a diary entry of March 1862, was not discreet in their public behavior with Scharff and openly showed his feelings even too much. Some witnesses described the relationship of "improper and ridiculous."

Their relationship ended in late 1863 when Scharff was leaving gradually as intensified its relationship with Eckardt. Andersen wrote in his diary on 27 August 1863 Scharff's passion had cooled toward him. And on November 13, 1863 wrote: "I have visited Scharff in eight days, it's all over with him." In December read stories Eckhardt's house, where this Scharff attended and a ballerina Camilla Petersen, with which they promise but they never married. Andersen took the end of the relationship in stride and the two former lovers coinciding followed later in his social circle without reproach. Andersen tried several times unsuccessfully to retake the intimate relationship with Scharff.

When the relationship faded Andersen felt old. He speculated that he would never have another relationship. In September 1863 he wrote: "I can not live in my solitude, I am tired of life." In October he wrote: "I am old and downhill." In 1864, after a hiatus of twelve years with the theater, Andersen wrote three new works for the theater in Copenhagen, which examined the brotherly love and deep feelings for men. One of the reasons that the writer could again make an attempt at a field in which he had experienced failures in the past would be the ability to stay close Scharff at the Royal Theatre. Updated his 1832 opera The crow that was staged in Copenhagen on April 23, 1865 where Scharff played a vampire sucking the blood of a young man in his wedding night. In 1871, Bournonville composed a ballet based on the Andersen story " The Steadfast Tin Soldier ", whose main role was played by Scharff. But the dancer broke his knee during a rehearsal of The Troubadour in November 1871 forcing him to leave his career in ballet. He tried to become an actor without much success, and ended up marrying the dancer Elvida Møller in 1874.

His children's stories continued to appear until 1872 , when the stories were published last Christmas. During the spring of that year, Andersen suffered a fall from his own bed , which caused him serious injuries. He never fully recovered, and August 4 of 1875 died in the house called Rolighed , near Copenhagen where he is buried.