The Seven Flags of the New Orleans Tri-Centennial
Vicente Aleixandre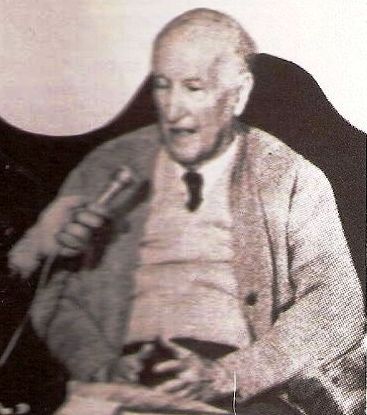 1898 - 1984
Pio Marcelino Cirilo Vicente Aleixandre and Merlo ( Sevilla , April 26 of 1898 - Madrid , December 13 of 1984 ) was a poet Spanish call Generation 27 .

Elected academic session on June 30 of 1949 , joined the Royal Spanish Academy on January 22 of 1950 . He served as chair of the letter O.

National Literature Prize in 1933 for destruction or love , one Critics Award in 1963 for In a vast domain , and in 1969 , for the consummation Poems and Nobel Prize for Literature in 1977 .

Born into a family of the Spanish bourgeoisie, his father was a railroad engineer. Born in Seville in 1898 but spent his childhood in Malaga , where he shares with future studies writer Emilio Prados .

He moved to Madrid where he studied law and business. In 1919 he graduated in law and gets the title of mayor merchant. Is professor of Commercial Law from 1920 to 1922 at the School of Commerce.

In 1917 he meets Damaso Alonso in Las Navas del Marqués , where vacationing, and this contact is the discovery of Rubén Darío , Antonio Machado and Juan Ramón Jiménez . Thus begins a deep passion for poetry.

His health began to deteriorate in 1922. In 1925 he declared tuberculous nephritis, ending with the removal of a kidney operation in 1932 . His first poems were published in the Journal of the West in 1926 . Establish contact with Cernuda , Altolaguirre , Alberti and García Lorca . Throughout his life hiding his homosexuality. In the thirties the poet knows Andrew Steel and both begin an intense relationship that is broken by exile to Mexico Andres after the Civil War. In the words of Molina Foix , "was very demure Aleixandre your condition homosexual for the damage they could do to his family, especially his sister, but I was told that when he died he did not care who knew the truth; considered was no dishonor ".

After the Civil War exiles not, despite his leftist ideas, remains in Spain and becomes one of the teachers of young poets.

His poetry has several stages: pure, surreal, anthropocentric and old age.

Pure poetry

His first book, Scope , composed between 1924 and 1927 and published in Málaga in 1928 , is the work of a poet emerging, which has not yet found its own voice. Predominantly asonantado short verse and aesthetics of pure poetry juanramoniana and guilleniana also echo ultraístas and classical poetry of the Spanish Golden Age, especially Fray Luis de León and Góngora .

Poetry surreal

In the following years, between 1928 and 1932 , there is a radical change in his poetic conception. Inspired by the forerunners of surrealism (especially by Arthur Rimbaud and Lautréamont ) and Freud , as an expression adopts the prose poem ( Passion of the Earth , in 1935 ) and free verse ( Swords and lips , in 1932 , The Destruction or Love , 1935, Shadow of Paradise , in 1944 ). The appearance of these poems is irrational, and the expression is close to automatic writing , but not accept it on faith. The poet celebrates love as uncontrollable natural force that destroys all human limitations, and criticizes the conventions with which society attempts to capture him.

Poetry anthropocentric

After the war, his work changed, approaching the concerns of social poetry prevailing. From a position of solidarity, addresses common man's life, his sufferings and illusions. His style is simple and accessible. There are two fundamental books of this stage: History of heart , of 1954 and in a vast domain , in 1962 .

Poetry of old age

In his last book ( Poems of consummation , of 1968 , and Dialogues of knowledge , of 1974 ), the poet's style to turn back. The experience of old age and approaching death lead him back to irrationalism youth, albeit in a highly purified form and serene. These two titles canonical, that is, of life published by the poet himself, could add a third, "To a great night," Released posthumously, in 1991 , and in line metaphysical and reflective than the previous two.

Books of poetry

Scope , Malaga (6. º Litoral Supplement), 1928 .
Swords and lips , M., Espasa-Calpe, 1932 .
Destruction or Love , M., Star, 1935 (National Book Award 1933 ).
Passion of the land , Mexico, Fable, 1935 (2nd enlarged edition: Madrid, Adonais, 1946 ).
Shadow of Paradise , M., Adam, 1944 .
In the death of Miguel Hernandez , Zaragoza, Binder Located Hours, 1948 .
World alone , M., Clan, 1950 .
Paradise Poems , Málaga, El Arroyo de Los Angeles, 1952 .
Birth Finally , M., Insula, 1953 .
History of heart , M., Espasa-Calpe, 1954 .
Paradise City , Malaga, Dart, 1960 .
Complete Poems , M., Aguilar, 1960 . (Ed. author's own and Arturo del Hoyo)
In a vast domain , M., Revista de Occidente, 1962 (Critics Award).
Pictures with name , B., Col. El Bardo, 1965 .
Works , M., Aguilar, 1968 (2nd enlarged edition: 1977 ).
Poems of consummation , B., Plaza y Janes, 1968 (Critics Award).
Surrealist poetry . Anthology, B., Barral, 1971 .
Sound of War , Valencia, Hontanar, 1971 .
Knowledge Dialogues , B., Plaza y Janes, 1974 .
Three poems pseudonyms , Malaga, Col. Juan de Yepes, 1984 .
Several new poems , B., Plaza y Janes, 1987 . (Ed. Alejandro Duque Amusco; compilation: the same and Irma Emiliozzi)
Prosas recovered , B., Plaza y Janes, 1987 . (Ed. Alejandro Duque Amusco)
In great night. Last poems , B., Seix Barral, 1991 . (Ed. by Carlos and Alejandro Duque Bousoño Amusco)
Album. Verses of youth (with Damaso Alonso and others), B., Tusquets, 1993 (ed. Amusco Duke Alexander and Maria-Jesus Velo).
Prose: dating. Evocations and opinions. Other notes for a poetic , M., Austral, 1998 (ed. Alejandro Duque Amusco)
Complete Poems , M., Visor / Madrid / City of Malaga, 2001 (ed. by Alejandro Duque Amusco).
Complete Prose , M., Visor / Madrid / City of Malaga, 2002 (ed. by Alejandro Duque Amusco).

Articles and writings

Meetings (Revista de Occidente, June 1963).
Correspondence to the 27 Generation (1928-1984) .





The Congressional Evolution of the United States Henry Middleton
Unauthorized Site: This site and its contents are not affiliated, connected, associated with or authorized by the individual, family, friends, or trademarked entities utilizing any part or the subject's entire name. Any official or affiliated sites that are related to this subject will be hyper linked below upon submission and Evisum, Inc. review.
Research Links
London Public Library
Copyright© 2000 by Evisum Inc.TM. All rights reserved.
Evisum Inc.TM Privacy Policy