The Seven Flags of the New Orleans Tri-Centennial
Miguel A. Asturias
1899 - 1974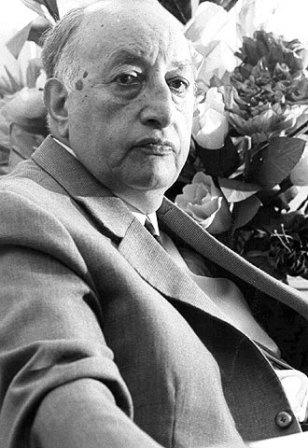 Literature - Nobel Prize 1967
Miguel Ángel Asturias Rosales ( Guatemala City , October 19th of 1899 - Madrid , June 9 of 1974 ) was a writer , journalist and diplomat Guatemala. Asturias contributed to the development of Latin American literature , influenced Western culture, and at the same time called attention to the importance of indigenous cultures, especially those of his native Guatemala . He received the Nobel Prize for Literature in 1967 .
Asturias, was born and raised in Guatemala, but lived a significant part of his adult life abroad. During his first stay in Paris in the twenties, he studied anthropology and Indian mythology. Some scientists consider it the first Latin American novelist to show how the study of anthropology and linguistics could influence literature. 1 While in Paris, Asturias also associated with motion surreal . He is credited with introducing many features of modernist style in Latin American letters. As such, it was an important precursor of the Latin American boom of the 1960s and 1970s.

In The Lord President , one of his most famous novels, Asturias describes life under a dictatorship ruthless. His public opposition to the dictatorship led him into exile, and had to spend much of his life abroad in South America and Europe. The book Men of Maize , which is sometimes described as his masterpiece, is a defense of the Mayan culture . Asturias, summarizes his extensive knowledge of Mayan beliefs with their political beliefs, to channel them into a life of commitment and solidarity. His work is often identified with the social and moral aspirations of the Guatemalan population.

After decades of exile and marginalization, Asturias finally received broad recognition in the sixties. In 1966, he won the Lenin Peace Prize from the Soviet Union. The following year he received the Nobel Prize for Literature , the second Latin American writer to be so honored (the first was Gabriela Mistral ). Asturias spent his final years in Madrid, where he died at the age of 74. He was buried in the Père Lachaise Cemetery in Paris.

The following is a list of selected works. You can find a more complete list on the Nobel Prize website .

Guatemalan Sociology: The Indian social problem. - Guatemala City: Sanchez and Guise, 1923 ( Guatemalan Sociology: The Social Problem of the Indian / translation Maureen Ahern. - Tempe: Arizona State University Center for Latin American Studies, 1977)
Rayito star . - Paris: Imprimerie Française de l'Edition, 1925
Legends of Guatemala . - Madrid: East, 1930
Images of Birth , 1935 (libretto for an opera with music by José Castañeda )
Lipolidón emulated: fantomima . Guatemala City: Typography "Americana", 1935. (Libretto for an opera with music by José Castañeda)
Sonnets . - Guatemala City: American (poetry), 1936
With the hostage in the teeth: Song to France . - Guatemala City: Zadik, 1942
Last night, March 10, 1543 (poetry), 1943
Three of four soles (novel), 1943
The President . - Mexico City: Costa-Amic, 1946 (translated by Frances Partridge. New York: Macmillan, 1963)
Poetry: Sien lark . - Buenos Aires: Argos, 1949
Men of Maize . - Buenos Aires: Losada, 1949 ( Men of Maize / translation Gerald Martin. - New York: Delacorte / Seymour Lawrence, 1975)
Strong wind . - Buenos Aires: Ministry of Education, 1950 (* Cyclone / translation Flakoll Darwin and Alegria. - London: Owen, 1967; Strong Wind / translation by Gregory Rabassa. - New York: Delacorte, 1968)
Exercises poetic sonnets as Horace issues . - Buenos Aires: Botella al Mar, 1951
South High is: Canto a la Argentina . - La Plata, Argentina: Workshops graphics Moreno, 1952
The green pope . - Buenos Aires: Losada, 1954 ( The Green Pope / translation by Gregory Rabassa. - New York: Delacorte, 1971)
Bolivar the Liberator Canto . - San Salvador: Ministry of Culture, 1955
Soluna: Comedy prodigious in two days and end . - Buenos Aires: Losange, 1955
Week-end en Guatemala . - Buenos Aires: Losada, 1956
The hearing of the ends . (Theater) - Buenos Aires: Ariadna, 1957
The eyes of the interred . - Buenos Aires: Losada, 1960 ( The Eyes of the Interred / translation by Gregory Rabassa. - New York: Delacorte, 1973)
The Alhajadito . - Buenos Aires: Goyanarte, 1961 ( The Bejeweled Boy / translation of Martin Shuttleworth. - Garden City, NY: Doubleday, 1971)
Mulatta . - Buenos Aires: Losada, 1963 ( The mulatta and Mr. Fly / translation by Gregory Rabassa. - London: Owen, 1963)
Theatre: Blackmail, Drydock, Soluna, Hearing the confines . - Buenos Aires: Losada, 1964
Tales and Legends (ed. Gutenberg Galaxy), 1965
Clarivigilia spring . - Buenos Aires: Losada, 1965
The Mirror of Lida Sal . - Mexico City: Twenty-First Century, 1967 ( The Mirror of Lida Sal: Tales Based on Mayan Myths and Guatemalan Legends / translation Gilbert Alter-Gilbert. - Pittsburgh: Latin American Literary Review, 1997)
Latin America and Other Essays . - Madrid: Guadiana, 1968
Badthief (Epic of the Andes green). - Madrid: Alianza, 1969
Eating in Hungary (travelogue. Co-written with Pablo Neruda), 1969
Three of four suns . - Madrid: Closas-Orcoyen, 1971
Torotumbo, The hearing of the ends; Posts Indians . - Barcelona: Plaza & Janes, 1971
America, fable fables (essay), 1972
Good Friday . - Buenos Aires: Losada, 1972
The man who had everything, everything, everything Sombrerón Legend, National Treasure Florido's Place . - Barcelona: Bruguera, 1981
Travel, essays and fantasies / Compilation and Richard J. prologue Callan. - Buenos Aires: Losada, 1981
The tree of the cross . - Nanterre: Allca XX / Université Paris X, Centre de Recherches Latino-Américanes, 1993