The Seven Flags of the New Orleans Tri-Centennial
Captain John Smith
1580-1631
English colonist in America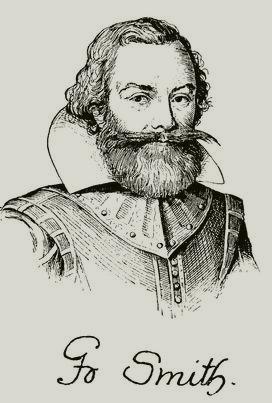 Click on an image to view full-sized
John Smith
SMITH, John, adventurer, born in Willoughby, Lincolnshire, England, in January, 1579 ; died in London, 21 June, 1632. Biographies of Smith are generally based on Smith's own accounts of his life and services, which are not trustworthy. He was the eldest son of George and Alice Smith, poor tenants of Peregrine Bertie, Lord Willoughby, and was baptized in the parish church at Willoughby, 6 January, 1579, O.S. At the age of fifteen he was apprenticed to a trade, but ran away from his master and served under Lord Willoughby in the Netherlands and other countries. Smith represents himself as one of the train of Peregrine Bertie, a young son of Lord Willoughby, but, on a list recently discovered of the members of that company, Smith's name appears as a servant, tie went abroad again to fight against the Turks raider Baron Kisell, became a captain, and, he says, distinguished himself by daring exploits in Hungary and Transylvania, receiving from Sigismund Bathori, prince of Transylvania, a patent of nobility and a pension, but after engaging in many bloody battles he was left for dead on the field in a fight three leagues from Rothethurm, and, having fallen into the enemy's hands, was sent as a slave to Constantinople There he professes to have gained the affection of his mistress, a young woman of noble birth, who sent him with a letter, in which she confessed her feelings for him, to her brother, a pacha on the Sea of Azov. The prince maltreated Smith, until at length he beat out his master's brains with a flail, put on the dead man's clothes, and finally reached a Russian garrison. Smith also says that he was authorized to wear three Turks' heads in his arms, in token of three Turks killed by him in a series of remarkable single combats, at this time, and that "Sigismundus Bathor, Duke of Transilvania, etc.," afterward, in December, 1603, gave him a patent to that effect; but the Turks were Sigismund's allies in 1599-1602, and he was not duke of Transylvania in December, 1603; neither was he king of Hungary, as " writ in the table" over Smith's tomb. Other accounts of these wars do not mention Smith, and the accounts furnished by himself are evidently untrustworthy.
After travelling throughout Europe and attempting to take part in a war in Barbary, Smith returned to England, probably about 1605, and was persuaded by Captain Bartholomew Gosnold, who had already visited the coasts of America, to engage in the founding of a colony in Virginia. The expedition, which set sail, 19 December, 1606, consisted of 3 vessels and 105 men. The ships were commanded by Captain Christopher Newport in the "Susan Constant," Captain Gosnold in the "God-Speed," and Captain John Ratcliffe in the "Discovery." Smith is described in the list of passengers as a planter. By the charter no local councillors were named for the colony, but sealed instructions were delivered to Newport, Gosnold, and Ratcliffe, which were to be opened within twenty-four hours of their arrival in Virginia, wherein would be found the names of the persons who had been designated for the council. On the voyage dissensions sprang up among the colonists. Smith says that he was accused of intending to usurp the government, murder the council, and make himself king. When they reached the Canaries he was kept a prisoner for the rest of the voyage. But no mention of this quarrel is made by any contemporary writers, and Smith omits it in his "True Relation," although he describes it in his "Generall Historie." It is probable that his vanity, his presumption, his previous adventurous career, and the fact that he had the interest of the colony at heart and was a born leader of men, excited the suspicion of his fellow-adventurers that he had designs against the expedition. The box of sealed instructions was opened on the night of their arrival at Old Point Comfort, Virginia, 14 May, 1607. Smith was named a councillor, but, as he was under arrest, he was not sworn in. On 22 May, with Newport and 22 others, he set out to discover the source of James river, and made a league of friendship with Powhatan and other great Indian chiefs. On their return they found the settlers embroiled in difficulties with the Indians, and Smith's counsels regarding defences and obtaining a proper supply of food so far obtained recognition that on 10 June he was admitted into the council. His enemies had urged that he return to England with Captain Newport, who was going home, but Smith demanded to be tried by the colony, and was acquitted. Scanty food began to reduce their numbers, President Wingfield was accused of embezzling the stores and deposed, and Rateliffe became his successor, but Smith, by his energy and fertile resources, became the real head. He at once set about procuring food by trading with the neighboring Indians, and built up and fortified Jamestown against their depredations. He explored the Chickahominy in November, discovered and visited many villages, and procured provisions. While on a similar voyage up the James, he was taken prisoner by Powhatan, who, after a six-weeks' captivity, sent him back to Jamestown. Smith makes no allusion to the legend of his rescue by the chief's daughter Pocahontas (q. v.) till 1616 when, about the time of Pocahontas's arrival in England as the wife of John Rolfe. He wrote an account of it in a letter addressed to Anne, queen of James I. The Indian princess by that time had become a person of some importance, and her substantial friendship to the colony had been acknowledged by Smith in his "True Relation," in which he referred to her as the "Nonpareil" of Virginia. In this letter he says of the heroic act : " At, the minute of my execution she hazarded the beating out of her own braines to save mine, and not only that, but so prevailed upon her father that I was safely conveyed to Jamestown." This is all that was said of it, except a brief reference in his "New England Trials" (London, 1622), till the appearance of his "Generall Historie" (London, 1624). It may be that, while the story as given by Smith is false as to detail, Pocahontas, who was at that time twelve or thirteen years of age, was touched with compassion for the captive and induced her father to treat him kindly. When Smith returned to Jamestown he found the colony reduced to forty men, many of whom had determined to return to England, but his entreaties and the arrival of Captain Nelson with 140 emigrants revived their spirits. In June and July, 1608, he explored the coasts of the Chesapeake as far as the mouth of the Patapsco, and on 24 July set out on another expedition, and explored the head of the Chesapeake, returning to Jamestown on 7 September On these two voyages Captain Smith sailed, by his own computation about 3,000 miles, and from his surveys constructed a map of the bay and the country bordering upon it. In all this exploration he showed himself as skilful as he was vigorous and adventurous. In his encounters with the savages he lost not a man, traded squarely with them, kept his promises, and punished them when they deserved it. In consequence, they feared and respected him.
On 10 September, 1608, by the election of the council and the request of the company, Smith became president. He repaired the church and storehouse, reduced the fort to a " five-square form," trained the watch, and exercised the company every Saturday. But the return of Captain Newport with seventy colonists did not improve the condition of aft-airs. The new settlers were eager to obtain riches, not to build up the colony. Newport arid Ratcliffe conspired to depose Smith, several exploring expeditions proved fruitless, and great discontent followed. In the next year there were Indian uprisings and insubordination among the settlers, and evil accounts of Smith's administration were carried to England by Newport and Captain Samuel Argall. The company at home were disgusted that the returning ships were not freighted with the products of the country; the promoters had received no profits from their ventures, and no gold had been found. A new charter was granted, and the powers that were previously reserved to the king were transferred to the company. Lord Delaware was made governor, and three commissioners-Newport, Sir Thomas Gates, and Sir George Somers--were empowered to manage the affairs of the colony until his arrival.
In May, 1609, they set sail with more than 500 people and nine ships; but one vessel was sunk on the voyage, and the " Sea-Venture," with 150 men, the new commissions, bills of lading, all sorts of instructions, and much provision, was wrecked on the Bermudas. (This incident furnished the basis for Shakespeare's play, "The Tempest.") Seven vessels reached Jamestown in August, bringing several gentlemen of good means and a crowd of the rift-raft of London, " dissolute gallants, broken tradesmen, gentlemen impoverished in spirit and in fortune, rakes and libertines, men more fitted to corrupt than to found a commonwealth." Disorder quickly ensued, and the newcomers would have deposed Smith on report of the new commission, but they could show no warrant, the state papers having been sent over in the wrecked "Sea-Venture." He therefore held on to his authority and enforced it to save the whole colony from anarchy. But at the expiration of his year lie resigned, and Captain Martin was elected president. But, knowing his inability, he too resigned after holding office three hours, and Smith again became president.
Having subdued the refractory, he set out on new explorations, and endeavored to establish new settlements. On one of these he met with the accident that suddenly terminated his career in Virginia. While he" was sleeping in his boat his powder-bag exploded, severely wounding him. To quench the flames, tie leaped into the river, and before he was rescued was nearly drowned. When lie returned to the fort, the rebels Ratcliffe, Archer, and others, who were awaiting trial for conspiracy, united against him, and he would probably have been murdered had he not promised to return to England. He arrived in London in the autumn of 1609. Failing to obtain employment in the Virginia company in 1614, he persuaded some London merchants to fit him out for a private sailing adventure to the coast of New England. With two ships he arrived in April within the territory appropriated to the Plymouth company, named several points, and made a map of "such portion as he saw." This is the first fair approach to the real contour of the New England coast. Having examined the shore from Penobscot to Cape Cod, and secured 40,000 codfish, he returned to England within six months of his departure. This was his whole experience in New England, which he ever afterward regarded as particularly his discovery, and spoke of as one of Iris children, Virginia being the other. In January, 161,5, he again sailed from Plymouth with two ships. His intention was, after the fishing was over, to remain in New England with fifteen men and begin a colony. Within 130 leagues out a storm compelled him to return. On 24 June he again set out with a vessel of sixty tons and thirty-eight men, but his ship was captured by a French man-of-war, and he was carried to La Rochelle. He escaped, and on his return home wrote an account of his voyages to New England, which he published (1616). He then set himself resolutely to obtain means to establish a colony in New England, devoting the remainder of his life to that project, everywhere beseeching a hearing for his scheme, and so far succeeding that he obtained the promise of twenty ships of sail to go with him the next year (1617), the title of admiral during his life, and half the profits of the enterprise to be divided between himself and his companions. But nothing came of this fair beginning except the title of "Admiral of New England," which he at once assumed and wore all his life, styling himself on the title-page of all that he printed "Sometime governor of Virginia and admiral of New England." After this he remained in England and devoted himself to his works, which are largely eulogistic of himself.
Smith was a product of his adventurous and boastful age. His low origin may have hindered his advancement, but it doubtless embittered his spirit toward those better born. He had, no doubt, courage, immense energy, and a great deal of tact. His reputation rests almost wholly upon his own writings, and he is the most entertaining of the travel-writers of his day. He had a better comprehension of colonization than most of his Virginia associates, and the "sticking" of the settlement for two and a half years was largely due to his courage and good sense. But he has doubtless appropriated credit to himself in Virginia that was due to others. Smith's romantic appearance in history is chiefly due to his facility as a writer of romance. He was never knighted, although it has been said that he was. His arms were not granted for services in America. William Segar, "the King of Armes of England," in August, 1625 (nearly a generation after the services are said to have been rendered), certified that he had seen Sigismund's patent, and had had a copy thereof recorded in the herald's office. All this is evident; but Segar must have been imposed upon (in the patent itself), as he was when he granted "the royal arms of Arragon, with a canton of Brabant, to George Brandon, the common hangman of London." Smith owes his exalted position in our history to the Oxford Tract of 1612, and to his own "Generall Historic," a work which is thus perfectly described by Captain George Percy in a letter to the Earl of Northumberland" "The Author hathe not spared to appropriate many deserts to himself which he never performed, and has stuffed his relacyons with many falseties and malycyous detractyons." He was buried in St. Sepulchre's church, London. His works are "A True Relation," the first tract ever published relating to the colony at Jamestown (London, 1608; reprinted, with introduction and notes, by Charles Deane, Boston, 1867); "A Map of Virginia" (1612); "A Description of New England" (1616 ; reprinted in the "Collections" of the Massachusetts historical society) ; "New England's Trials" (1620 ; reprinted privately, Boston, 1867) ; "The Generall Historie of Virginia, New England, and the Summer Isles" (1622) appeared in "Purchas's Pilgrimes," and was republished with Smith's "True Relation" (Richmond, Virginia, 1819); "An Accidence for Young Seamen" (1626) ; "The True Travels" (1630); and " Advertisements for the Inexperienced Planters of New England" (1631; new ed., Boston, 1865). His life has been written by Mrs. Edward Robinson (London, 1845) ; William Gilmore Simms (New York, 1846); Charles Deane, in his " Notes on Wingfield's Tract on a Discourse on Virginia " (Boston, 1859) ; George Channing Hill (1858); George S. Hillard, in Jared Sparks's "American Biography"; Charles Dudley Warner in the series of "American Worthies" (New York, 1881) ; and Charles Kittridge True (1882).
Edited Appletons Encyclopedia, Copyright © 2001 Virtualology