The Seven Flags of the New Orleans Tri-Centennial
John Cabot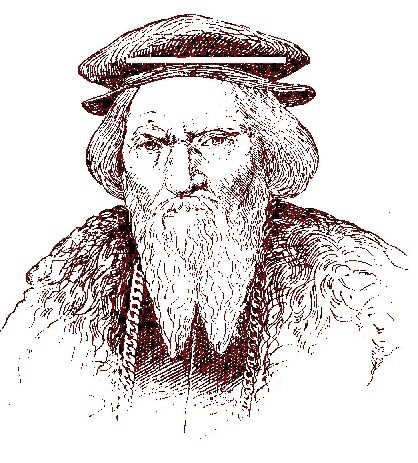 CABOT, John (Italian, Giovanni Caboto, or Zuan Calbot, or Caboto, Venetian dialect), discoverer of the mainland of North America. The time and place of his birth are not positively known. His name first occurs in the Venetian archives, ere it appears he was accorded the rights of a citizen on 28 March, 1476 after the required fifteen years' residence. It is known that in 1495 he was, and probably had been for years, an English subject, residing at Bristol. Under date of 5 March, 1496, a patent was issued by authority of the king, Henry VII., licensing Cabot and his three sons, or either of them, their heirs or assigns, to search for islands, provinces, or regions, in the eastern, western, or northern seas; and, as vassals of the king, to occupy the territories that might be found, with an exclusive right to their commerce, on paying the king a fifth part of all profits. Under this authority, Cabot, with his son Sebastian, sailed in May, 1497, and held a westward course for an estimated distance of 700 leagues.

On 24 June land was sighted, which he believed to be part of the dominions of the Grand Chain, but which was really the coast of Labrador. This shore he coasted for 300 leagues, finding no evidences of human habitation, and then set sail for home, reaching Bristol in August. At this time, owing mainly to the discoveries of Columbus, the theory that the earth is a sphere had gained general acceptance among advanced thinkers, and it was believed that the shortest route to the Indies lay westward. Cabot's discovery therefore caused much excitement among the adventurous spirits of the day, and on 3 Feb., 1498, the king issued a special charter, granting to John Cabot authority to impress six English ships at the rates then current for vessels required by the royal navy, to enlist crews, and to follow up his discoveries of the preceding year. Under this charter Cabot made no voyages. It has erroneously been called a second charter, but did not in any way set aside that of 1496, which still remained valid. It is, however, the last record of his career, and it is uncertain when or where he died. He was probably a Venetian by birth, as he is named in the charter of 1498 "Kabotto, Venecian," and his wife was a Venetian. Had there been any possibility of proving him an Englishman, the claim would undoubtedly have been pressed.
The authorities concerning his voyages are : 1. A letter from Lorenzo Pasquaiigo, a merchant residing in London, to his brother in Venice, bearing date 23 Aug., 1497; 2. The legend on the map of Sebastian Cabot, cited by Hakluyt and giving 24 June, 1497, as the date of discovery; 3. An Oxford copy of Sebastian's map, on which the date was 1494, with several other authorities giving that year, instead of 1497, as the correct date. But the only official documents the two charters of Henry VII. agree in fixing the date as first given. Much light has been shed upon the life of Cabot by the researches of Rawdon Brown, of England. See "Jean and Sebastian Cabot," by Henri Harrisse (Paris, 1882). Edited Appleton's American Biography Copyright\xa9 2000 by VirtualologyTM

Research Links
Modern History Sourcebook: John Cabot: Voyage to North America ...
Back to Modern History SourceBook. Modern History Sourcebook: John Cabot
(c.1450-1499): Voyage to North America, 1497. ...
The Cabot Dilemma
... The Cabot Dilemma: John Cabot's 1497 Voyage & the
Limits of Historiography. Derek Croxton. In 1497 ...
John Cabot (c.1450-1498-9?)
... John Cabot (Giovanni Caboto) (c.1450-1498-9?). Italian
Navigator and Explorer. ... Books John Cabot for Kids. ...
Who Was John Cabot?
Who Was John Cabot? A Short History of John Cabot, the
Adventurer. The name of our College, John ...

The Mariners' Museum - Newport News, Virginia
... | Main Menu | sebastian cabot engraving John Cabot was born in Genoa in 1450 and
moved to England in 1484. Like Columbus and Magellan, Cabot thought there was ...
CATHOLIC ENCYCLOPEDIA: John and Sebastian Cabot
... John Cabot. (Giovanni Cabota of Gabota.). A celebrated navigator and the discoverer
of the American mainland, born in the first half of the fifteenth century at ...
Cabot 500 Celebrations Website
... 500 Logo ], The Official Web Site. During 1997 we have looked back and celebrated
the landfall of John Cabot in 1497. Cabot's venture across the Atlantic in the ...
John Cabot: Newfoundland and Labrador Heritage
... John Cabot. Not very much is known for certain about John Cabot - or Giovanni Caboto,
to use his original, Italian name. We do not even know precisely when and ...
John Cabot
John Cabot (?? - 1498?). * Italian explorer. Very little information exists today
concerning Giovanni (or Zuan) Caboto, now called John Cabot. He was thought to ...
Description: Provides a brief biography of Cabot's life along with a listing of his greatest accomplishments.
Encyclopedia.com - Results for Cabot, John
... and the colonists. (John Cabot's discoveries and the influence of cod fishery on
the lives of English colonists in Newfoundland) ; Canadian Geographic Pringle ...
Description: (Encyclopedia.com)
John and Sebastian Cabot
... John Cabot (c1450-1498) was an experienced Italian seafarer who came to live in England
during the reign of Henry VII. In 1497 he sailed west from Bristol ...
John Cabot
John Cabot. When Giovanni Caboto set sail from Bristol
England on May 2, 1497, he was not expecting ...
Discoverers Web: John Cabot
John Cabot. Giovanni Caboto (Cabots Italian name,
other spellings are used as well) was born ...
John Cabot
... John Cabot By Kilah Ivany, Grade 5, 1998 Introduction || Early Life || Voyages ||
Cabot 500 Celebrations Bibliography Introduction My project is on John Cabot ...
Description: A fifth-grader's research project on the life and times of this Italian explorer who sailed to
Cabot Mall - Who is John Cabot?
John Cabot The discovery of Newfoundland. Around 1450, Giovanni Caboto (his real
name) was born in the town of Genoa, Italy. Much of his childhood life is ...
Yahooligans! - School Bell:Social Studies:History:Exploration: ...
... info on these explorers and maps of their voyages, from the Mariners' Museum. John
Cabot - reasearch project created by a fifth grade student on the life and ...
Cabot, John - Britannica.com
ENCYCLOPÆDIA BRITANNICA. Cabot, John b. c. 1450,,
Genoa? [Italy] d. c. 1499. Italian GIOVANNI ...
John Cabot
John Cabot. In the late 15th century, Spain, England,
France and Portugal were powerful countries ...


Start your search on John Cabot.
The Congressional Evolution of the United States Henry Middleton
Unauthorized Site: This site and its contents are not affiliated, connected, associated with or authorized by the individual, family, friends, or trademarked entities utilizing any part or the subject's entire name. Any official or affiliated sites that are related to this subject will be hyper linked below upon submission and Evisum, Inc. review.
Research Links
Lewis & Clark National Historic Trail
Copyright© 2000 by Evisum Inc.TM. All rights reserved.
Evisum Inc.TM Privacy Policy