Americanís Four United Republics: Discovery-Based Curriculum
†
Thomas Nelson, Jr.
Signer of the Declaration of Independence
THOMAS NELSON, JR. was born December 26, 1738 in Yorktown, Virginia. He was the grandson of Thomas Nelson, known as "Scotch Tom", a merchant-planter who was the American founder of one of the wealthiest of Virginia families. His father was William Nelson, long a member of the Council and at one time acting Governor of the Province, who was generally known as "President Nelson". At the age of fourteen, young Nelson was sent to Eaton in England for his schooling. He subsequently graduated from Cambridge and returned to America in 1761 at the age of twenty-two. While still at sea on his way home from England, he was elected by York County to the House of Burgesses. The following year, he married Lucy Grymes, daughter of Philip Grymes, Esq. of Middlesex County. At the time of his marriage, his father gave him a large landed estate and a large sum of cash that enabled him to maintain an elegant lifestyle. The couple eventually had eleven children.
In 1764, Nelson was elected to the provincial council and served as an adviser to the governor of Virginia. He was a young man who embraced all things English and enjoyed his lifestyle as a country gentleman. With the Stamp Act however, came Nelson's fiery opposition to Britain's despicable attempt to impose colonial taxation. He continued as a member of the House of Burgesses in 1774, and during the same year was appointed to the first general convention, which met at Williamsburg on August 1st. The next year, 1775, he was again returned as a member to the general convention of the province, and during this session he introduced a resolution for organizing a military force in the province, a step which obviously placed the colony of Virginia in opposition to the mother country.
In 1775 the third convention of Virginia delegates assembled at Richmond, Nelson was appointed a delegate to represent the colony in the continental congress, which was to assemble at Philadelphia. For the next two years, Nelson continued to represent the colony of Virginia in the congress, where he was frequently appointed on important committees, and was highly distinguished for his sound judgment and liberal sentiments. Thomas Nelson, Jr. voted for independence and signed the Declaration. He admitted proudly that he was the only person out of nine or ten Virginians that were sent with him to England for education that had taken part in the American Revolution. All the rest were Tories.
In May 1777, while attending congress, he was suddenly attacked with a disease of the head, probably of a paralytic nature, which, for a time, greatly impaired his memory. Nelson returned to Virginia and soon after he resigned his seat in congress. His health gradually improved and his services were again demanded by the public, and by the governor and council he was appointed brigadier general and commander in chief of the forces of the commonwealth. In this office he rendered his most important services to his country in general, and to the colony of Virginia in particular. His ample fortune enabled him, in cases of emergency, to advance money to carry the military.
Happily for his country, his health again restored he entered with great animation into several military expeditions against the British, who, at that time, were making the southern states the chief theatre of war. In 1781, Thomas Jefferson, who had for three years filled the executive chair, left it, upon which Nelson was called to succeed him. This was a gloomy period in the annals of Virginia. In repeated instances the state was invaded, and the path of the enemy marked by destruction. Nelson himself was engaged in the final siege of Yorktown and being a true patriot, he urged General Washington to fire on his own home, the Nelson House, where Cornwallis had his headquarters.
The remainder of Nelson's life was passed in retirement. His health and fortune were wrecked by the war and he moved his large family to a small estate in Hanover County. There he died of asthma on January 4, 1789, a week after he became sixty.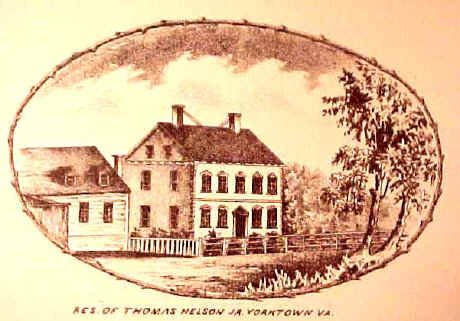 Source: Centennial Book of Signers


For a High-resolution version of the Stone Engraving


For a High-resolution version of the Original Declaration of Independence
We invite you to read a transcription of the complete text of the Declaration as presented by the National Archives.
&
The article "The Declaration of Independence: A History," which provides a detailed account of the Declaration, from its drafting through its preservation today at the National Archives.
Virtualology welcomes the addition of web pages with historical documents and/or scholarly papers on this subject. To submit a web link to this page CLICK HERE. Please be sure to include the above name, your name, address, and any information you deem appropriate with your submission.
National Archives and Records Administration

America's Four United Republics Exhibit - Click Here
Unauthorized Site: This site and its contents are not affiliated, connected, associated with or authorized by the individual, family, friends, or trademarked entities utilizing any part or the subject's entire name. Any official or affiliated sites that are related to this subject will be hyper linked below upon submission and Evisum, Inc. review.
Copyright© 2000 by Evisum Inc.TM. All rights reserved.
Evisum Inc.TM Privacy Policy