American's Four United Republics: Discovery-Based Curriculum
Stephen Hopkins
Signer of the Declaration of Independence
STEPHEN HOPKINS was born March 7, 1707 in Scituate, Rhode Island. Hopkins had little formal education, although he was an avid reader of Greek, Roman and British history and enjoyed English poetry as well. He was reared to be a farmer, and had inherited his father's estate in Scituate, although he was chiefly employed as a land surveyor. He was elected town clerk and some time after was chosen as a representative from Scituate to the general assembly. He was subsequently appointed a justice of the peace, and a justice of one of the courts of common pleas. In 1733, he became chief justice of that court. 
In 1742, he sold of his father's farm in Scituate, and moved to Providence, where he made a survey of the streets and lots and he erected a house, in which he continued to reside until his death. He married young, at the age of nineteen, a Miss Sarah Scott and fathered seven children. He also bought a store in Providence, Rhode Island that led to a successful and profitable career as a merchant and a ship builder. That same year he was sent to the provincial assembly as a representative from Providence and was chosen speaker.
In 1751 he was elected for the fourteenth time to the general assembly, and later in the year he was appointed chief justice of the superior court. He was a delegate from Rhode Island to the convention that met at Albany in 1754 for the purpose of developing a plan uniting the colonies and arranging an alliance with the Indians, in view of the impending war with France.
In 1756, Hopkins was elected governor of the colony and he held that office, with the exception of one year, until 1764. While he was governor, Hopkins had a disagreement with William Pitt, prime minister of England, regarding illegal imports with the French colonies. Hopkins was one of the earliest and most vigorous champions of colonial rights. In 1765 he wrote a pamphlet "The Grievances of the American Colonies Candidly Examined", which was printed by the order of the general assembly and reissued in London later that same year. In 1765 he was elected chairman of the committee appointed by a town meeting in Providence to draft instructions to the general assembly on The Stamp Act. The resolutions that were adopted were nearly identical to those Patrick Henry introduced into the house of burgesses of Virginia. 
In 1772, Hopkins was again elected to the general assembly. He freed his slaves in 1773 and the following year he sponsored a bill that prohibited the importation of slaves into the colony. He was elected with Samuel Ward to represent Rhode Island in the continental congress in August 1774. In the year 1775 and 1776, he again represented Rhode Island in the continental congress. In this latter year be had the honor of signing his name to the Declaration, which declared the colonies to be free, sovereign, and independent states. He recorded his name with a trembling hand, the only instance in which an unsteady signature is visible among the fifty-six patriots who wrote their names. But in this case only the flesh was weak. Hopkins had for some time been troubled with a condition, which forced him, when he wrote, to guide his right hand with his left.
Hopkins served in the Congress, distinguishing himself as a bold orator. "The liberties of America would be a cheap purchase with the loss of but 100,000 lives," he confessed to a colleague. His knowledge of the shipping business made him particularly useful as a member of the naval committee that formulated plans to arm vessels and in framing the regulations for the navy.
From 1777 through 1779, Hopkins was an active member of the general assembly of Rhode Island. He was a founder of the Providence town library in 1750, which was subsequently burned in 1760, but rebuild through his influence and involvement.
Hopkins spent the remainder of his life doing local public service work and he died at his home in Providence on July 13, 1785 at the age of seventy-eight.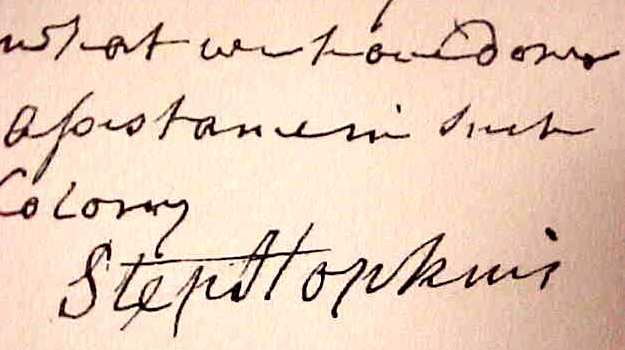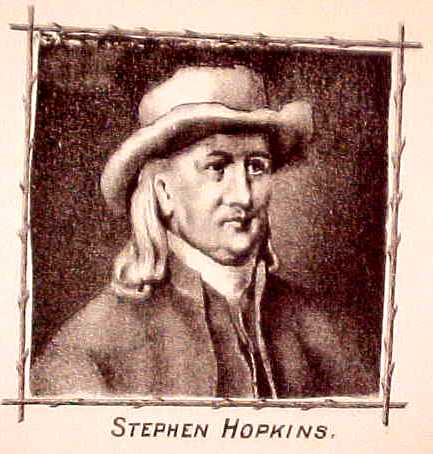 Source: Centennial Book of Signers

For a High-resolution version of the original Declaration

For a High-resolution version of the Stone engraving

We invite you to read a transcription of the complete text of the Declaration as presented by the National Archives.

&

The article "The Declaration of Independence: A History," which provides a detailed account of the Declaration, from its drafting through its preservation today at the National Archives.

Virtualology welcomes the addition of web pages with historical documents and/or scholarly papers on this subject. To submit a web link to this page CLICK HERE. Please be sure to include the above name, your name, address, and any information you deem appropriate with your submission.

National Archives and Records Administration





America's Four United Republics Exhibit - Click Here
Unauthorized Site: This site and its contents are not affiliated, connected, associated with or authorized by the individual, family, friends, or trademarked entities utilizing any part or the subject's entire name. Any official or affiliated sites that are related to this subject will be hyper linked below upon submission and Evisum, Inc. review.
Copyright© 2000 by Evisum Inc.TM. All rights reserved.
Evisum Inc.TM Privacy Policy