American's Four United Republics: Discovery-Based Curriculum
Benjamin Harrison
Signer of the Declaration of Independence
BENJAMIN HARRISON was born in 1726 on Berkeley, the family plantation beautifully situated on the banks of the James River overlooking the seaport of Petersburg and Richmond. He was a descendant of a family long established in Virginia, his father having married the eldest daughter of the King's surveyor general. Young Harrison was the eldest son of ten children. He was a student in the College of William and Mary when, his father and two of his sisters were all killed in the mansion house, by a lightning strike during a thunderstorm. Harrison left college before graduation and returned home to manage his father's estate. Although he was considered young to be entrusted with such a charge, he displayed unusual good judgment and prudence in his responsibilities.
Harrison's family had long been distinguished as political leaders and he was appointed at an early age to sustain the reputation to which he had been born. He started his political career around 1764 and he continued to hold political offices throughout his lifetime, being elected to a seat whenever his other offices permitted. As a member of the provincial assembly, Harrison soon became outstanding.  He united common good sense with great firmness and the ability to make decisions. Besides being quite wealthy, and having made respectable connections by marriage, he was naturally a political leader and he held the confidence of his constituents. The British, being aware of his influence and respectability, were anxious to have him, and proposed to name him a member of the executive council of Virginia, a position few would have had the firmness to decline.
Harrison, although a young man, was not seduced by the rank conferred by office. In opposition to the British, he identified himself with the people, whose rights and liberties he pursued with zeal. As a member of the House of Burgesses in 1764, he served on the committee that prepared the memorials to the King, Lords and commons, but in 1765, he opposed the stamp act resolutions. He was chosen in 1773 as one of the committee of correspondence that united the colonies against Britain. In 1774, he was appointed one of the delegates to the continental congress and was four times re-elected to that seat. 
Harrison was witty, jovial and entertaining, having a wry, often black sense of humor that delighted his fellow congressmen. When there was discussion about the possibility of being hanged for signing the Declaration of Independence, the heavyweight Harrison was reported to have uttered to Elbridge Gerry, a very thin man, "I shall have all the advantage over you. It will be all over in a minute for me, but you will be kicking in the air half an hour after I am gone." Harrison loved his family and his several large plantations and was an intimate friend of George Washington. He married Elizabeth Bassett and they had seven children who survived infancy. Of his children, his third son, William Henry Harrison, would become the ninth President of the United States. His great grandson, Benjamin Harrison, would become our twenty-third President. 
During nearly every session of congress, Harrison represented his state of Virginia, distinguishing himself in many important positions. He was chairman of the board of war and held that office until he left congress in 1777. He was also often called to preside as chairman of the committee of the whole house, in which post he was extremely popular. He occupied that chair during the deliberations on the dispatches of General Washington, the settlement of commercial restrictions against Britain, the state of the colonies, the regulation of trade and during the momentous question on the debates for the declaration of independence. 
Towards the end of 1777, Harrison resigned his seat in congress and returned to Virginia. He was once again elected to his state legislature. In 1782, he was elected to the office of chief magistrate of Virginia and became one of the state's most popular governors. He was twice re-elected governor and in 1785, having become ineligible by the provisions of his state's constitution, he returned to private life, carrying with him the esteem of his fellow citizens.
In 1788, when the new constitution of the United States was submitted to Virginia, he was elected a member of the state convention. Owing to his advanced years, and to increasing attacks of gout, he did not take a very active part in the debates of the convention. He was generally in favor of the constitution, provided certain amendments could be made to it, but voted against its unconditional ratification.
In the spring of 1791, Harrison was again severely attacked by gout, and he partially recovered. In the month of April, he was again elected a member of his state legislature. On the evening of the day after his election, following a festive party in celebration of his election, he was again stricken with gout and died at Berkeley on April 24, 1791.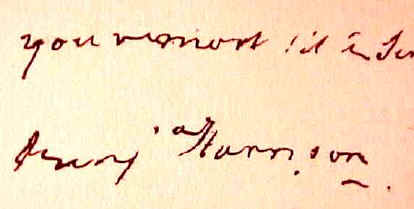 Source: Centennial Book of Signers

For a High-resolution version of the original Declaration

For a High-resolution version of the Stone engraving

We invite you to read a transcription of the complete text of the Declaration as presented by the National Archives.

&

The article "The Declaration of Independence: A History," which provides a detailed account of the Declaration, from its drafting through its preservation today at the National Archives.

Virtualology welcomes the addition of web pages with historical documents and/or scholarly papers on this subject. To submit a web link to this page CLICK HERE. Please be sure to include the above name, your name, address, and any information you deem appropriate with your submission.




America's Four United Republics Exhibit - Click Here
Unauthorized Site: This site and its contents are not affiliated, connected, associated with or authorized by the individual, family, friends, or trademarked entities utilizing any part or the subject's entire name. Any official or affiliated sites that are related to this subject will be hyper linked below upon submission and Evisum, Inc. review.
Copyright© 2000 by Evisum Inc.TM. All rights reserved.
Evisum Inc.TM Privacy Policy