American's Four United Republics: Discovery-Based Curriculum
Arthur Middleton

Signer of the Declaration of Independence
ARTHUR MIDDLETON the eldest son of Henry Middleton was born on June 26, 1742, at the family mansion Middleton Place, on the banks of the Ashley River near Charleston, South Carolina. Middleton was twelve when his father, the president of the First Continental Congress, sent him to England for his education. He studied at Hackney, in London, for two years and then moved on to Westminster. He received a thorough education in the Greek and Roman classics, especially the former in which he is said to have greatly excelled. The taste that he acquired for classical literature he preserved through his life. Middleton then went on to Cambridge. His college companions were frequently young men of dissipated habits, and young Middleton was often powerfully tempted to enter into their youthful follies. Fortunately he escaped the corruption of their insidious examples, and devoted himself to the improvement of his mind. In his twenty-second year, he was graduated bachelor of arts, and left the university with the reputation of an accomplished scholar, and a moral man.
Arthur did not return to America upon his graduation. Because of his father's wealth, he was able to travel extensively. After visiting several parts of England, he proceeded to the continent, where he spent two years, chiefly in the southern parts of Europe. He spent several months in Rome, greatly improving his taste for music and painting. He even became well versed in the principles of sculpture and architecture.
Soon after returning to South Carolina in 1763, he married Mary, the daughter of Walter Izzard, Esq. Arthur became a justice of the peace and served as a delegate to the provincial assembly. However, still having a fondness for traveling, he and his wife again embarked on an extended visit to Europe in 1768. This time they visited many places in England, and proceeding to the continent, they passed through several of the principal cities of France and Spain.
In 1773, Middleton once more returned to America, and now settled down on the delightful banks of the Ashley at Middleton Place, where he acquired vast rice plantations. The Middleton's were at this time, men of great wealth, and the approaching controversy between Great Britain and the colonies might have been viewed with great concern, had not their patriotism preferred the welfare of their country to their private interests. A war with Britain would jeopardize the wealth that had long been enjoyed by the family. Both father and son, in the spirit that had long characterized the family, stood forth in the defense of the rights of the colonies.
In May 1776, Middleton joined the Second Congress and championed the cause for colonial rights. He actively opposed British rule despite his obvious love for the mother country. Despite his English education, he was ruthless toward Loyalists. Like other leaders in South Carolina, he was motivated chiefly by local patriotism. He was a member of the council of safety that virtually ruled the province until a provisional government was set up in the spring of 1776, and he was a member of the large committee that drew the constitution for South Carolina. His activity in these provincial affairs delayed his departure for Congress. In May 1776, Arthur Middleton took the seat vacated by his father. He was re-elected the next year but never spent much time in Philadelphia sessions. He spoke frequently when present but did not like routine business. At the close 1777, Middleton relinquished his seat in Congress, and returned to South Carolina, leaving behind him, the character of a man of the purest patriotism, of sound judgment, and unwavering resolution.
During the year 1779, the southern states became the principal theater of the war. Many of the plantations were needlessly raided, and the families and their personal property were open to the insults and devastation of the enemy. Middleton Place did not escape. Although the buildings were spared, they were looted of every thing valuable. Anything that could not be easily carried was either destroyed or greatly damaged. Middleton owned a valuable collection of paintings that was mutilated by the advancing march of troops. Fortunately, the family had made their escape north of Charleston before the British visited Middleton Place.
Middleton was actively engaged in the defense of Charleston in 1780. With several others he was taken prisoner, and was sent by sea to St. Augustine, in East Florida, where he was kept in confinement for nearly a year. In July 1781, he was exchanged, and proceeded in a cartel to Philadelphia. In November 1782, he returned to South Carolina on a visit to his family, from whom he had been separated for along and anxious period.
On the signing the preliminaries of peace, Middleton declined accepting a seat in congress, preferring the pleasures of retirement with his family. He occasionally accepted a seat in the state legislature, in which he was greatly instrumental in promoting the tranquility and happiness of his fellow citizens.
In the winter of his forty-fifth year, 1786, Middleton contracted a fever. Middleton died on January 1, 1787. -- Appletons Encyclopedia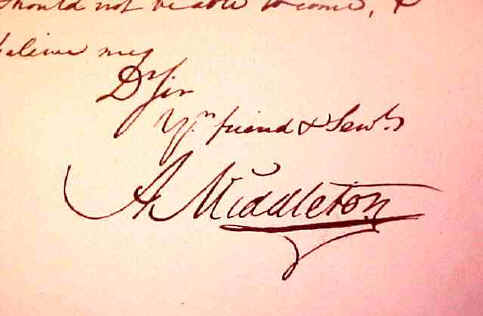 Arthur Middleton, the son of Henry Middleton, a weal- thy planter in South Carolina, was born in 1743, in Middleton Place, a name given it by the family, who first settled in south Carolina.

At an early age he was sent to England for his education. His first station was the school at Hackney, in which several of the members of the early congress from the south received .'heir preparatory instruction to fit them for the university. After spending the necessary term in that school, with exemplary application, he was transferred at fourteen years of age for a school in Westminster. Here he remained about four years, and then entered the university of Cambridge. Although amply supplied by his father with the means of indulging in the dissipated habits of the gay, he rather chose to attend to his studies, and preserve a moral and sober deportment; shunning those places where the young and thoughtless are but too easily allured, and often ensnared to thou ruin. After spending four years there, with much credit to himself, he took his degree in the twenty-second year of his age. He left that seminary with a good reputation, as a sound scholar, and a man of correct morals. He spent some time after this, in visiting various places in England, and in reviving and strengthening the feelings of affectionate attachment, which had subsisted from the beginning, between the branch which had emigrated to America, and those who remained in England. From thence he passed over to the continent, and commenced a tour in Europe. In this tour, which was principally in the southern parts of Europe, he spent nearly two years. In this time, he passed several months in Rome, improving his mind by studying the fine arts, for which he had a relish, and in which he became somewhat of a proficient. He then returned to South Carolina and was soon married to Miss Izard.

About a year after his marriage, he embarked for Europe with his young wife, whom he resolved to gratify with an opportunity to see England, and an excursion on the continent In this tour he visited several of the most celebrated places in France and Spain. Having gratified her with a view of foreign countries and customs, they returned again to his na- live place in 1773, and took the family seat for their residence, which his indulgent father gave up to his favored son. There, in possession of wealth, he had as fair a prospect could open to the young mind, of enjoying every satisfaction that this world can furnish; but this prospect scarcely opened to his view before it began to be overcast.

In 1774, the cloud began to collect, indicating the storm which in the year following burst on New England, and agitated the whole of the North American colonies. The time had now arrived when it became necessary for men to declare themselves openly. Neutrality was inadmissible. In this time Henry and Arthur Middleton, father and son, with nothing to gain for themselves should the cause of the colonies succeed, and much to lose if it failed, without hesitation decided for their country; and stepping forth boldly, put on the badge of independence.

From this time Arthur Middleton was actively employed in various ways, in promoting the cause of the colonies, which had become both interesting and critical. He entertained no half-way measures, but took a firm and decided stand in op. position to British encroachment and oppression.

He was a member of various committees, which were entrusted with great powers; and who enjoined to " Take care that the republic receive no detriment." He was in April, 177-5, appointed with four others a committee, to place the colony in a state of safety against its enemies. They took possession of the public magazine of arms and ammunition, and removed them from the custody of the officer having them under his charge, and appropriated them to the use of the colony.

In June following, he was appointed one of a large committee, by the provincial congress of South Carolina, to watch over, and take such measures as they might deem necessary, in that trying emergency, for the public safety. Of that committee he was an active and leading member. Afterwards, when Lord William Campbell was appointed governor of South Carolina, although he was nearly connected by marriage with Mrs. Middleton, and it was discovered that he was playing a double game with the members of the provincial congress, Mr. Middleton, waving the influence of family connection, at the hazard of a friendly intercourse which then subsisted between his family and the governor's, proposed that he should immediately be arrested, and taken into custody. This, though it was overruled by a majority ot the committee, less decided than he, was undoubtedly a wise and politic proposal; and had it been carried into execution, it would probably have saved South Carolina from much trouble which was shortly afterwards endured, by reason of Lord Campbell's fleeing, and returning with an armed force, under Sir Henry Clinton and Sir P. Parker, to invade and ravage their coasts.


Mr. Middleton was chosen one of a committee of eleven, to devise a form of government for South Carolina, during the contest with Great Britain. This was in the winter of 1776 In a short time he was chosen one of the representatives for South Carolina, in the congress of the nation, then in session at Philadelphia. This was the congress which declared in- dependence, for which Mr. Middleton voted, and to the declaration of which he set his hand, with a prospect of sacrificing large possessions, an estimable family, and even life itself, should the contest terminate unsuccessfully for his ' country.

He continued a member of congress, residing with his family which he took with him, until the close of 1777.

In 1778, the assembly having adopted a new constitution, in conformity to the recommendation of congress, chose Ar. thur Middleton their first governor under it. This was done not only without his soliciting it, but without his having even contemplated the event as possible.

But Mr. Middleton, as Mr. John Rutledge before him had done, doubted the legality of the proceedings of the legislature, which formed the constitution, and declined an acceptance of the appointment; and this he did in a manner which raised him still higher than before in popular opinion. The people approved of his motives, although they might hare thought him incorrect in his judgment.

In 1779, when the British invaded the South, under General Provost, Mr. John Rutledge having been called to the chair of state, undertook to defend Charleston against the enemy. Although Mr. Middleton's property was entirely exposed to their depredations, and without any protection, he joined the family of Governor Rutledge, and entered Charleston with the troops assembled there for its defense. He united his personal exertions with others to protect that city and had the happiness of seeing the enemy retreat, without attacking the place. In the exposed condition of his own property, he only wrote to his wife to remove his family a days journey out of the scene of immediate danger. Thus, while he exerted himself for the protection of others, he left his own property to be ravaged by an enraged foe. His loss was very great by that irruption of the British.

In the following year, he, with many other gentlemen of distinction, was taken prisoner by Sir Henry Clinton, and sent to St. Augustine as prisoners of war. Mr. Middleton was then engaged as a private soldier, in the defense of Charleston. When in the year following these prisoners were exchanged, and sent in a cartel to Philadelphia, he was appointed a representative of South Carolina in Congress. He was again elected to that office by the general assembly in 1782. This was in the beginning of the year. He continued to occupy his seat till November, and then returned to his family, from whom the vicissitudes of war, and the calls of public duty had long separated him.

The contest being now brought to a close, by the capture

of Lord Cornwallis, and the preliminaries of peace having been made known in the United States, Mr. Middleton declined serving his fellow citizens any longer in congress. He however consented to represent them in the legislature of the state, and was a very influential and highly useful member of that body, at a period when the state was much agitated by various causes which such a state of things might naturally be expected to produce. The influence of the best men the state could furnish, was needed to allay these unhappy difficulties, and restore harmony to the disturbed community. For this purpose, Mr. Middleton devoted his best efforts.

Besides his services in the legislature, he entered into no public employment, but spent his time with his family, resi- ding principally in a country residence, a short distance from Charleston. There he received his friends with kindness, and treated them with that hospitality for which southern gentlemen have with justice been honorably distinguished. But he did not continue long to enjoy the blessings of peace and civil liberty, for the attainment of which he had made o many sacrifices.

in the autumn of 1787, he contracted an intermitting fever, by incautiously exposing himself. This he left to commit its ravages on his constitution, thinking that " the power of nature" was adequate for affording relief. He neglected to call for medical aid until his health was so far undermined, that when it was applied, it came too late to furnish relief. He died on the first of January. 1788, about fifty-five years of age.

Mr. Middleton, at his death, left a wife and eight children ; two sons, and six daughters. Mrs. Middleton survived him until 1814, retaining that rank and esteem in the most polished society, to which she was well entitled. Henry, one of his sons, after having been governor of the state, and a member of the house of representatives in congress, was appointed minister to the court of Russia. - -- The Lives of the Signers of the Declaration of Independence, By Nathaniel Dwight, Published by A.S. Barnes & Co., 1860, Edited by Stanley l. Klos 2000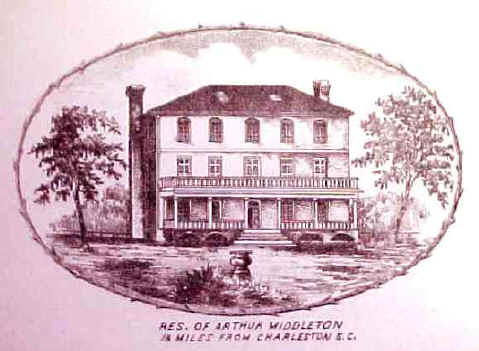 Source: Centennial Book of Signers
Declaration of Independence
A Brief History and early record of the printings

Click Here


William Stone Copper Plate and 1976 Printing Photo
Courtesy of the National Archives
Click to Enlarge
Authenticate your Declaration of Independence - Click Here
The 56 signatures on the Declaration appear in the positions indicated:

Click Here to return to Rebels with of Vision